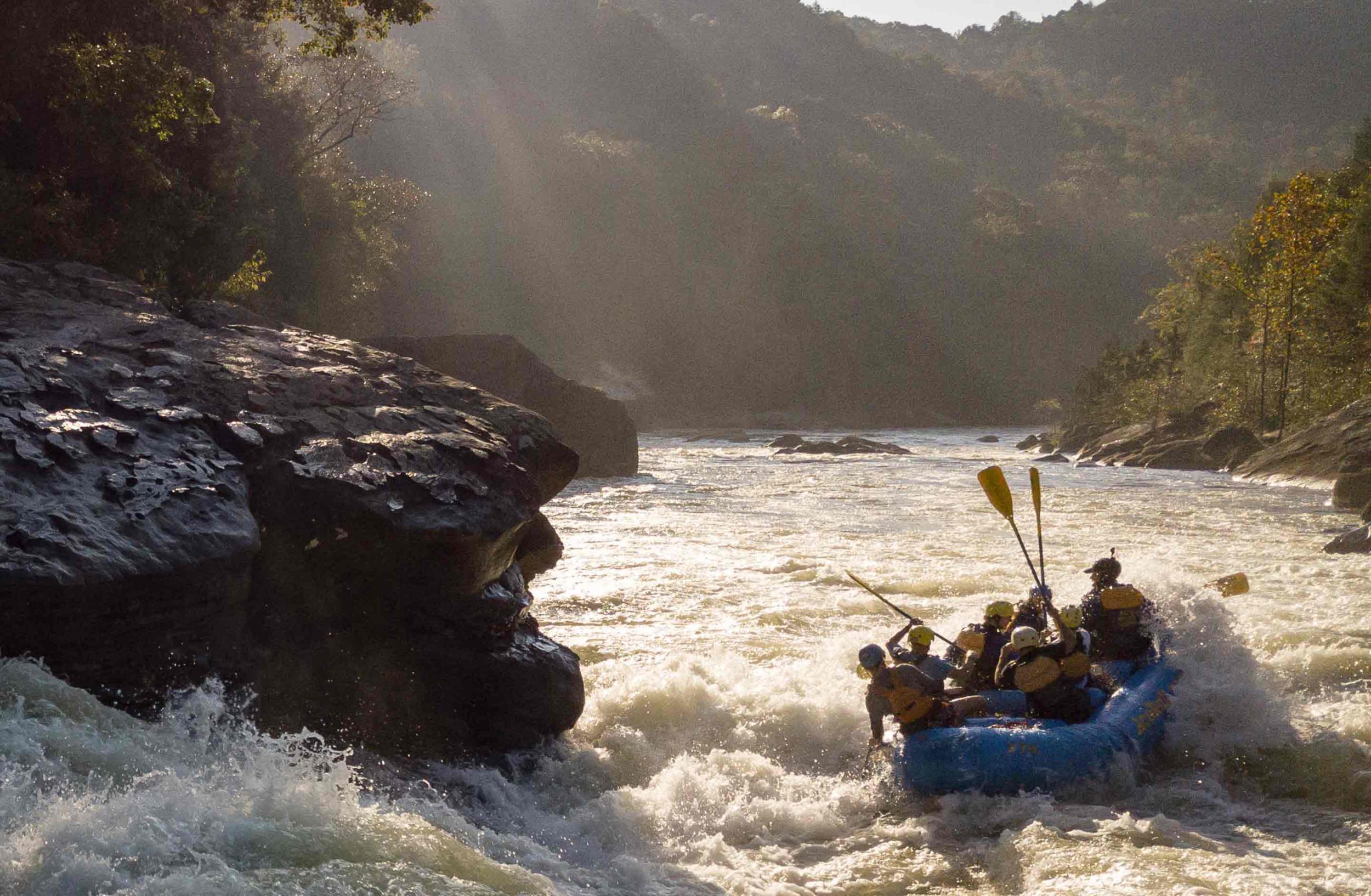 The Gauley River National Recreation Area
About Fall Upper Gauley River Whitewater Rafting
Upper Gauley river rafting with ACE Adventure Resort
"Forward one!" As we come through the bottom of "First Drop," I yell out a paddle command to my crew. We are in fast moving current, quickly approaching the second of four major drops that make up this half mile long Class V rapid known Lost Paddle. "Forward two!" I can see it, building and breaking about 20 yards downstream, the steepest part of this rapid, the wave known as Hawaii 5.0. In my opinion, this is crux move of the entire rapid, punching through Hawaii 5.o and then dropping steeply off the backside of the wave into a tumultuous maylay of whitewater, all the while needing to maneuver our raft narrowly in between the rocky river-left bank and a huge boulder known as six-pack. "Stay ready, stay ready, and . . . FORWARD!"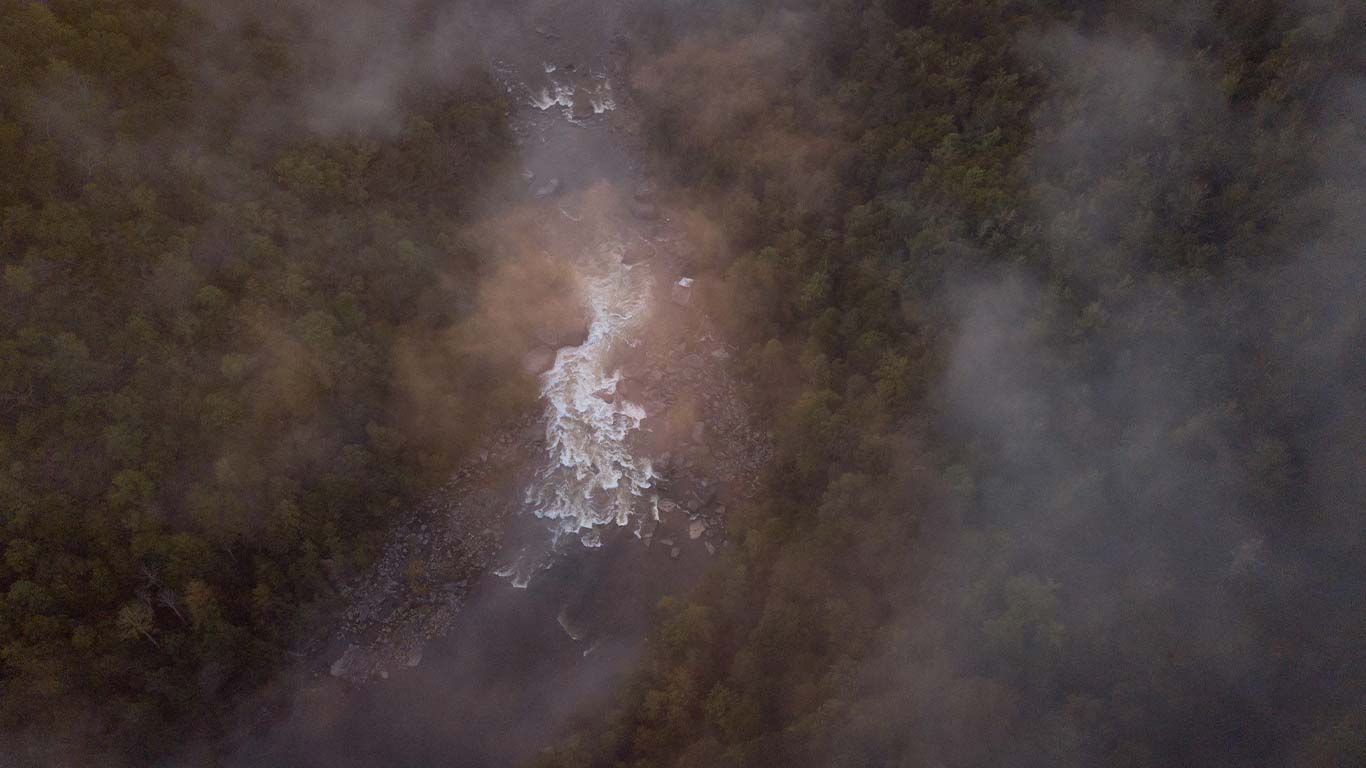 We crush through the wave's breaking crest as whitewater droplets filling the sky. After guiding whitewater rafting trips for nearly twenty years, this next moment has become my favorite every time I experience it. Coming off the backside of Hawaii 5.0, I look straight down on my crew as our fourteen foot raft is almost completely vertical dropping into the glorious chaos of whitewater below. This is why there's nothing quite like rafting the Upper Gauley.
River guides are known for their ability to tell a good story (and a slightly embellished one), but you'd be hard pressed to find a guide who could overstate just how amazing a trip down the Upper Gauley is. It has the steep, rocky, and technical characteristics that are well known among our Eastern rivers, yet it also possesses powerful standing waves and epic whitewater surf spots. For twenty-two days in September and October, when there is a  scheduled release of 2,800 cfs of water from Summersville Dam, it ranks with the best whitewater rafting trips in the world.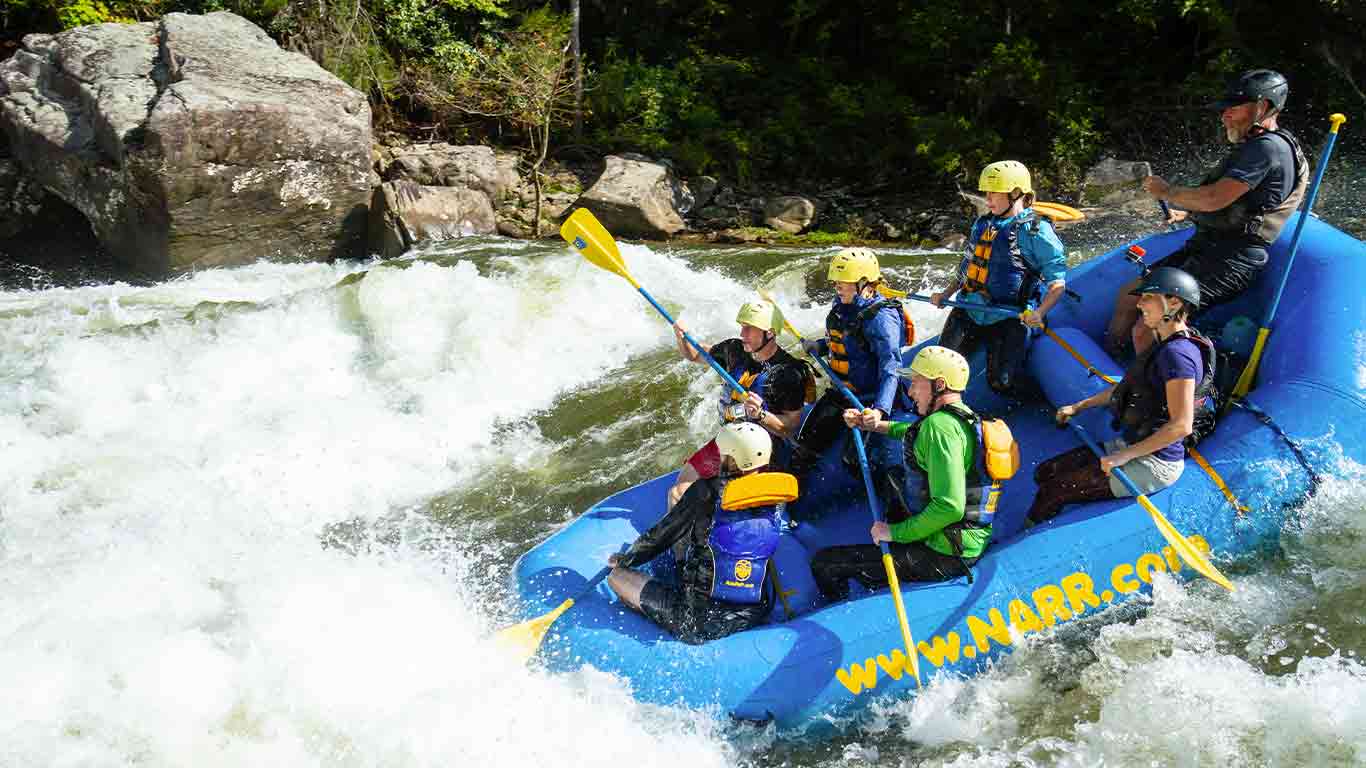 The Upper Gauley is known for its five Class V rapids, known as the "Big 5." Each one has its own unique challenges, must-make maneuvers, and library of epic stories and rafting shenanigans, but often guides will tell you, with sixty named rapids to paddle on the trip, it's  the Class IIIs and IVs in between that get ya! Whether you are trying to steer your raft down a tight, narrow slot move, or you are paddling hard to power through a six-foot wall of whitewater, a trip on the Upper Gauley is action packed throughout. 
The first Class V challenge of the day is known as Insignificant, which has to be the worst named rapid on the planet. Insignificant is the perfect example of Gauley River characteristics, with an extremely technical entrance, powerful whitewater combined must-make moves, and boat-swamping waves that could easily flip a raft if not approached appropriately. All this while being sure to avoid the Gauley's most infamous feature, undercut rocks. Strewn along the banks and throughout the rapids of the Gauley are huge boulders where water flows directly underneath them. The size and sheer number of undercut rocks are unique to our Appalachian whitewater, and it adds a whole other element to how we navigate through these rapids.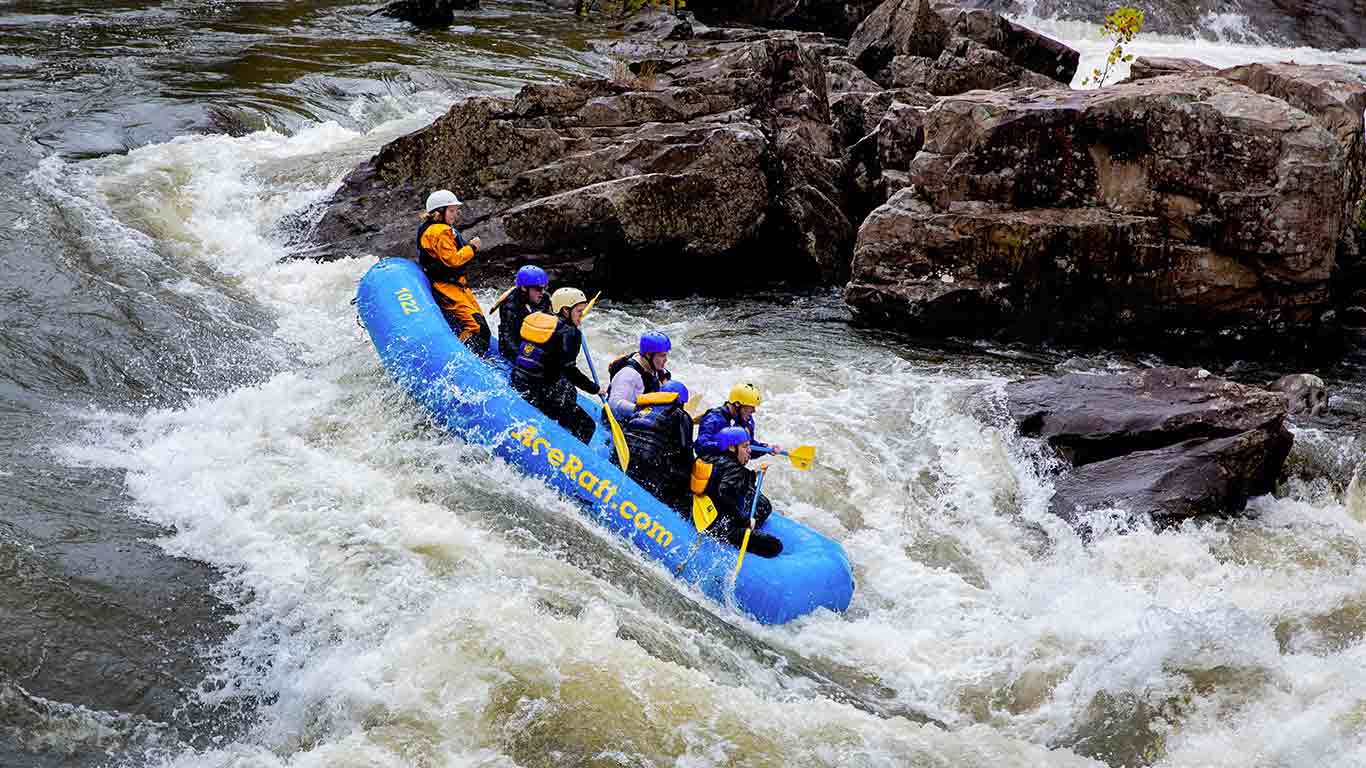 Other Class V rapids on the Gauley such as Pillow Rock, Lost Paddle, and Iron Ring have become things of legend in their own right. And then there is Sweet's Falls. A fourteen foot tall, river wide waterfall, it is a rapid that you most certainly have to see to believe. Drifting above, the river disappears over the horizon and the roar of the crashing water gets louder as you approach. Navigating the drop is only half the battle. Once over the falls, quick maneuvering is required to avoid the well known Box Canyon, a narrow, extremely technical slot between towering boulders.  The great thing is that, unlike the other rapids on the Gauley, just after dropping over Sweet's Falls you actually have the opportunity to stop and take it all in. ACE's private lunch site on the river-left bank provides the perfect opportunity to enjoy a hot, grilled lunch and study other boats as they come over the falls.
A remote, rugged river gorge in the wooded mountains of West Virginia, world class whitewater rafting, and experiences that just keep getting better every time you come back. There is no place like the Upper Gauley, and as a guide, there's no place I'd rather share with whitewater enthusiasts! Join us for Upper Gauley river rafting!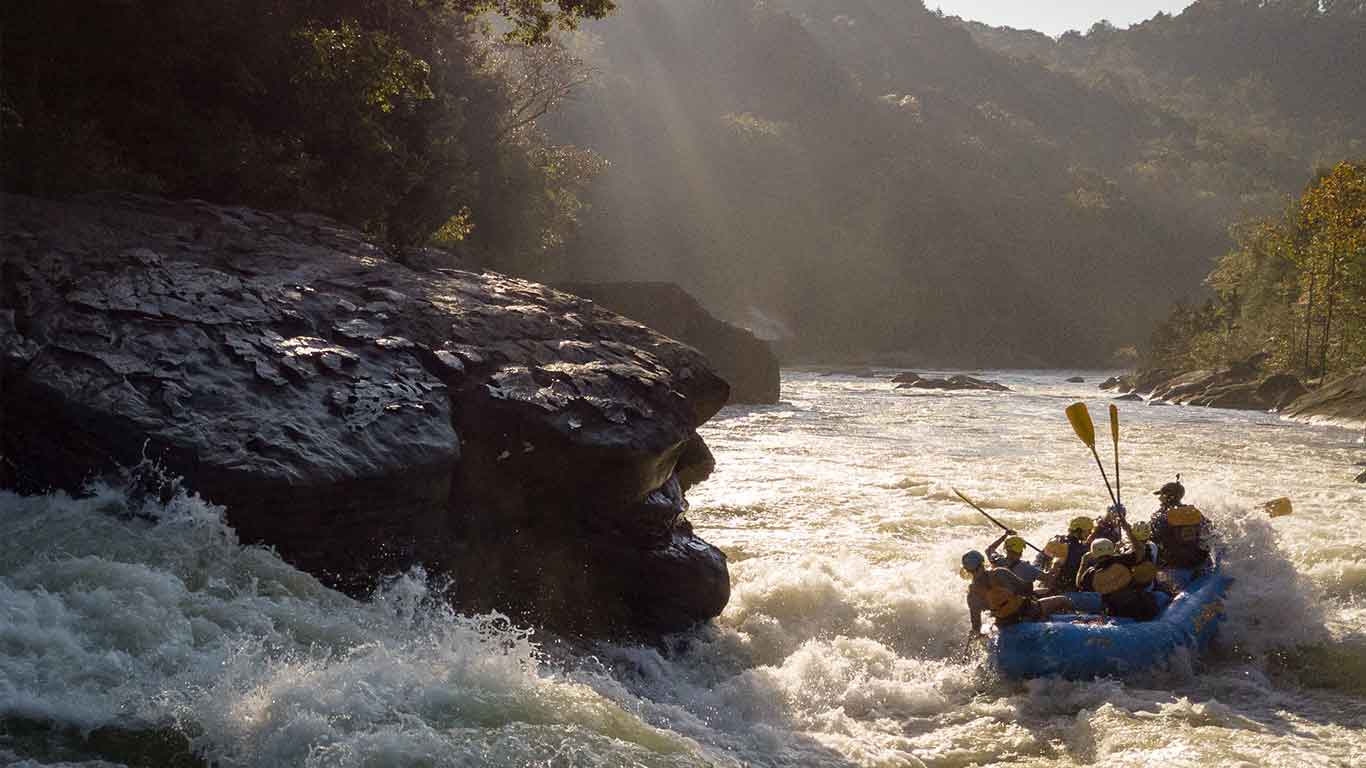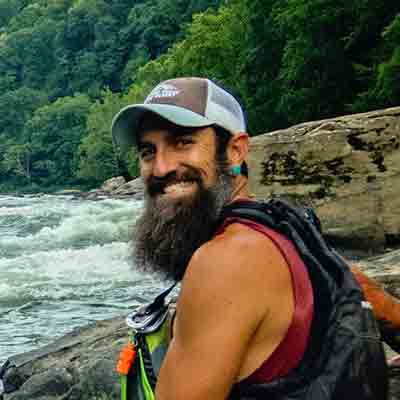 BY Bryant Baker
As many of us do, Bryant responds to many titles. His two favorite roles are husband to his wife Laura and proud Papa to his three girls. Professional titles include guide, instructor, operations manager, race director, photographer, and writer. He has worked in the outdoor adventure industry for 18 years, spending the vast majority of that time leading whitewater rafting and climbing trips here in the New River Gorge region of WV.
VIEW FULL BIO & ALL POSTS
RELATED ADVENTURES