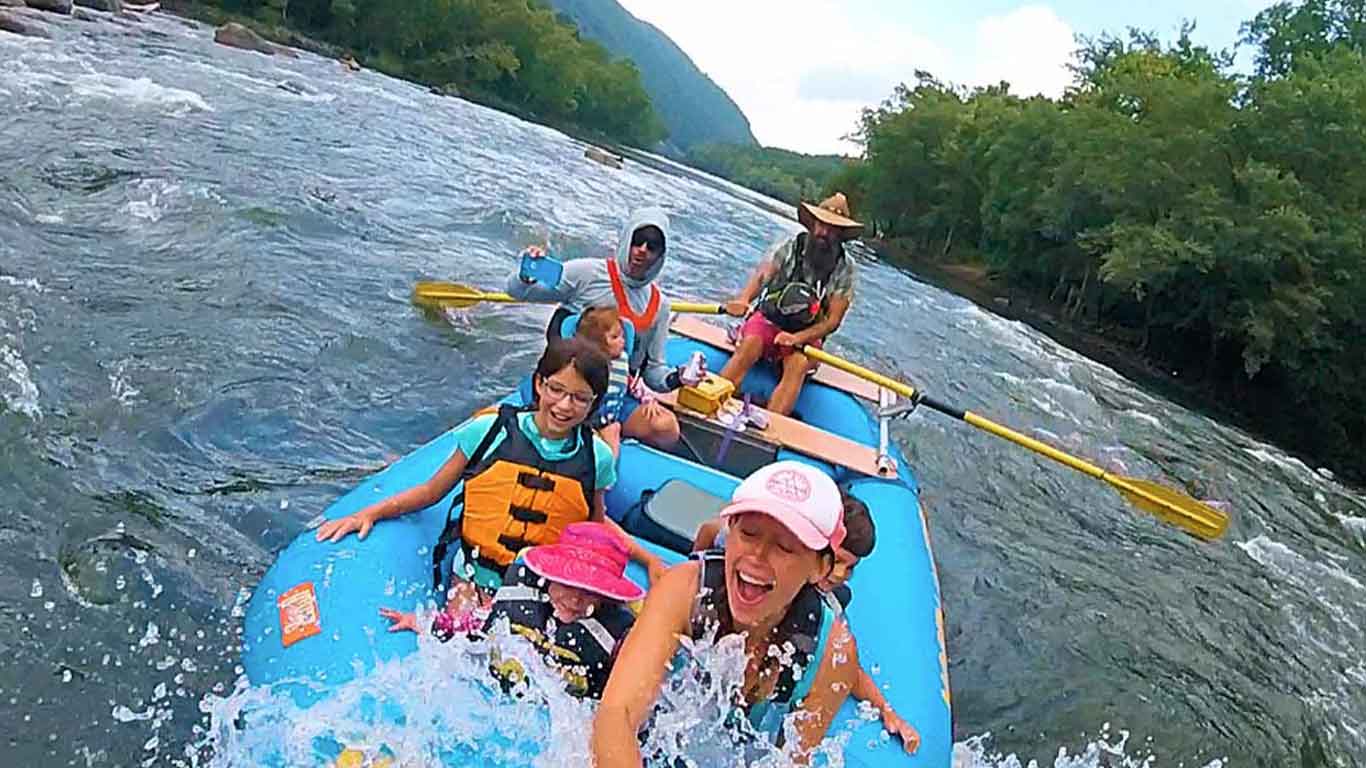 July 16, 2020
About Upper New River Gorge Rafting
Upper New River Gorge Whitewater Rafting
"Like I had thousands of times before, I checked everything once more before pushing the boat out into the current. I put my knee on the outer tube, allowing my weight to press down , feeling the tightness of the air pressure. I leaned in, checking the floor and cross tubes as well. The cooler was secured, strapped in, "rigged to flip" as we say. Lastly, it was the frame and oars. I gave one final pull on all the cam straps that attached the frame to the raft. The oar locks were set, and the oars were ready to maneuver this craft downstream. I have been a river guide for almost 20 years, leading folks through some of the most amazing stretches of whitewater in the world, but today was going to be a first. Along with my wife (a fellow river guide), today my crew would be my two daughters, 3 year old Ulani and 1 year old Makya. Today would be a trip like none other."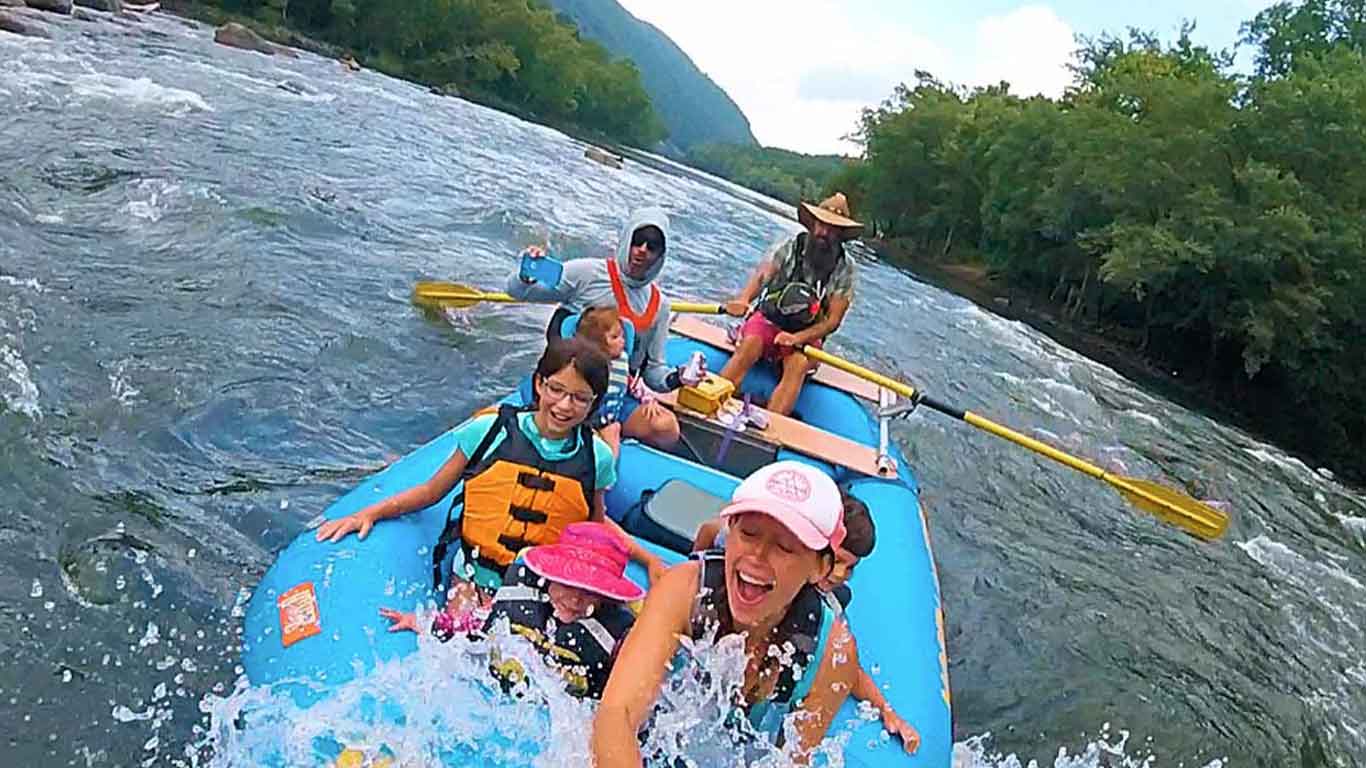 I often look back at this journal entry, reliving my thoughts and feelings from their first river trip. Just like the river, time keeps moving downstream. It is almost two years later, and the newest member of our crew, little Norah, is about to turn one. We've been lucky enough to have many more family river trips since that first one. That is a big reason why my wife and I decided to make the New River Gorge our home. It has world class outdoor adventures for us, but it is also an amazing place to raise a family. We want our girls to have access to nature and adventure, and it's hard to find a better place for kids to experience both than on the Upper section of the New River.
The New River Gorge National River, part of our National Parks System, encompasses 53 miles of the New River, but only the final 8 miles contain the adrenaline spiking, Class IV and V whitewater that the New River is known for. This section, the Lower New, is what I first fell in love with when I trained to be a river guide many years ago. But that leaves 45 other miles of protected river within the park boundary, and, as the papa to a young adventure seeking family, I'm finding more and more that this is where it's at!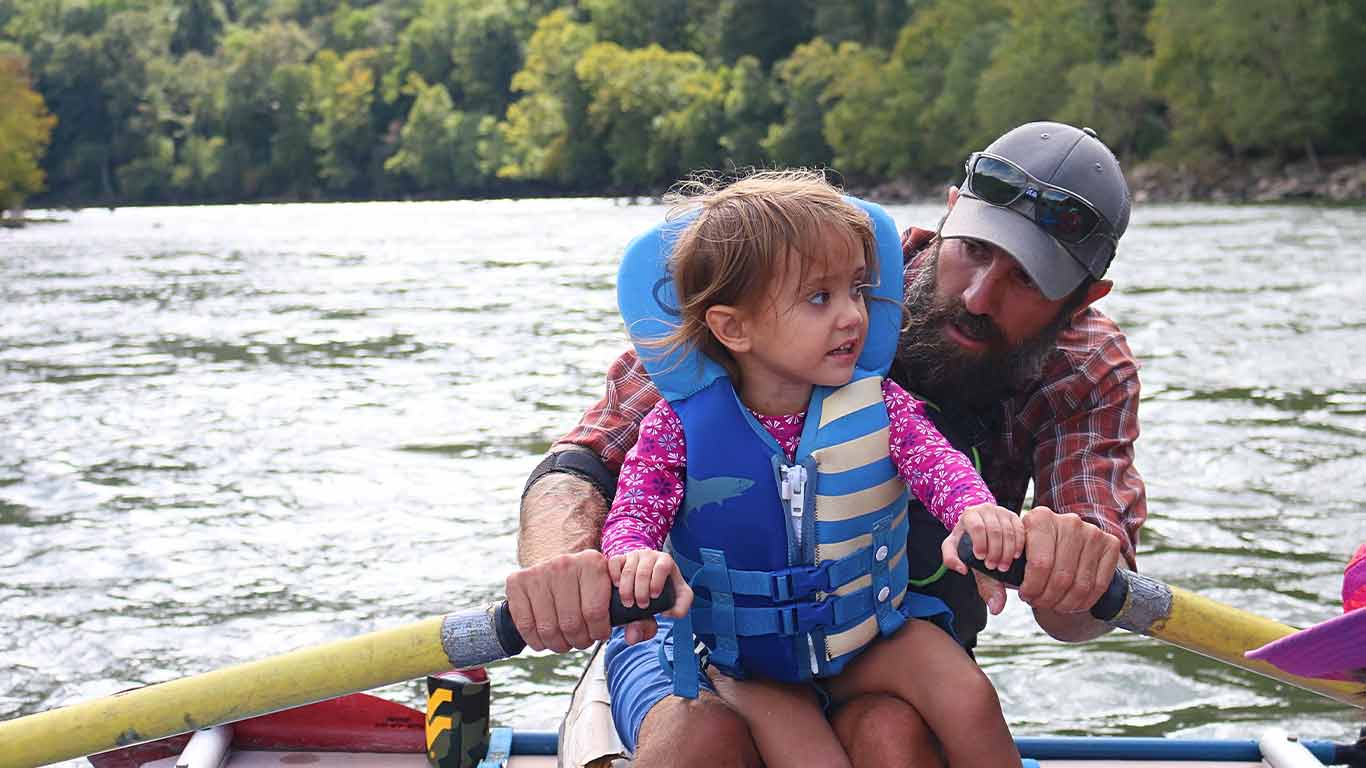 The Upper New is the perfect setting for a first (and second, third, fourth) rafting trip for young kids. The vast majority of the rapids are Class II, with a handful of Class III rapids spread throughout. With the combination of my wife's and my experience, we are able to take our daughters out at a younger age than most, but 5 year olds are typically able to enjoy the Upper New as part of a guided commercial rafting trip.  As I row our raft downstream, our girls are able to jump out and swim in the flat water pools. The excitement and anticipation builds as we approach one of the Class II rapids. These are now reverently and lovingly referred to in our house as "the big waves." Sandy beaches provide the perfect spot for a lunch break and lend themselves to endless exploration. There are short hikes to waterfalls, new wildlife around each bend in the river, and of course, a turn sitting in Papa's lap to row the raft and navigate some "big waves". Out of everything, this is my favorite on these Upper New River trips. Getting to watch my girls' pure sense of exploration and adventure unfold right before me is amazing. There is such a value in kids adventuring out in nature. After sitting on my lap to row through a Class II rapid, the confidence and empowerment is literally beaming from them. 
I now look forward to these river trips just as much, if not more, than the gnarly Class V trips I love to guide. There is something special about being able to enter into the adventure and experience with your kids. Life with three girls under the age of 5 can get crazy at times no doubt, so it's nice when time can slow down, and life can only move as fast as the river. They've never asked, "When will we be done?", but they always ask, "When will we get to go again?" My sentiments exactly.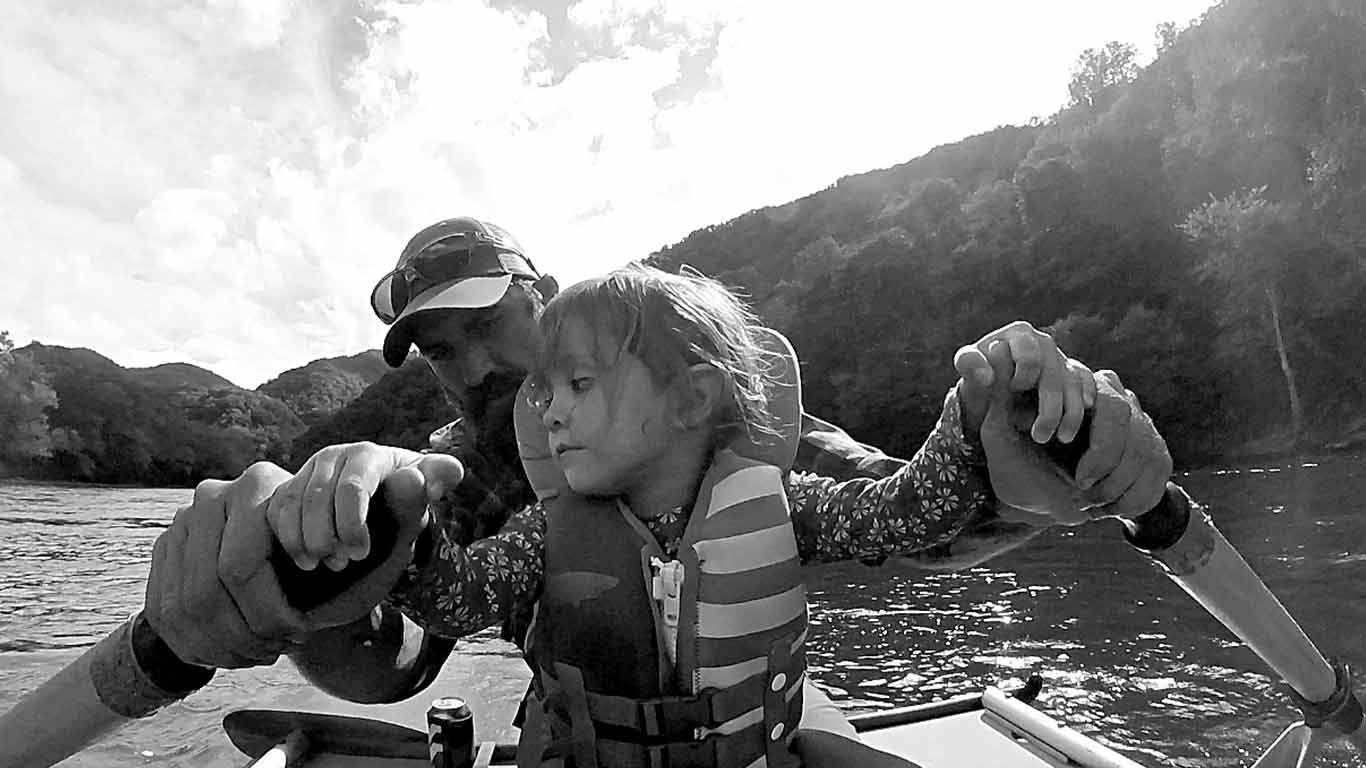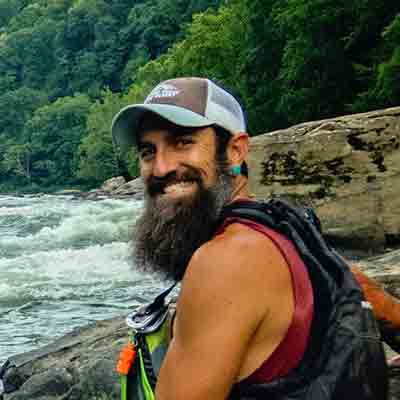 BY Bryant Baker
As many of us do, Bryant responds to many titles. His two favorite roles are husband to his wife Laura and proud Papa to his three girls. Professional titles include guide, instructor, operations manager, race director, photographer, and writer. He has worked in the outdoor adventure industry for 18 years, spending the vast majority of that time leading whitewater rafting and climbing trips here in the New River Gorge region of WV.
VIEW FULL BIO & ALL POSTS
RELATED ADVENTURES