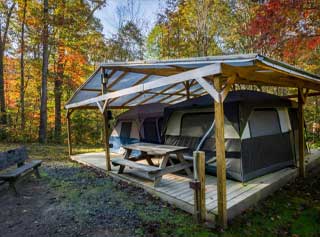 Group Tents
Camping with Convenience
The Group Tents are the perfect option for groups and families interested in camping. Each Group Tent comes with two tents set up on a wooden platform, sleeping a total of 12 people. This is the only camping option at our resort that has electricity! They units are located in a group-friendly area of the resort called Deer Hollow and are only a short walk away from restrooms and shower houses.
Choose a Group Tent below to learn more..
Check Out Our Group Bunkhouses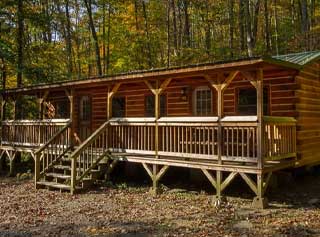 Group Bunkhouses
Budget-friendly Group Lodging
Searching for something a step above camping? Check out our selection of Bunkhouses! These bunkhouses are the perfect option for families and groups. Each bunkhouse has electricity, a campfire ring, and picnic table. You can choose between the Bath & Bunkhouse (bath & shower, sleeps 12), Woodside Bunkhouse, (2 rooms, sleeps 16), and Ranch House (open room, sleeps 12).
More About Ace Adventure Resort
Folks say there's a world of adventure in one place here on our 1,500 acre wooded, mountain covered resort. It's located adjacent to the New River Gorge National River, and in the middle of all the fun!