Home
|
The New River Gorge In West Virginia
Welcome To The New River Gorge Region
For decades the New River Gorge in West Virginia was a wild and scenic secret kept by local residents and the outdoor community. Most visitors to the area were rock climbers or river runners who came to "The Gorge" to explore the outdoors.
In 2020, 70k acres of existing public lands and waterways were officially designated the New River Gorge National Park and Preserve. That change introduced a quiet corner of West Virginia to the world and it quickly became a popular vacation destination.
The area is host to an exciting range of outdoor recreation like whitewater rafting, rock climbing, hiking and more. Historic sites, local restaurants and breweries plus the famous New River Gorge Bridge give even more options to area visitors.
An Ancient River Gorge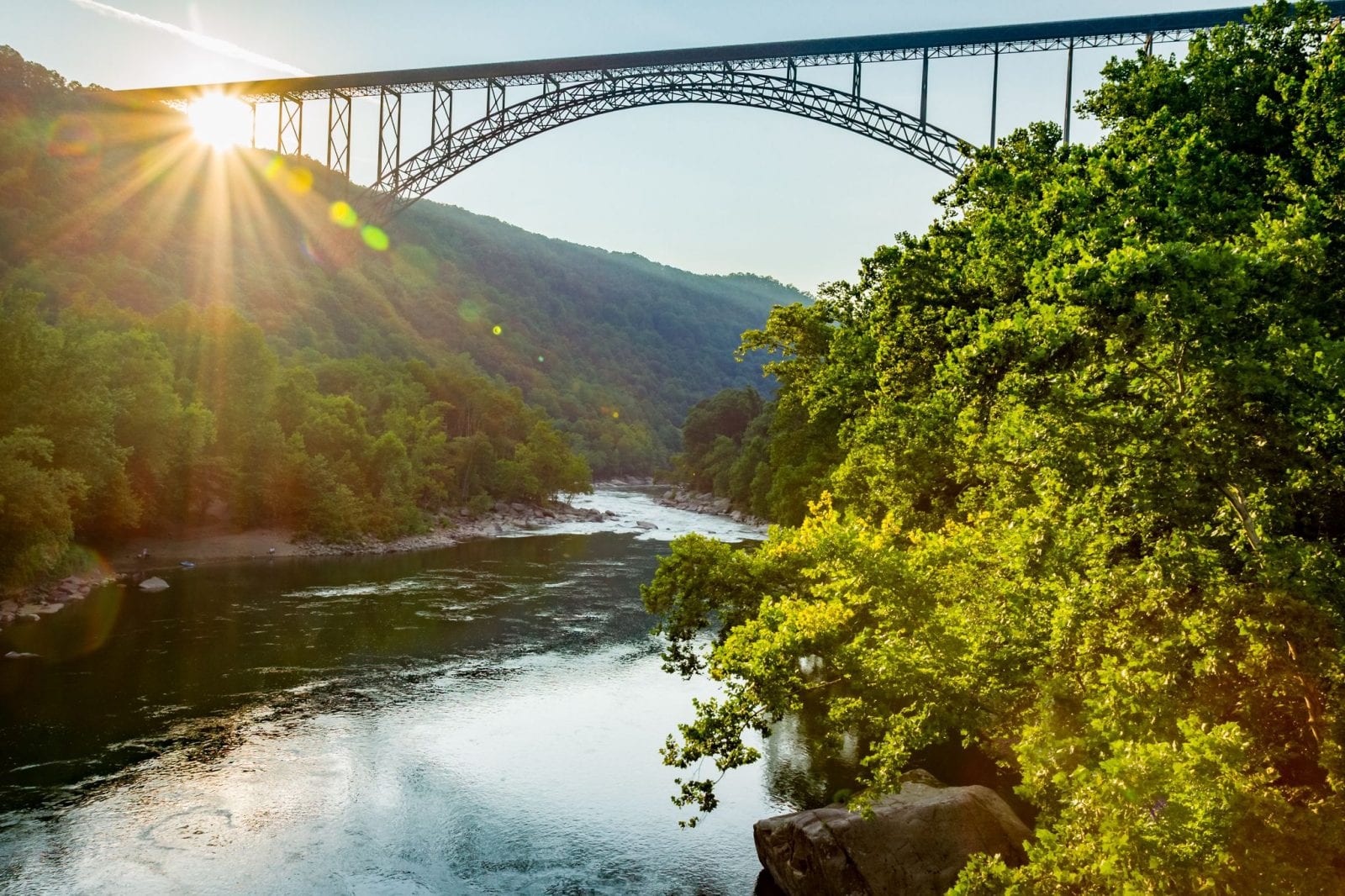 The New River Gorge National Park and Preserve
Designated a National Park in 2020 the New River Gorge National Park and Preserve showcases the best of West Virginia's rugged scenery, outdoor adventure and friendly communities.
Encompassing over 70,000 acres, 10,000 acres of which is established as a National Park, the recreation area is situated along 53 miles of wild river flowing through a 1,000 foot deep gorge. The New River Gorge is host to world class kayaking and whitewater rafting on the New River, tops in the nation technical rock climbing on its soaring cliffs, and hundreds of miles of hiking trails and mountain biking trails.
Those seeking a more tame adventure can journey across the famous 876′ New River Gorge Bridge by foot on its catwalk or enjoy the numerous overlooks accessible via car or a short walk. Nature lovers will be greeted by abundant wildlife sightings from deer and black bear to river otters, bald eagles and more.
The region is deeply connected to it's coal mining past and guests to the New River Gorge can explore historic sites featuring 19th century coal mining and railroad towns like Thurmond, Nuttalburg and Kaymoor. Many historic areas have been maintained or restored to offer a glimpse back into rough and rugged times.
The New River Gorge Bridge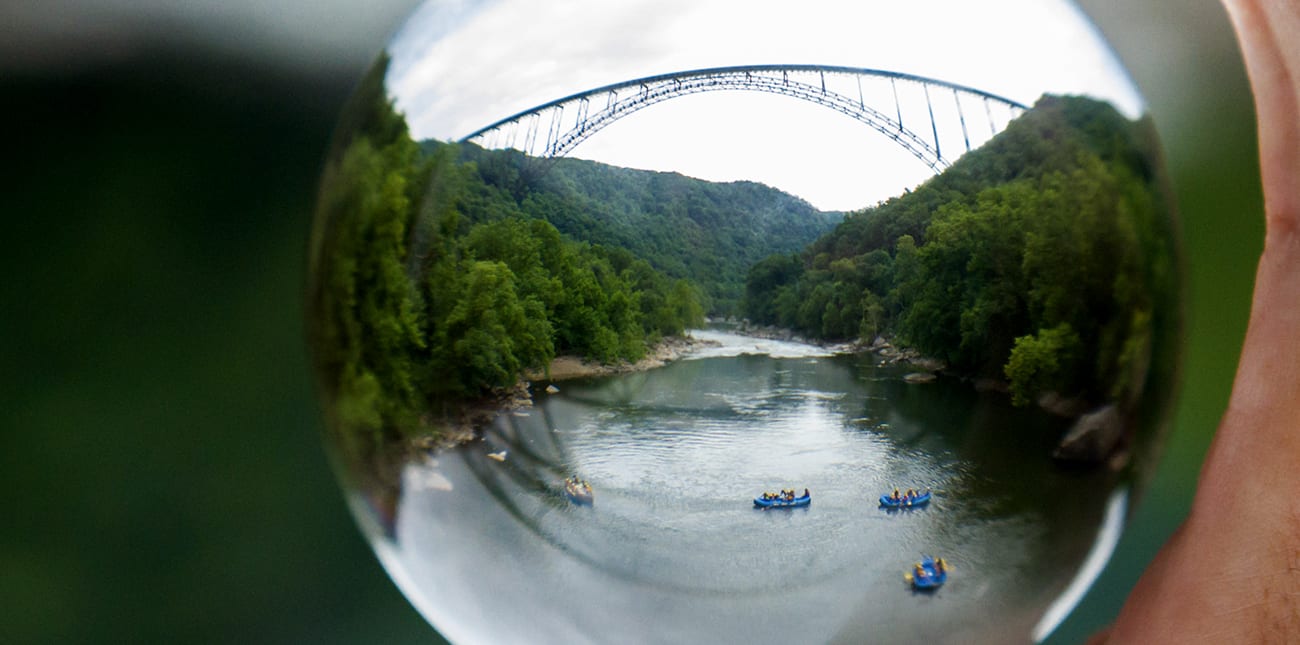 The Famous New River Gorge Bridge
Spanning 3,030 feet or about a mile and a half across the New River Gorge near Fayetteville West Virginia this single arch expansion bridge is both an architectural wonder and iconic view in the National Park. Construction was completed October 22, 1977 and at the time the CORE-TEN steel structure was the world's largest single arch expansion bridge.
US Route 19 travels across the surface of the bridge making a 45 second river crossing of a once 45 minute journey down into the 1000′ deep gorge via Fayette Station Road, across a narrow bridge at the river, and back up to the rim on the other side. Today guests can visit Bridgewalk to cross the bridge on its narrow catwalk while safely harnessed into a safety system to experience panoramic views of the incredible river gorge.
Learn More About The Gorge...
The New River Gorge National Park in Southern West Virginia is an outdoor lover's paradise. There is no other place in the eastern united states that offers such a diversity of outdoor adventures suited for beginners and experts alike in such a close proximity. Learn more about all the newest national park has to offer in these articles.
World Famous Whitewater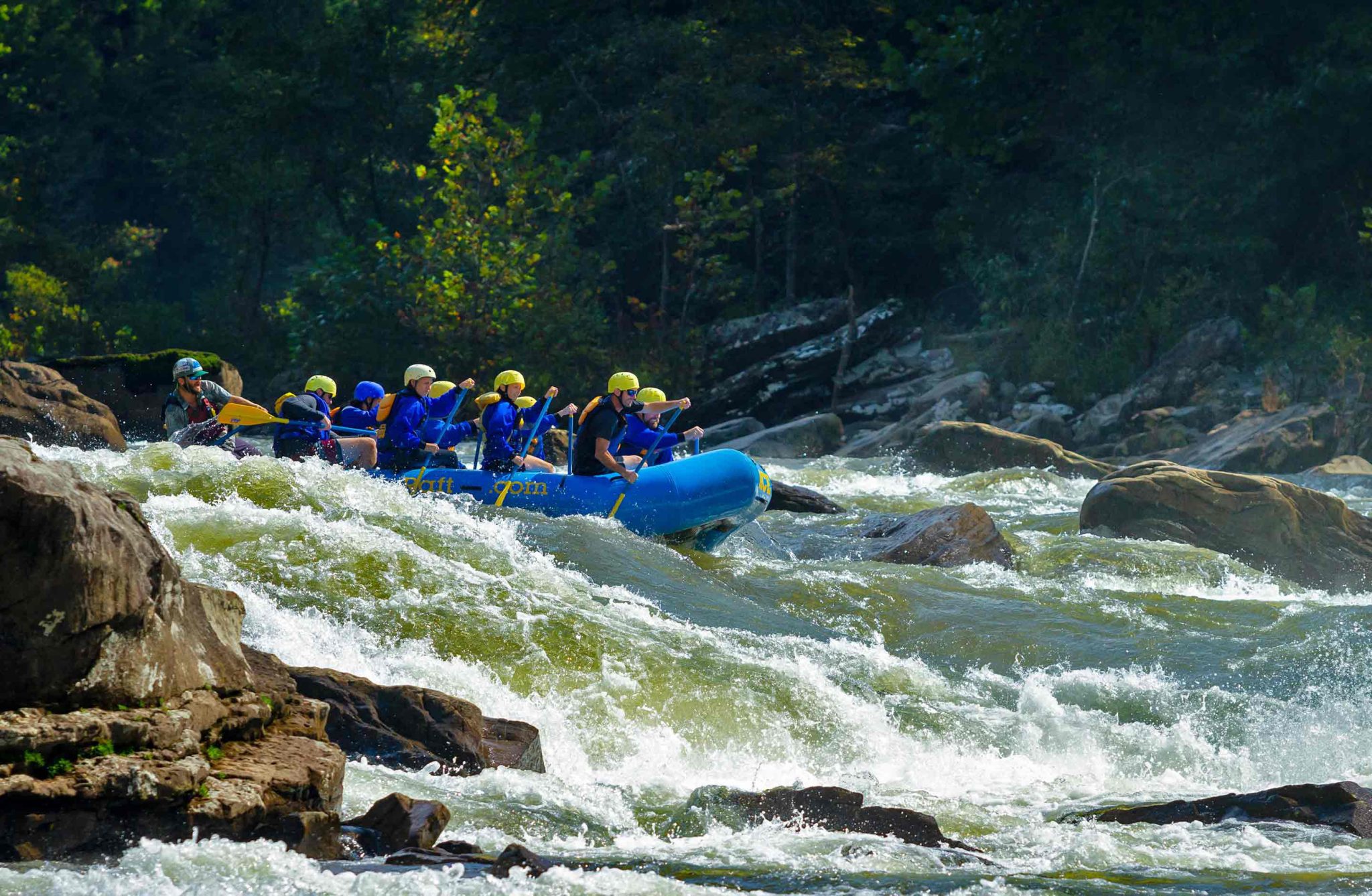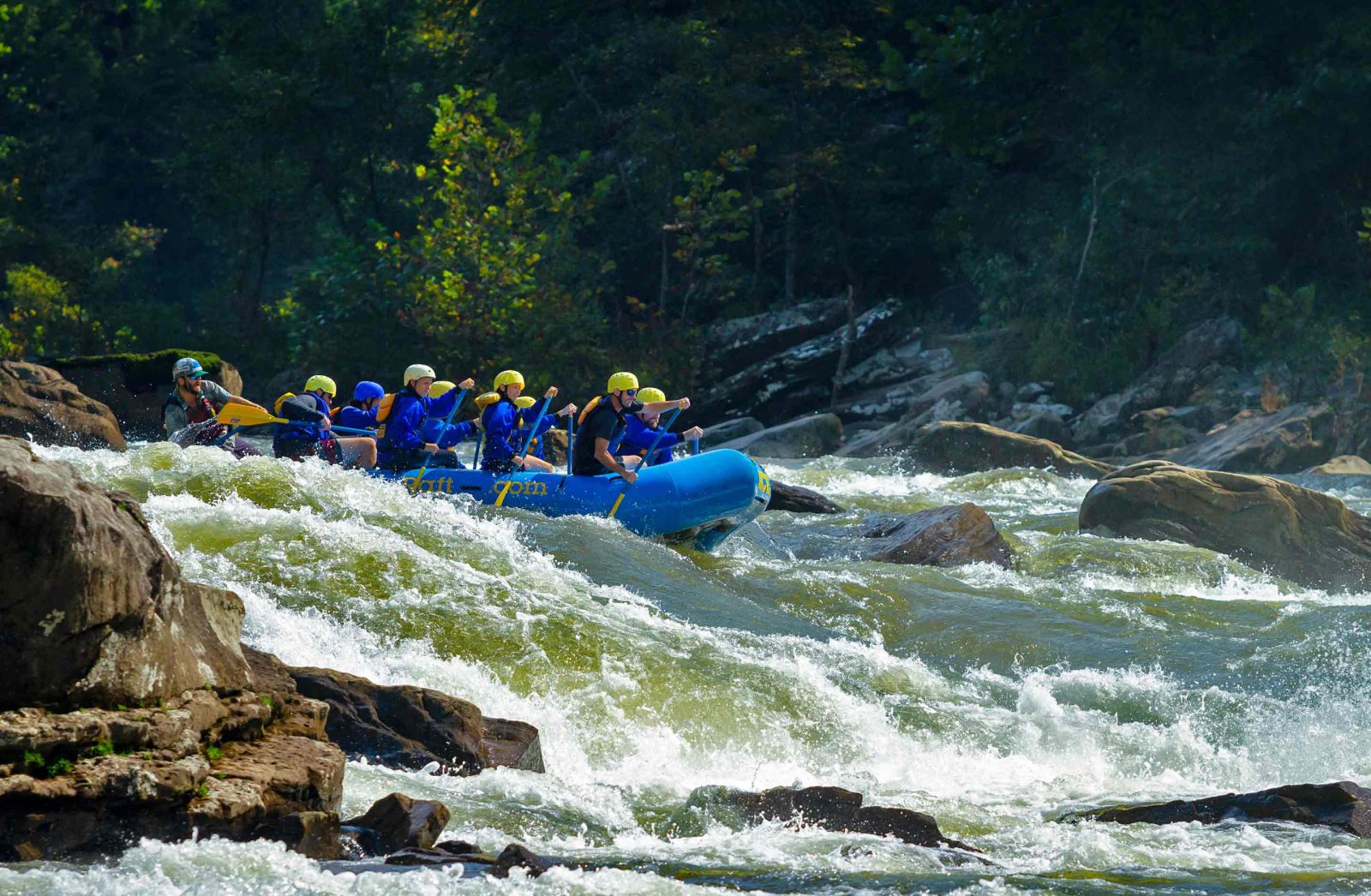 The Gauley River National Recreation Area
Just to the north of The Gorge, another West Virginia outdoor adventure paradise exists, complete with its own tumultuous, world class whitewater, abundant rock climbing, and ruggedly wild landscape. The Gauley River National Recreation Area entails 25 miles of the Gauley River, along with 5.5 miles of its major tributary, the Meadow River. Altogether, the park encompasses over 11,000 acres, from Summersville Lake and Dam down towards the confluence with the New River. Largely inaccessible other than by water, the remote Gauley and Meadow Rivers are both well known in the whitewater world for their technical, boulder-strewn rapids. While the Meadow is only paddled privately by highly skilled boaters, the Gauley is renowned among rafters as one of the most demanding and popular commercial runs in the world.
Read About The Gauley River National Recreation Area
Bahama Blue Waters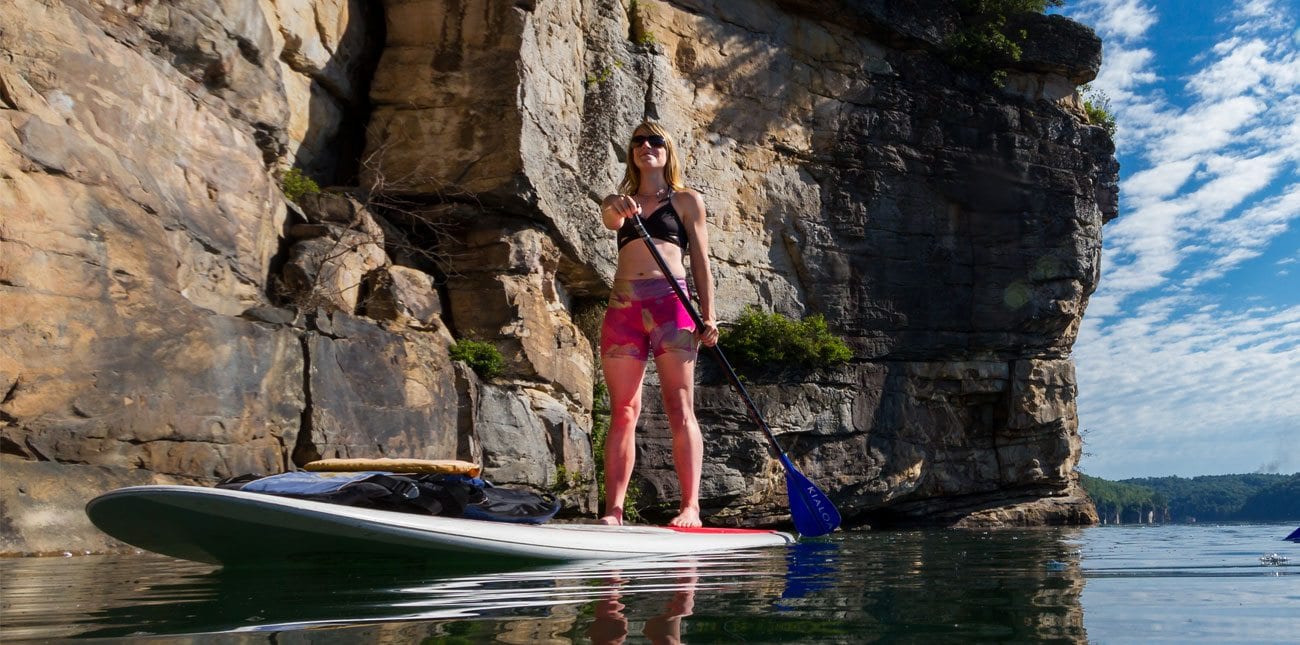 Summersville Lake
Known for being West Virginia's most scenic lake, Summersville Lake has every level of activity, so there truly is something for everybody. Spend a day swimming at Battle Run, where a sandy beach provides a fun day on the shore, West Virginia style. For those wishing to head out on the water, there are several great options. Rent a stand up paddle board and paddle your way around the coves and inlets that make Summersville Lake so unique. Paddle under the waterfall that cascades into Pirate's Cove for a refreshing shower underneath the cool mountain water. Or, check out the island near Battle Run and truly feel like you're a world away. If sit down activities are more your speed, head out on a lake kayak (available to rent at ACE Adventure Gear, or as a guided tour with ACE).  Paddle your way around the lake and be closer to the water, just make sure you jump out into the water to get some swim time in. This West Virginia Travel Guide gives all the info and details you need!
Explore The New River Gorge Region of West Virginia.
Located in the heart of mountain state the Gorge Region of West Virginia is a hub of outdoor recreation, relaxation and mountain adventure. This Travel Guide is a great place to start planning your adventure!