Gauley River Whitewater Rafting
Gauley River Whitewater Rafting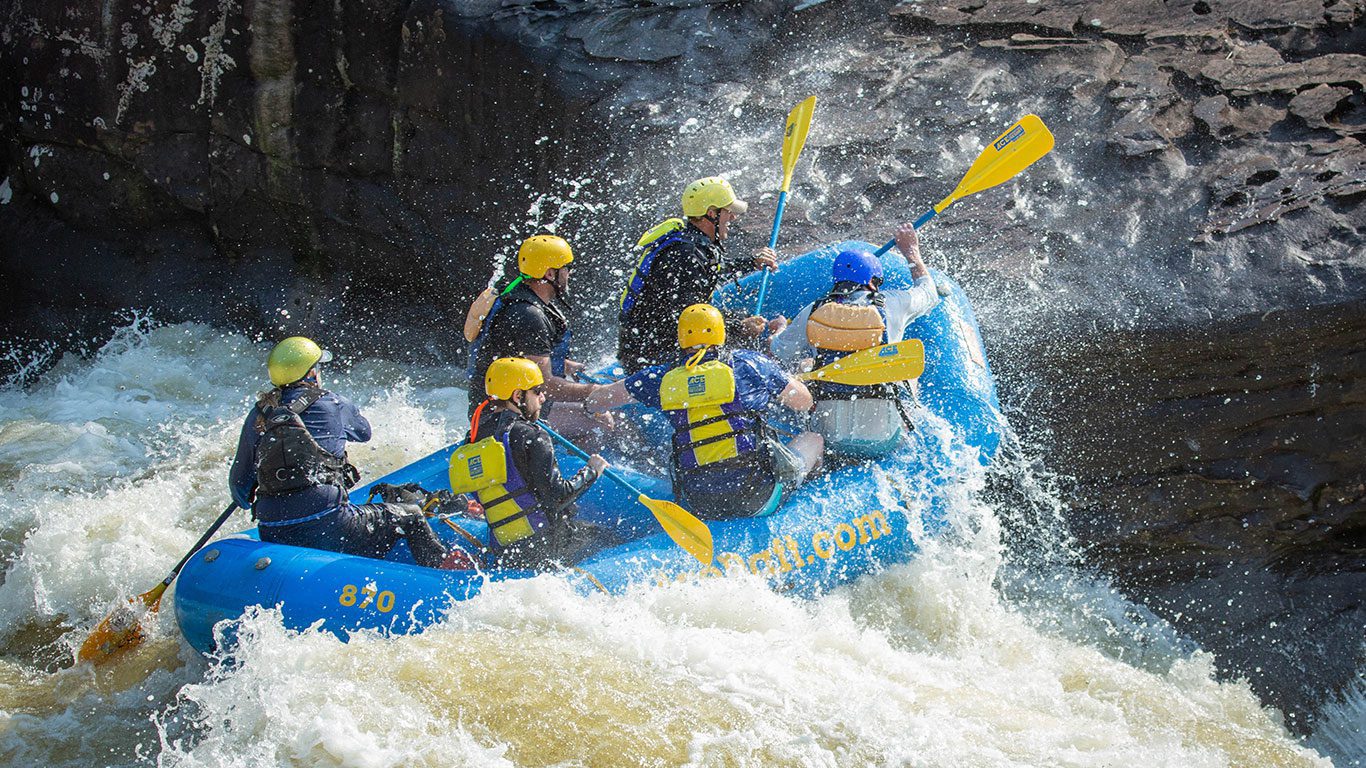 Just to the north of the New River Gorge National Park & Preserve, another outdoor adventure paradise exists, complete with its own tumultuous, world class whitewater, abundant rock climbing, and ruggedly wild landscape. The Gauley River National Recreation Area entails 25 miles of the Gauley River, along with 5.5 miles of its major tributary, the Meadow River. Altogether, the park encompasses over 11,000 acres, from Summersville Lake and Dam down towards the confluence with the New River. Largely inaccessible other than by water, the remote Gauley and Meadow Rivers are both well known in the whitewater world for their technical, boulder-strewn rapids. While the Meadow is only paddled privately by highly skilled boaters, the Gauley is renowned among rafters as one of the most demanding and popular commercial runs in the world.
The headwaters of the Gauley River are found in the highlands of the Monongahela National Forest . Only 105 miles in total length, what it lacks in distance it makes up for in descent. The river was entirely free flowing until 1965 with the completion of Summersville Dam, a flood control project of the US Army Corps of Engineers. Before the dam, the first and only known descent of the Gauley River was made by the adventurous husband and wife duo, Sayre and Jane Rodman. Interestingly and sadly, the couple had commented that the section of river flooded by the dam and now under Summersville Lake was "absolutely glorious." It causes many a boater to stop and wonder, considering the gloriousness of the 25 miles that are paddled today.  Another notable story of Gauley legends is that of kayaker John Sweet. In 1968, he became the first known paddler to successfully run "The Devil's Backbone" rapid. In his honor, this famous (or infamous) 14 foot cascading river wide waterfall is now referred to by all as Sweet's Falls.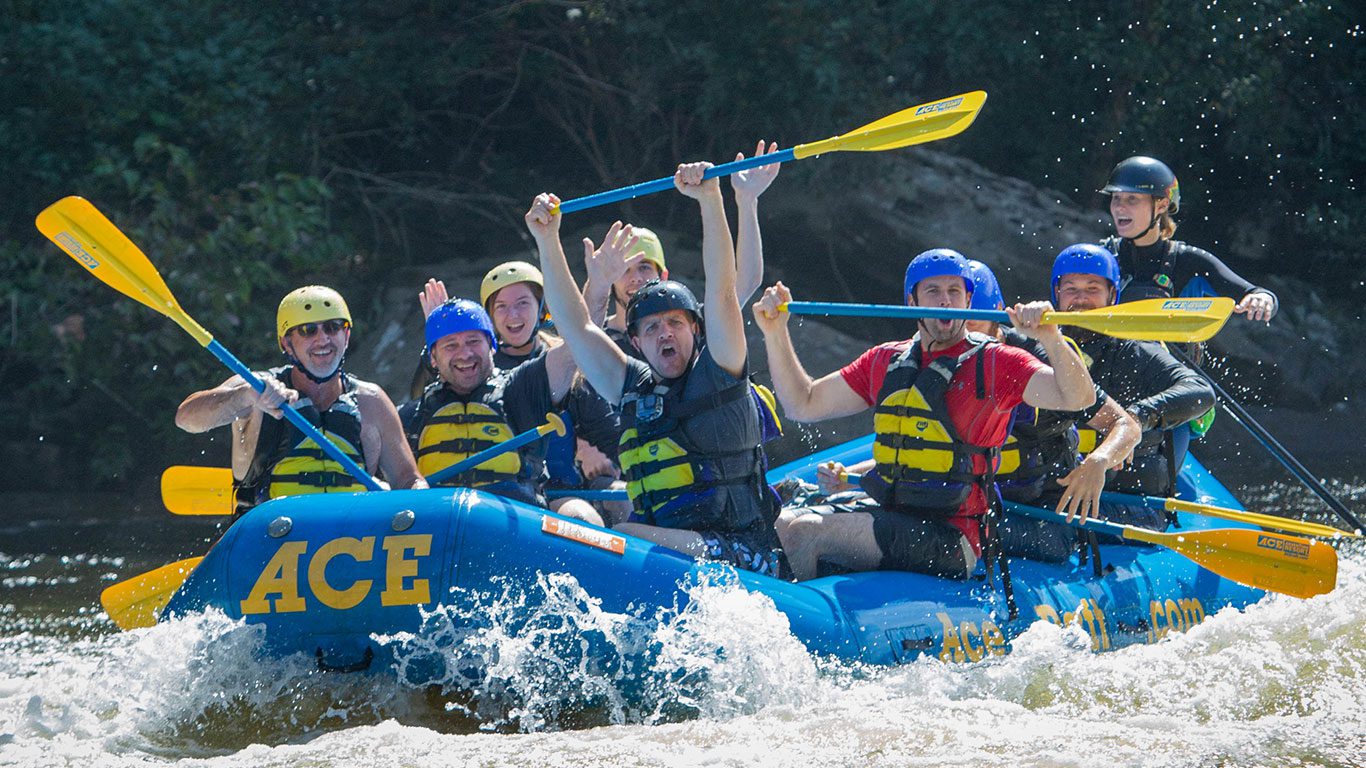 The section of the Gauley River below Summersville Dam has become world renowned for its whitewater rafting and kayaking. Take just one trip, and before you're even close to half-way through, you'll understand why every fall, the Gauley River draws people back to its waters again and again. Tucked in a remote, beautiful canyon, it is densely packed with some of the whitewater's hardest commercially run rapids. Steep and technical, made up of house-sized boulders and near-vertical cascades of water, there are 100 rapids in just 25 miles. Nowhere else can you paddle such a high quality and quantity of rapids in a single day. So special, it has an entire whitewater season with its name on it. Every September and October, there is a six-weekend scheduled release of water that has become known as Gauley Season. Commercial rafters and private boaters alike all make the annual pilgrimage for reunion on the river. Rapids with names like Lost Paddle, Pillow Rock, and Pure Screaming Hell have become central figures in the stories of whitewater lore. Gauley Fest, typically held on the third release weekend, is the largest whitewater festival in the world. Not so much a "kick-back-and-relax" float trip, paddling the Gauley is more "Let's do this!" adrenaline rush induced by crashing currents and dynamic drops.
For rafting and kayaking purposes, the Gauley River is broken into two major sections, known as the Upper & Lower Gauley. Both sections are absolutely phenomenal runs and are world-class in their own right, but they are also significantly different in style of rapids and pace. The Upper Gauley is a steep and boulder strewn, full of technical drops and towering waves coalescing to deliver one of the top whitewater rafting experiences in the world. With five Class V rapids and 60 total on the trip, this is the real-deal in the world of whitewater. The raw power and speed of Pillow Rock rapid, known as the wildest 20 seconds in whitewater, never ceases to impress. Tight, technical maneuvering through four major drops over the course of a half-mile, Lost Paddle rapid has to be experienced to be understood. And dropping over the horizon line of the 14 foot tall Sweet's Falls is an experience like none other. If you are looking to push yourself paddling the most difficult and powerful rapids you can commercially, then this is the section for you!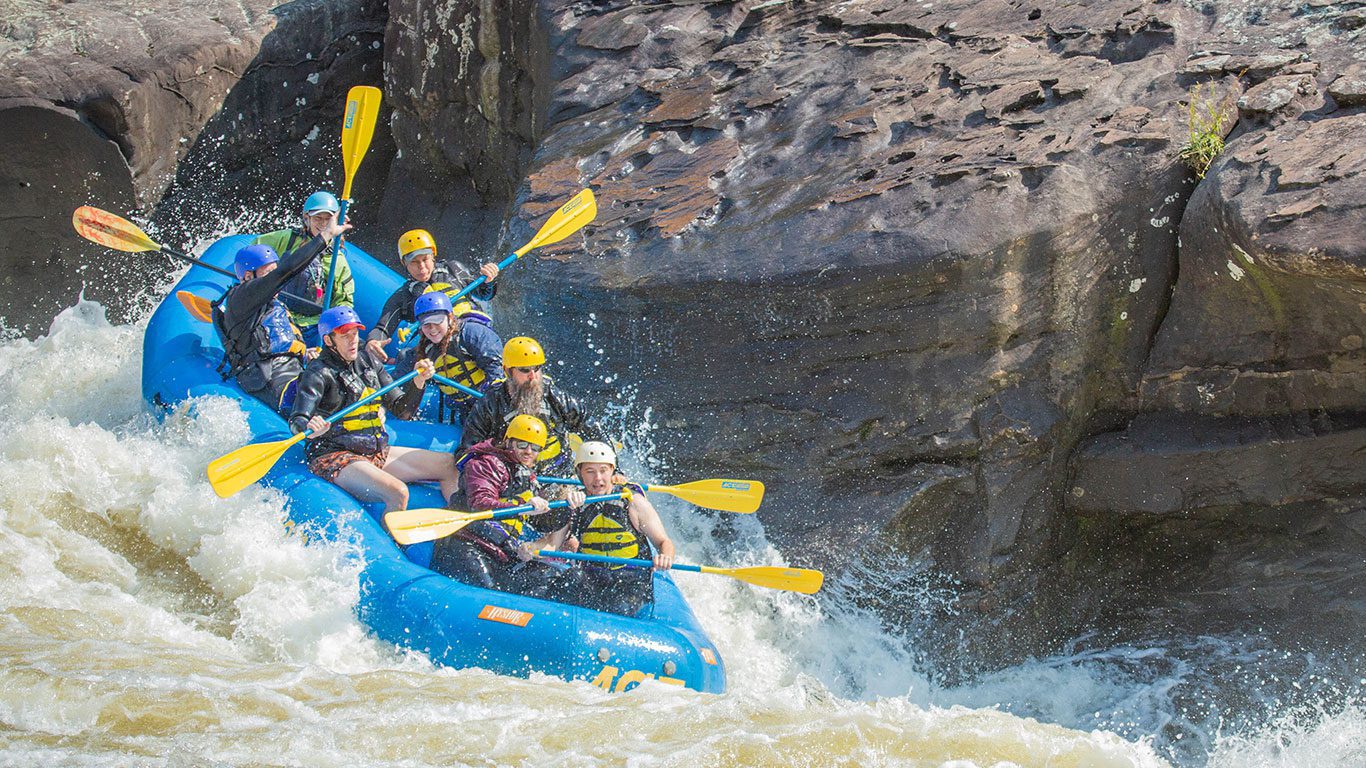 When it comes to the Lower Gauley, there is no section of river more overlooked and underrated in the Eastern US, and quite possibly in all of North America. It sits just downstream of the world renowned Upper Gauley, whose praise is completely warranted, but the Lower Gauley is an amazing stretch of whitewater in its own right. Over the course of the 14 mile trip from Mason's Branch put-in to the Swiss take-out, the Lower Gauley boasts over 40 rapids, with three of those being rated class V. With an average gradient of 35 ft/mile, it has enough to keep experienced boaters coming back for more, while not being too much for a first time rafter. If you are looking for huge, powerful waves, dramatic cliff lined rapids, and a remote whitewater experience, then you have got to take a trip down the Lower Gauley. The scenic beauty and remoteness found on the Lower Gauley are both something that boaters need to experience to really be able to grasp. Road access is minimal at best, with most of them being only four-wheel drive accessible over many miles of rough mountain tracks. Its remoteness has allowed for much of its wildness to remain intact. Towering sandstone walls and cliff lines are found all along the river's corridors. Drifting into the Canyon Doors rapids is like entering a whitewater cathedral, with the class IV waves echoing off the more than 100' tall rock faces that comprise the right bank. It would be easy to make the argument that it is the single most beautiful spot in the entire mountain state.
So what do you need and what do you need to do to get out on the Gauley River? Well, for starters, a positive attitude and adventurous spirit will get you pretty far. If you are looking to paddle the Upper Gauley, some previous experience is helpful and recommended due to the difficulty level and pace of the trip. Clothing and gear can have a huge impact on your trip, so knowing the weather and water temperatures is important. Always choose wool or some type of synthetic material to wear while paddling as these do a good job of still keeping you warm when wet. Cotton, on the other hand, is best left in the car! Outfitters like ACE offer wetsuits and neoprene rentals for those extra chilly mornings.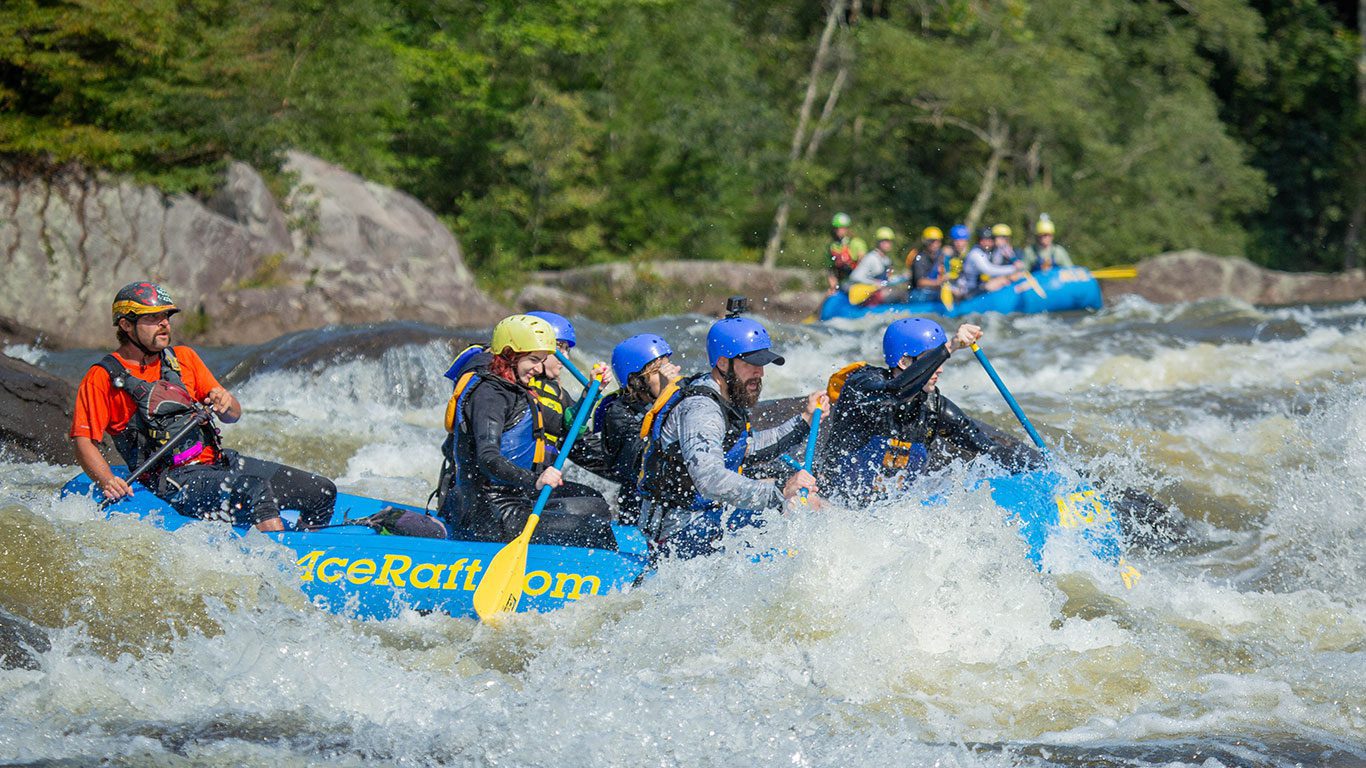 Plenty folks get out and paddle the Gauley in rafts or kayaks privately, that is, without a commercial outfitter guiding them. Private boating is a big part of the Gauley culture, but it is not something that is advisable for novice paddlers. Going with a highly trained river guide is the way to go. With multiple years and often decades of guiding experience as well as advanced medical certifications and rescue training, a guide can be a great teacher as well, greatly enhancing your experience. If you are interested in learning more about taking out your own raft or kayak, there are a number of other rivers and sections better suited for that, as well as opportunities for training and instruction, like ACE's kayak clinics or guide training program. ACE Adventure Gear in downtown Fayetteville also has a wide range of paddling equipment to get you started.
When booking your Gauley River rafting trip, don't forget to book your place to stay too! ACE has a wide range of lodging options, but things fill up quickly, so don't delay. With live music and a festive Gauley Season atmosphere once you're back from the river, staying right at ACE keeps you close to all the excitement!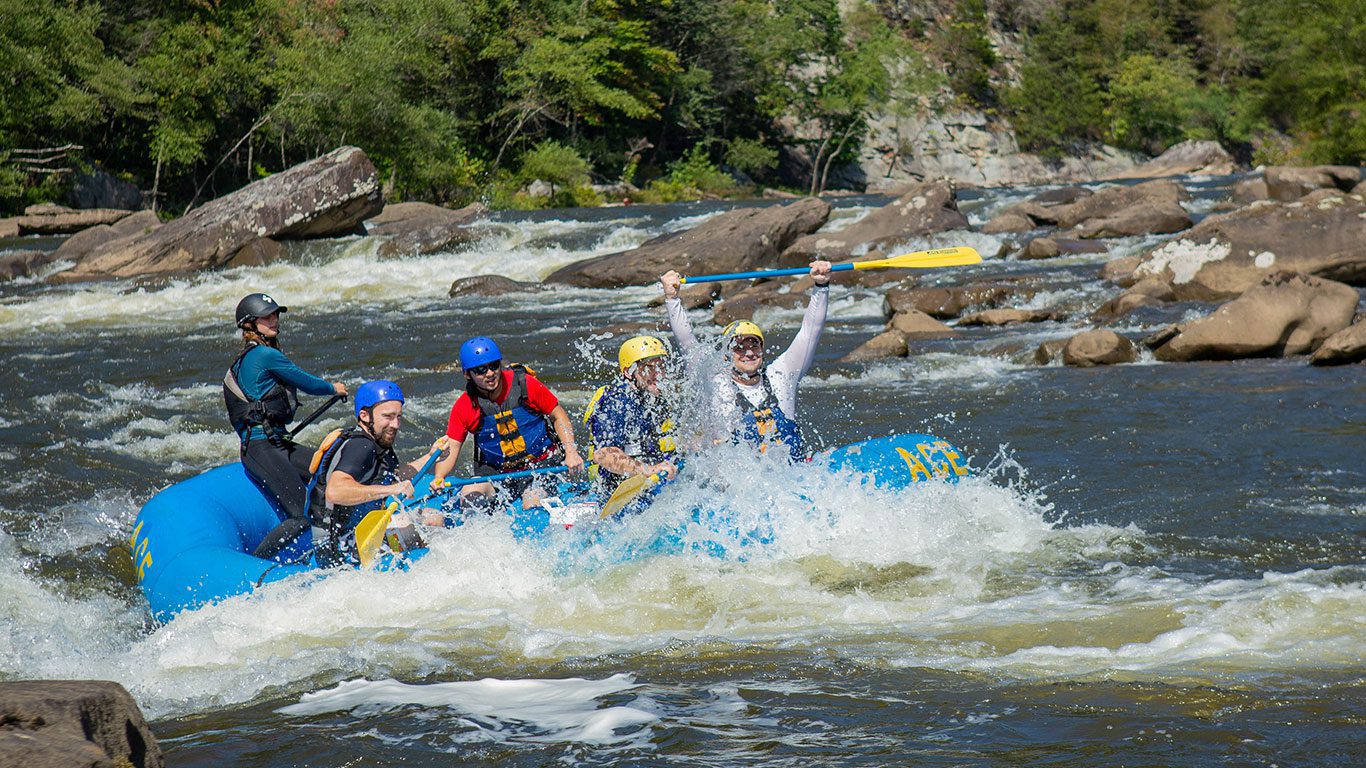 A trip down the Gauley River is an experience like none other, but it is one that really cannot be done justice through written words or spoken stories. It has to be felt. The crashing of a wave encompassing all of you . . . The split-second sense of weightlessness as you come over a steep, vertical drop . . . The sense of accomplishment as your crew paddled together to maneuver through the most technical of rapids. It's all here and happening and ready, the only thing missing is you.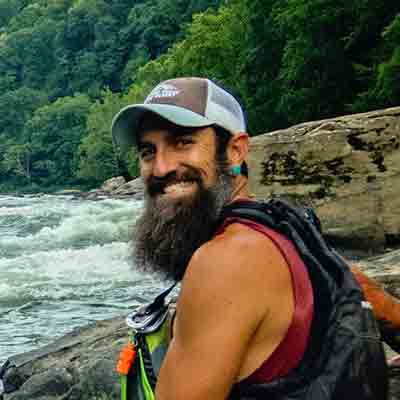 BY Bryant Baker
As many of us do, Bryant responds to many titles. His two favorite roles are husband to his wife Laura and proud Papa to his three girls. Professional titles include guide, instructor, operations manager, race director, photographer, and writer. He has worked in the outdoor adventure industry for 18 years, spending the vast majority of that time leading whitewater rafting and climbing trips here in the New River Gorge region of WV.
VIEW FULL BIO & ALL POSTS
RELATED ADVENTURES