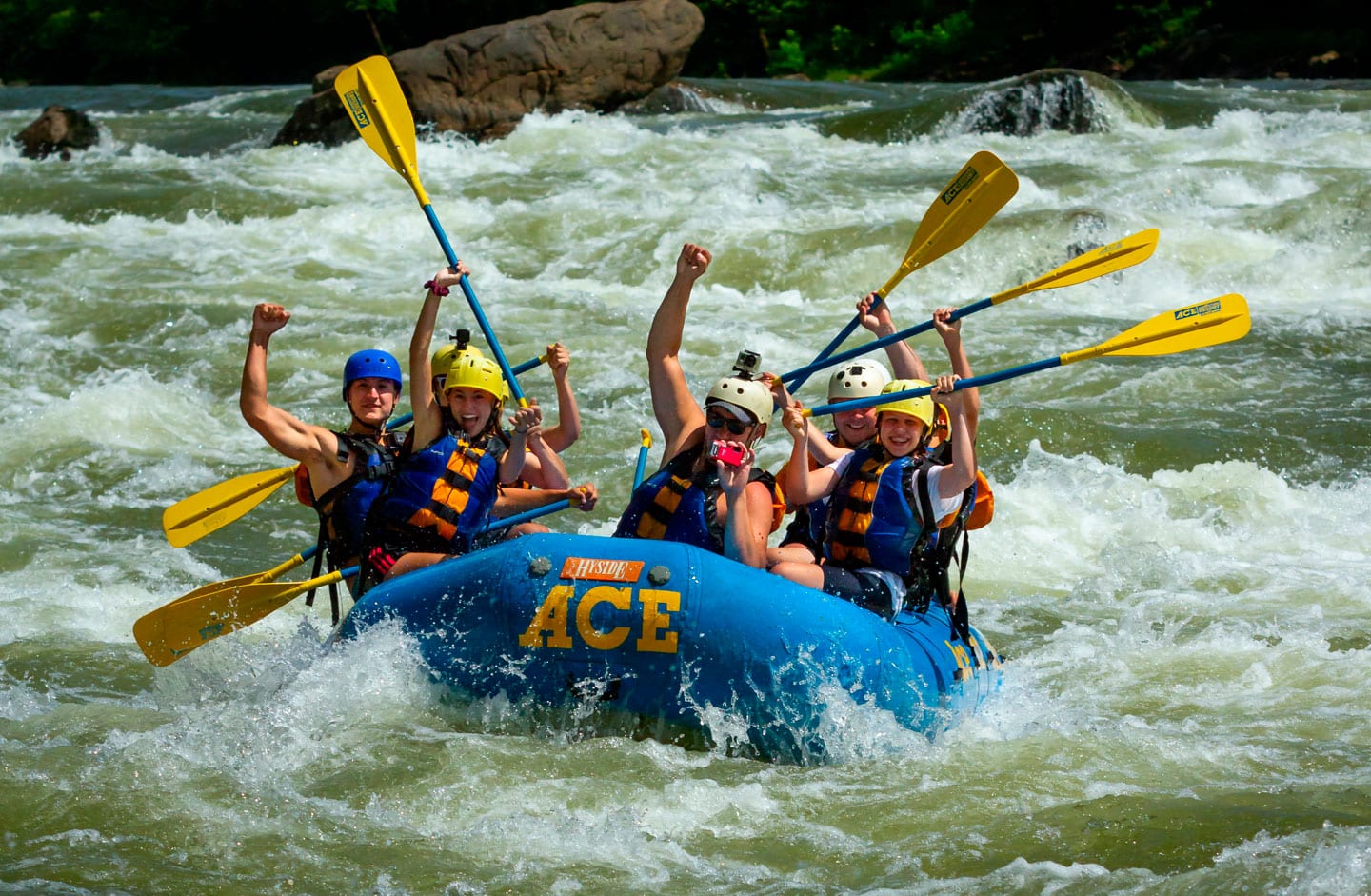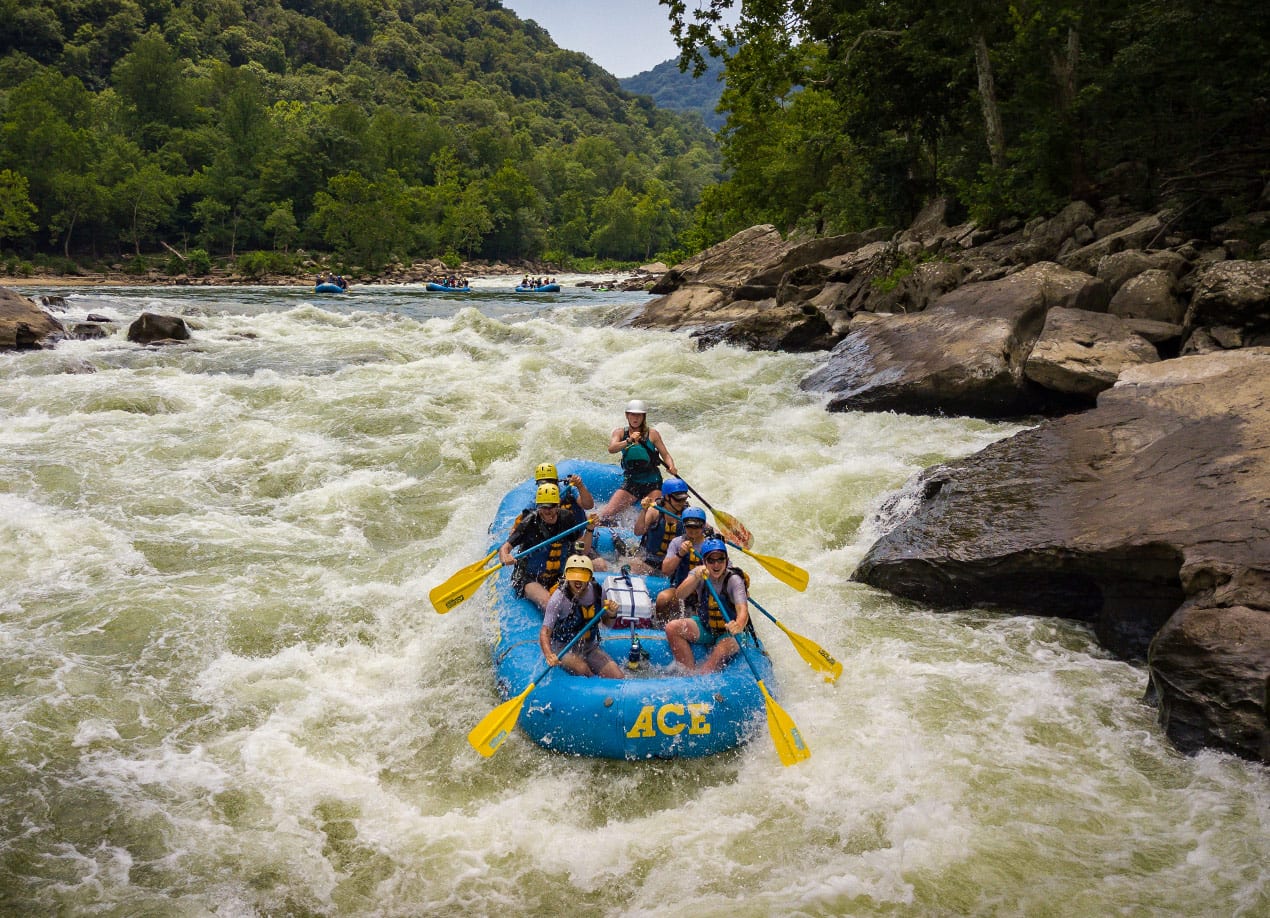 New River Gorge Rafting Trips
Hands down, the most immersive way to experience America's newest national park is on a guided river trip. New River Gorge whitewater rafting trips take place on two primary river sections known as the Upper New and Lower New – A.K.A "The Gorge". Both of these sections are located in the heart of the New River Gorge National Park and Preserve in West Virginia.
The Lower New River Gorge is the our most popular rafting trip because it offers challenging and exciting rapids for experienced rafters as well as first timers. This incredible stretch of river takes rafters deep into the most scenic area of the National Park. Rafters 12 years and older can run The Gorge. Rapids range in difficulty from Class III – Class IV.
For younger rafters, or those who want a more mellow experience, the Upper New River Gorge is the perfect rafting trip. The day is a blend of running easy rapids, playing river games and floating through calm, scenic pools. Guests as young as six years old can join these trips and rapids range from Class I – Class III. Plus a child ages 6-11 years old rafts FREE with each full price adult.
Choose A Section Below To View Trip Options.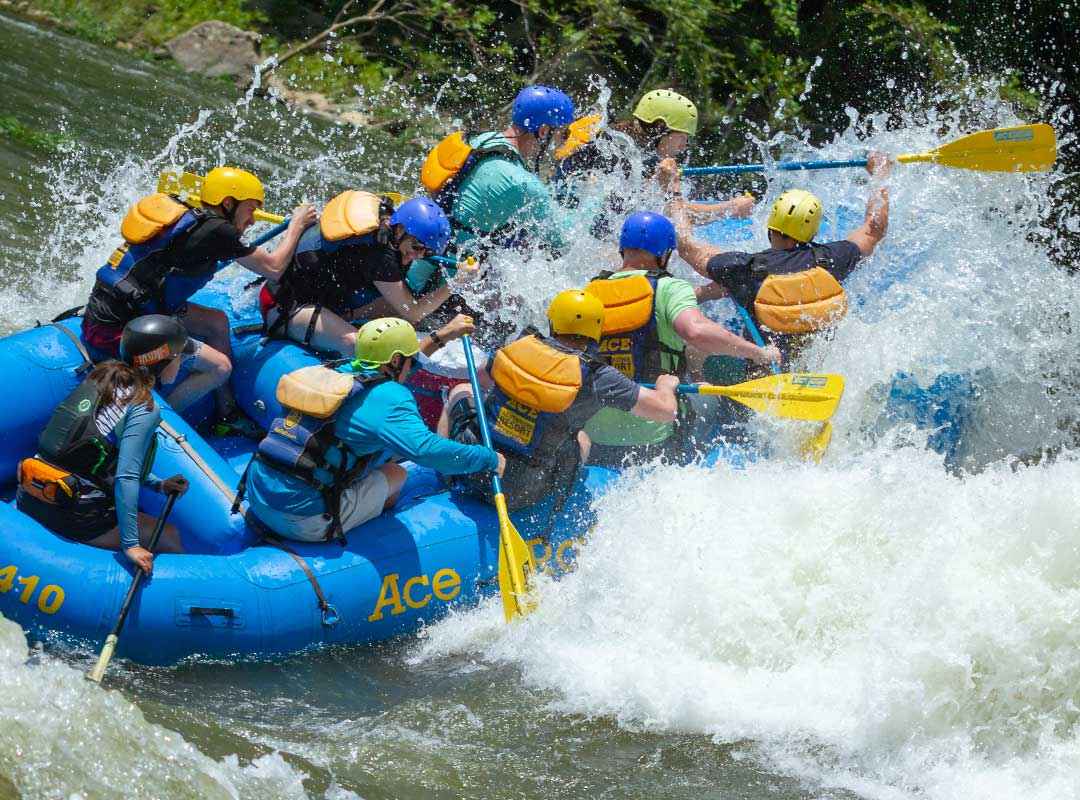 New River Gorge Rafting Trip Options
There are a few different options for your New River Gorge rafting trip at ACE Adventure Resort. Here are the details:
Are you short on time? You can choose a half day Lower New River Gorge rafting trip and save a little money. This trip skips lunch and surfing and just keeps moving through the rapids! It's your fastest options for white water rafting in the New River Gorge.
Want to enjoy a riverside lunch on your trip? All Upper New River Trips include a complimentary riverside lunch. So do our full day Lower New River Gorge rafting trips.
Would you like to spend the night camping beside the river? ACE offers an Upper New and a Lower New River Gorge overnight trip. You'll get to spend the night in the National Park at our private Erskine riverside campground. Meals are included!
Have you rafted the Lower New River Gorge before but want more? Upgrade your full day trip with a 12′ performance raft and run the bigger lines -or- join us for Spring Rafting in May or early June to experience high, fast water and giant waves in the Gorge.
About New River Rafting
About the New River and the New River Gorge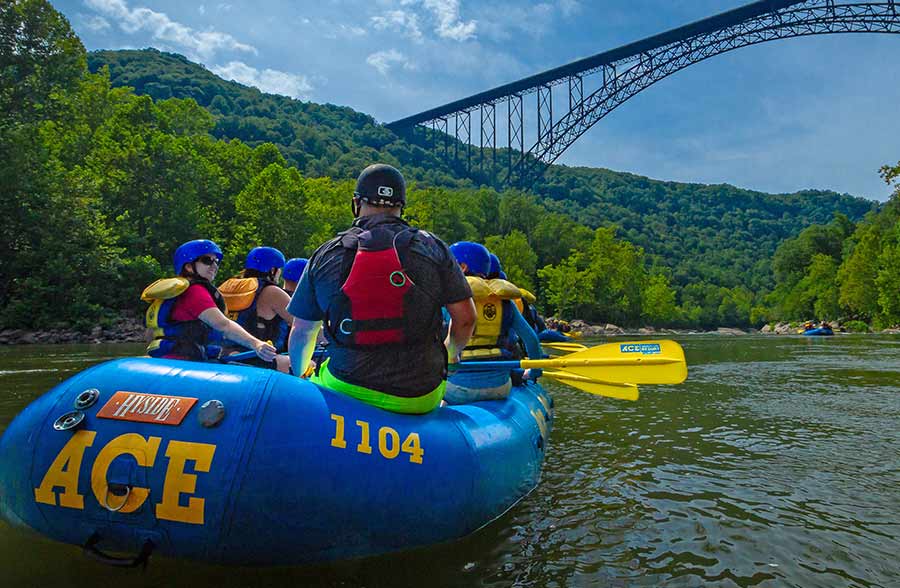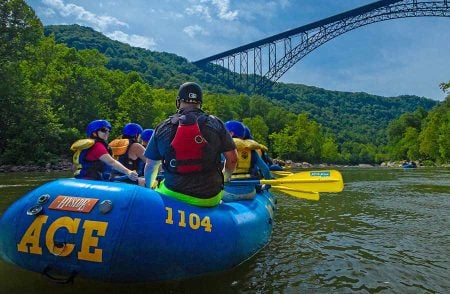 The New River travels from its origin in North Carolina then flows north through Virginia before charging into a steeper, cliff lined section of fast moving water in West Virginia known the New River Gorge. This ancient river is estimated to be between 10 and 360 million years old and is younger only than the Nile River in Egypt.
For millions of years the New River has been carving the sandstone bedrock of West Virginia creating a remarkable landscape that is both rugged and beautiful. The resulting river gorge is so impressive that in 2020 The New River Gorge National Park and Preserve was given the honor of becoming our nation's newest national park. While known for being the East Coast's home for the highest concentration of world class outdoor adventures it's easy to argue that The Gorge is best known for its year round whitewater paddling opportunities. The paddling culture is centered around the 1000′ deep New River Gorge and its crowning glory, the New River Gorge Bridge.
What's so great about Whitewater Rafting in the New River Gorge?
Centrally located on the East Coast of the United States, and less than a day's drive from most of the country's population, the New River Gorge is the best rafting vacation east of the Mississippi. Here are three great reasons why:
First, the New River always has enough water to run an awesome rafting trip thanks to its massive 3 state watershed. Trips on many popular rivers are limited by dam releases, snow melt or rainfall. Unfortunately that means a rafting vacation planned in advance could be ruined by conditions that don't allow for a river to be run. Luckily that's never an issue for paddlers white water rafting in the New River Gorge of West Virginia. This high volume, deep river is always runnable and always fun.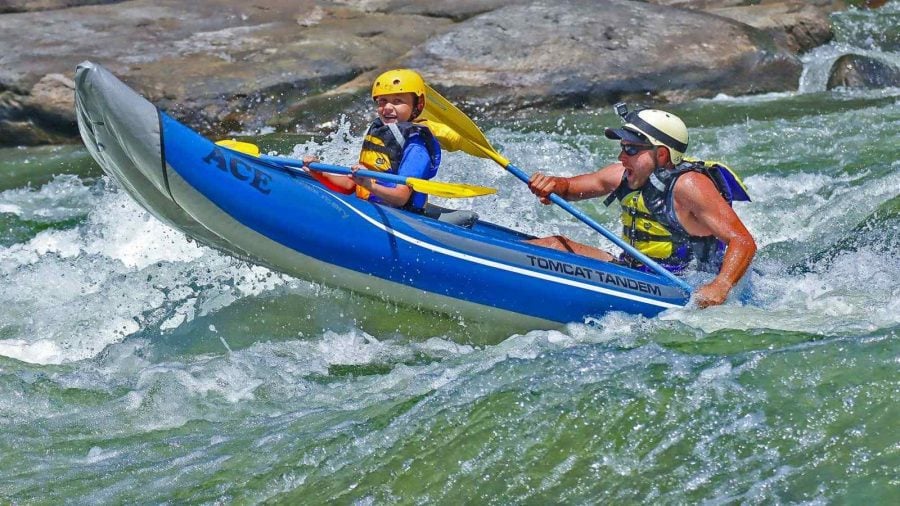 Second, it doesn't matter if you're young or old, a wild adventurer or a mild adventurer, there's a rafting trip for everybody in the New River Gorge. When it comes to rafting and rapids river gradient has a lot to do with the challenge level of a stretch of river. The steeper the run, the more exciting and challenging the rapids will be. Because the New River Gorge features less gradient per mile on the Upper New River Gorge it offers a fun-filled but relaxing trip with a few easy rapids along the way. This is a great trip for families with younger paddlers or folks looking for a float trip.
The Lower New River Gorge rafting trips are run through the steepest and tightest portions of the New River Gorge so the rapids are bigger, steeper and more powerful. That means trips on this section are more exciting, more challenging and better suited for experienced rafters or beginners seeking more than a calm float trip.
Third, the best way to explore the New River Gorge National Park is in a raft. The New River Gorge hosts some of the best hikes in the National Park System as well as a whole range of outdoor adventures like rock climbing and mountain biking that allow guests to discover the natural beauty of this amazing park. However, if you really want to see the most incredible views in the Gorge there's no better way to do it than floating down miles of scenic whitewater on a guided rafting trip. Wildlife sightings are very common on both Upper New and Lower New River rafting trips. It's no unusual to encounter river otters, deer, ducks, even bald eagles while on the river. Train buffs are likely to see a coal or passenger train roll past on the riverside and all guests paddling the Lower New River Gorge will finish their trip by paddling under the 876′ tall New River Gorge Bridge.
Which New River Gorge Rafting Trip Should I Choose?
You're going to have an amazing time whitewater rafting in the New River Gorge no matter which section you pick, but, here are a few things to consider to help you choose the rafting trip that is just right for you.
How old is your youngest trip participant? Our guests must be at least 6 years old on the day of their trip. If any of the members of your party are under 11 years old then you'll need to choose one of our Upper New River Gorge rafting trips. If everybody in your crew is 12 years old or older than you can choose to raft the Lower New River Gorge if you want the most exciting but beginner friendly rafting trip we offer. If you'd like a quieter time many adults and older kids enjoy the Upper New rafting trips as well.
What time of year do you want to raft? Prime rafting season is from June 1st until late September when the cooler temperatures start to set in. Before Memorial Day Weekend we only offer Lower New River Gorge trips because the incredibly high waters from spring rains makes the river so big, and so fast, that we often have to run both the Upper and Lower New together in the same day. From Memorial Day Weekend until the end of August you can raft the Upper or Lower New River. If you plan on visiting in September or October we also recommend that you check out ACE's  Gauley River Rafting trips if all your rafters are over the age of 16 years. We do continue running Lower New River Gorge trips in those months as long as the weather stays fairly warm.
How much adventure are you seeking in your trip? If you want to run a milder stretch of river with mostly calm moving current and a very small chance of falling out of your raft we recommend rafting the Upper New. If you've rafted before, or your are a thrill seeker the Lower New River Gorge is the best trip in the Summer. If you're an experience rafter, or a true adrenaline seeker who wants to raft The Gorge we recommend upgrading your trip with one of our 12′ rafts that run tighter lines and make waves feel even bigger than usual.
Try our most popular new river gorge trip!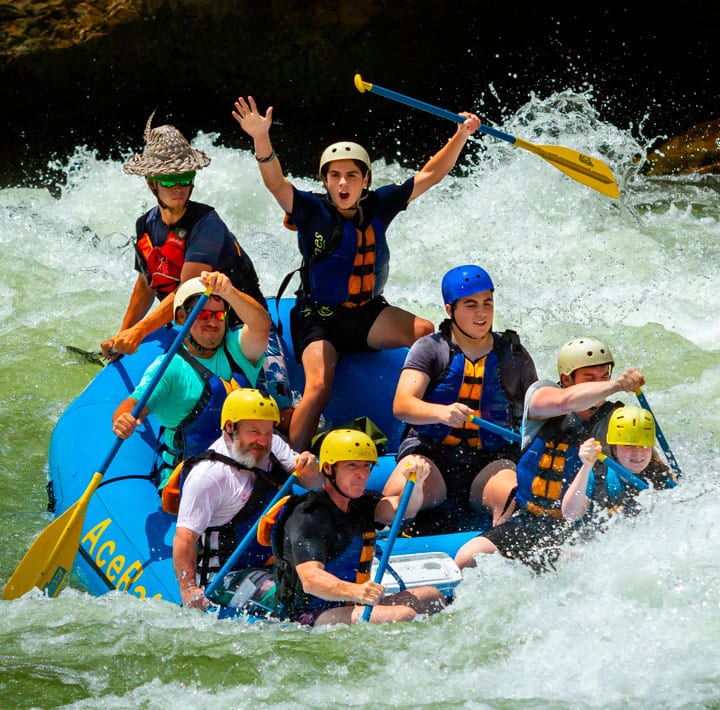 LOWER NEW RIVER GORGE
WHITEWATER RAFTING
FULL DAY
Meals: Riverside Lunch Included
This full-day excursion will satisfy your need for whitewater. With all the great scenery, incredible class III-IV+ whitewater, a visit to jump rock, and a riverside lunch, this trip is ideal for both new rafters and seasoned boaters alike.
SHARE YOUR VACATION WITH US! TAG US AND USE #ACEVIBES...