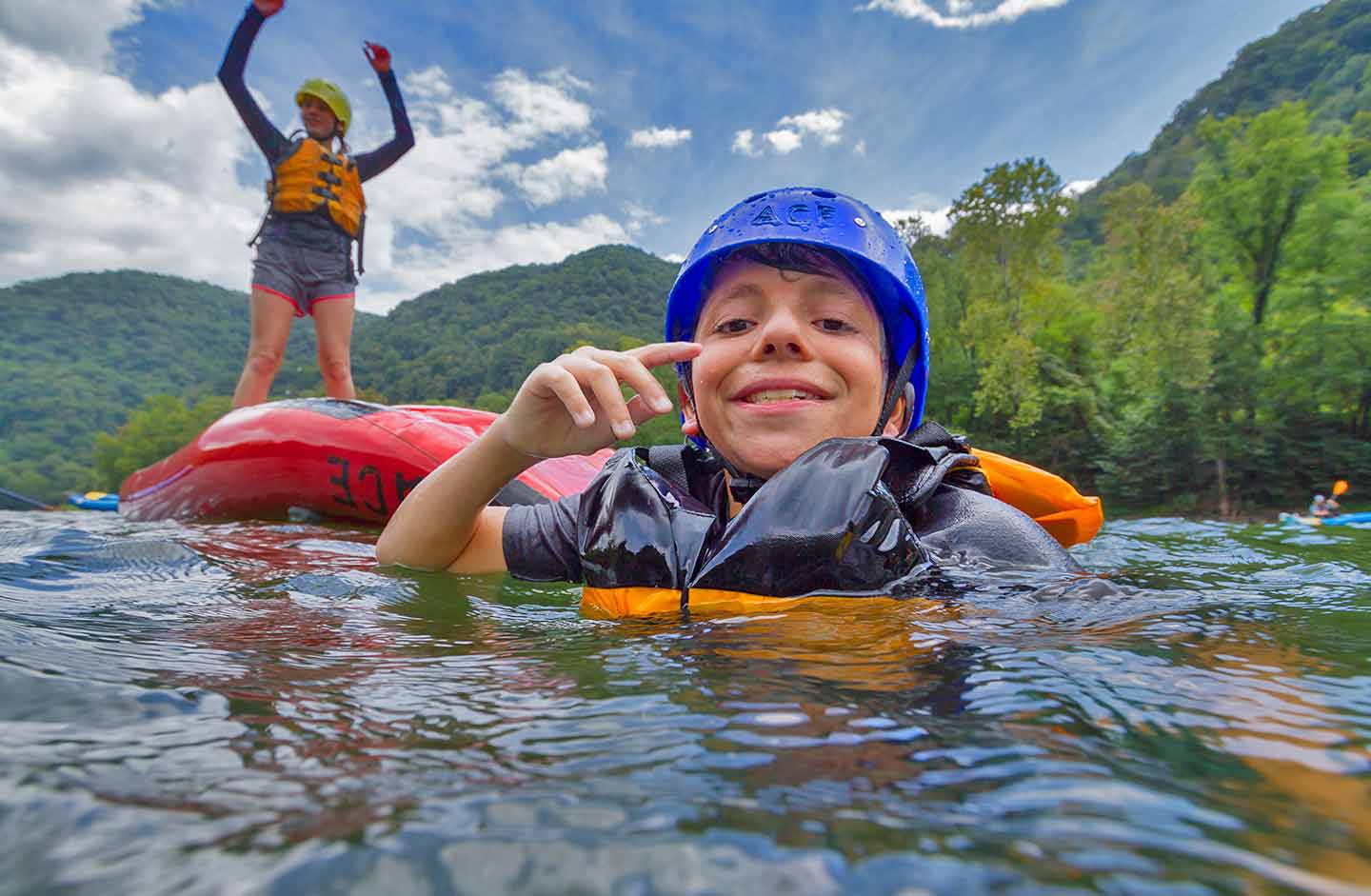 ACE Adventure Groups
Scouts BSA
Scouts BSA At ACE Adventure Resort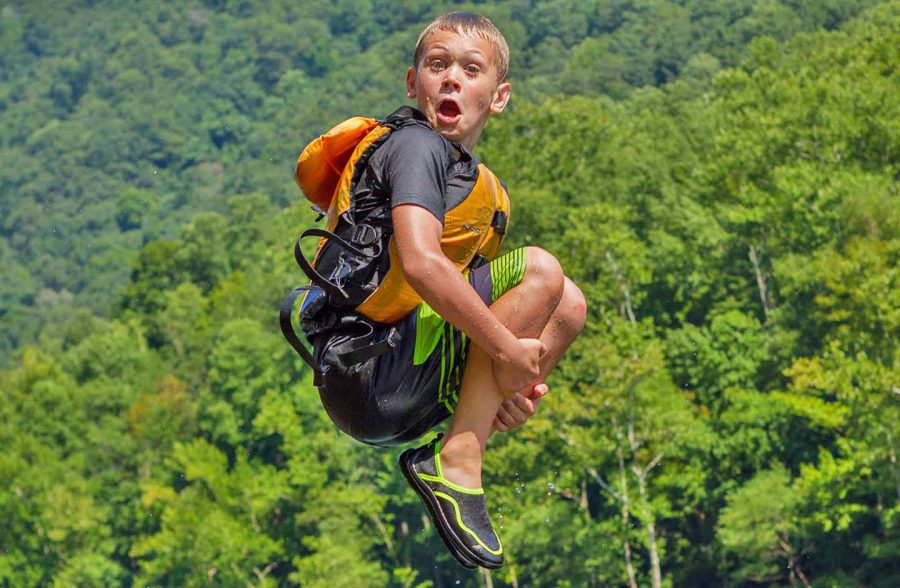 Outdoor experiences teach many lessons … most are REALLY FUN! Plus, outdoor adventure is a pillar of Scouting. It's also the reason ACE Adventure Resort has been doing what we do, outside, for decades. Scouts BSA has been a part of ACE Adventure Resort since ACE was founded over 40 years ago, and we have the experience and the know-how to provide the best Scout Activities for your troop.
The leaders of tomorrow are built by the challenges they overcome today. Whitewater rafting, rock climbing, zip-lining…and honestly every adventure we offer in the New River Gorge…help your scouts acquire a deeper sense of self, and a greater sense of confidence, in their peers.
Boy Scouts and Scouts BSA Activities
For over 40 years, ACE Adventure Resort has been guiding Scouts down the rivers of the New River Gorge Region. Throughout the years, ACE has expanded to do way more than just rafting – and now scouts bike, climb, zipline, and participate in many more Boy Scout activities with ACE. Our 1,500-acre mountain playground provides the ideal environment for scouting groups, with on-site activities, camping, and bunkhouses. We believe that outdoor adventures can help scouts learn communication, teambuilding, and leadership skills That's why  Scouts BSA go hand and hand with ACE Adventure Resort.
Plus, we'll make your adventure easy with: 
Adjusted non-profit pricing
Preparing some, or all, meals
Lodging or camping
Professional guides & staff
Merit badge counselors
Well maintained equipment
Your group's safety is ACE's first priority

Scouts BSA Should Be Prepared… For Fun!
Scouts can play hard and work together while participating in activities at ACE! Whitewater rafting, perhaps the original teambuilding activity, is our most popular activity, and is available on two different rivers for a variety of experience levels. Spend a day at our waterpark, or learn about STEM in one of our educational experience activities. Soar above the trees on the only zipline course with views of The New River Gorge, or take on rock climbing.
But that's not all we offer for Scouts BSA troops to enjoy! ACE has hiking trails, mountain biking, a mud obstacle course, paintball, and a teambuilding challenge course! With so many activities, you could fill a week and still have more Boy Scout activities to experience!

Merit Badges And Awards
Did you know that Scouts BSA members can earn merit badges at ACE? Hand on experience and our highly trained guides will help your Scouts achieve their goals. Climb in the world famous New River Gorge region and learn about the sport to earn the Rock Climbing Merit Badge. Experience class 3-5 rapids rafting the Lower New River and earn your Rafting patch, as well as, earning your Whitewater Merit Badge in inflatable kayaks on the Upper section of New river.. With miles of mountain biking trails located at ACE and the surrounding New River Gorge, Scouts can work towards their Cycling Merit Badge. Finally, take to Summersville Lake to earn the SUP award and Kayaking Merit Badge.TEM Outdoor Education trips can be customized to assist Scouts with their Ecology and Geology Merit badges .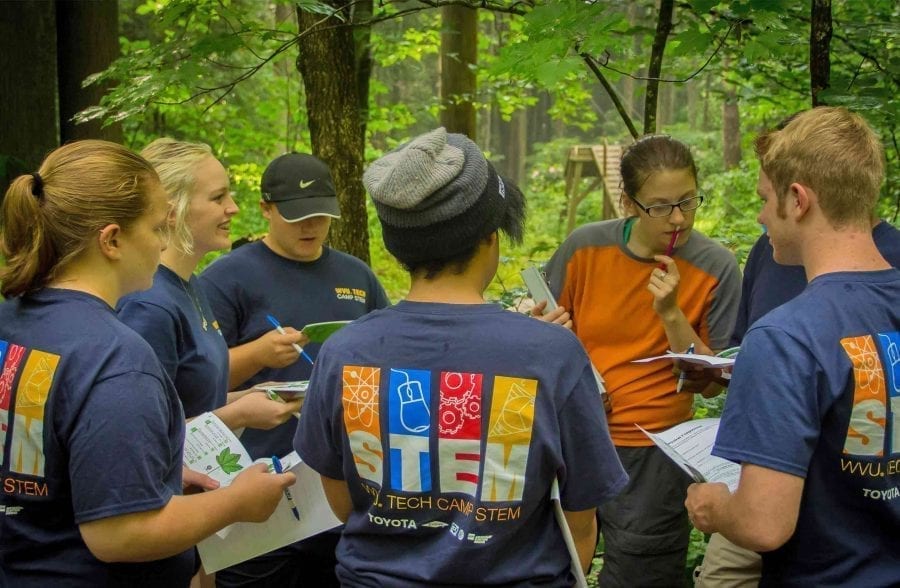 STEM With Adventure!
Learning is even better when it is a hands-on experience! At ACE, Scouts can learn about STEM in a fun and experiential environment. Scouts can choose from a variety of STEM activities, specifically designed in a way to help them learn in a fun and exciting way. Scouts can raft, zip, climb, hike, or spend a day at Wonderland Waterpark learning about the world around them in the coolest classroom ever. Hydrology, Newton's Laws of Physics, Geology, and more will be explored in the various classes, and Scouts will perform experiments to further aid in their learning.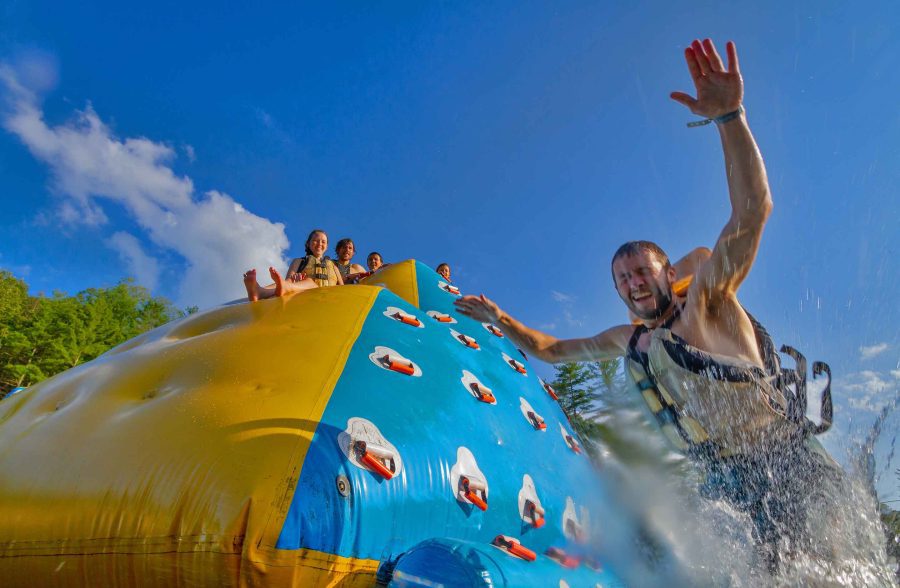 Not Your Average Waterpark
Kick back and relax at Wonderland Waterpark, OR go all out and experience all of the dozens of inflatable elements on this 5 acre lake. This is a waterpark like you've never seen, trust us. Zipline into the water, or tackle one of the waterslides. Blob your friends, or relax on the sandy beach. Jump from giant inflatable mountains, or take a spin on the huge planet like orbs.  There are plenty of land-based activities around the lake too: giant chess, tetherball, ping-pong, and volleyball are among some of the activities Scouts can participate in on land.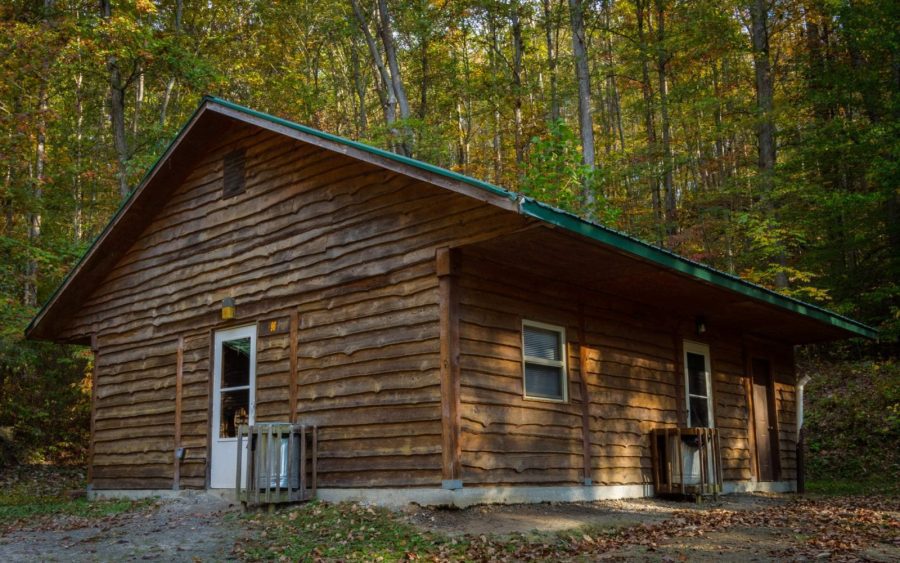 Scouts BSA Ready Group Amenities
Need a meeting space? ACE's Lakeside Junction meeting room provides an indoor (climate controlled) space for your Scouts to meet in between adventures. Or, if you need an even larger area, our Mountain Top Concert Space has a 3,000 person capacity, with electrical hookups and bathrooms on site.
Scouts get hungry, really, really hungry. ACE's award winning Lost Paddle Restaurant serves up delicious grub for hungry groups, no matter the size. Breakfast, lunch, and dinner options are available for any and all group size and budget.
Stay close to all the action at ACE's Mountain Top Campground! Bring your own tent, or rent one from us, and sleep under the stars. If roughing it isn't your thing, ACE has cabin and bunkhouse options as well!
Waterpark Passes
Whitewater Rafting Trips For Groups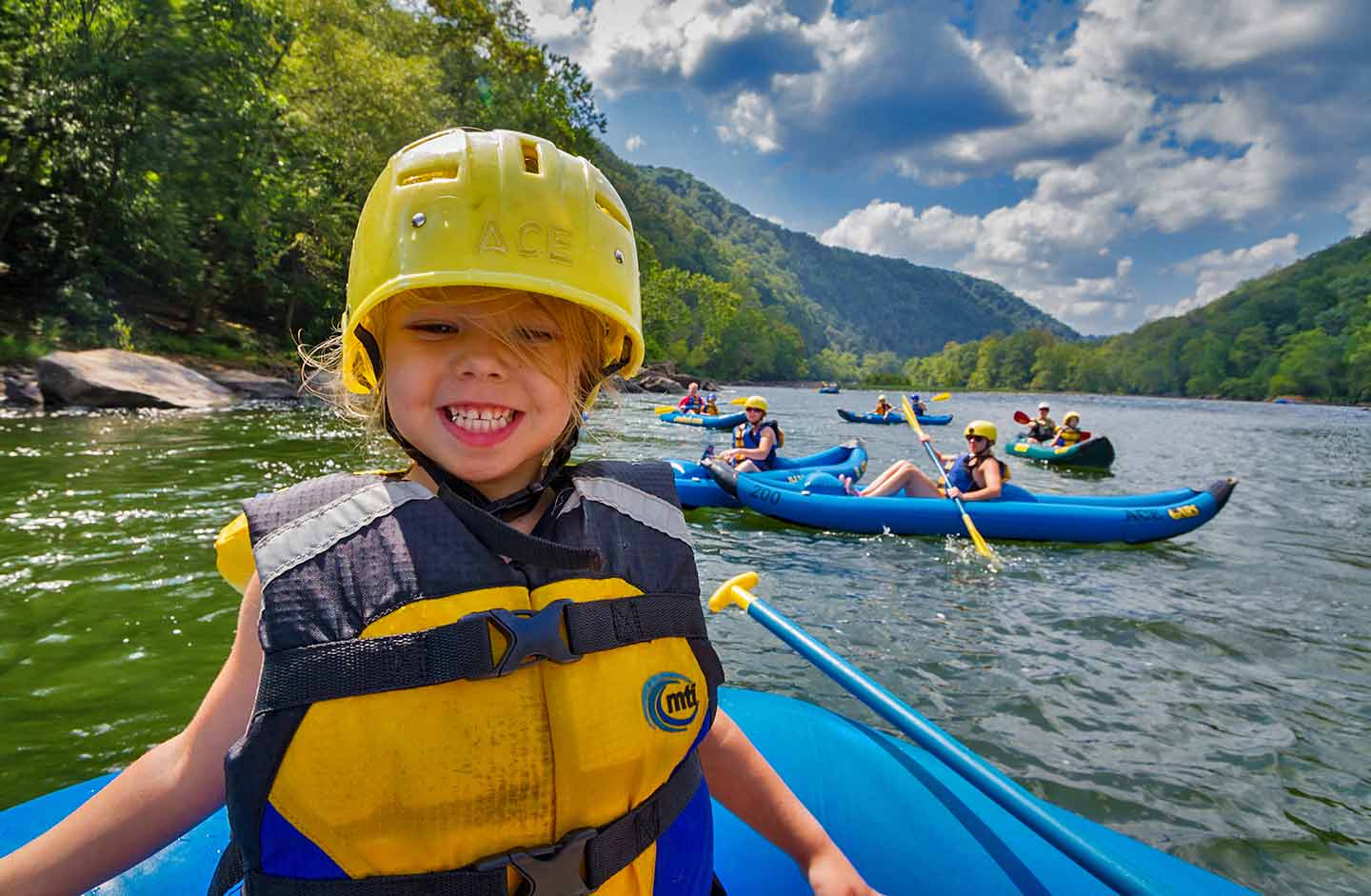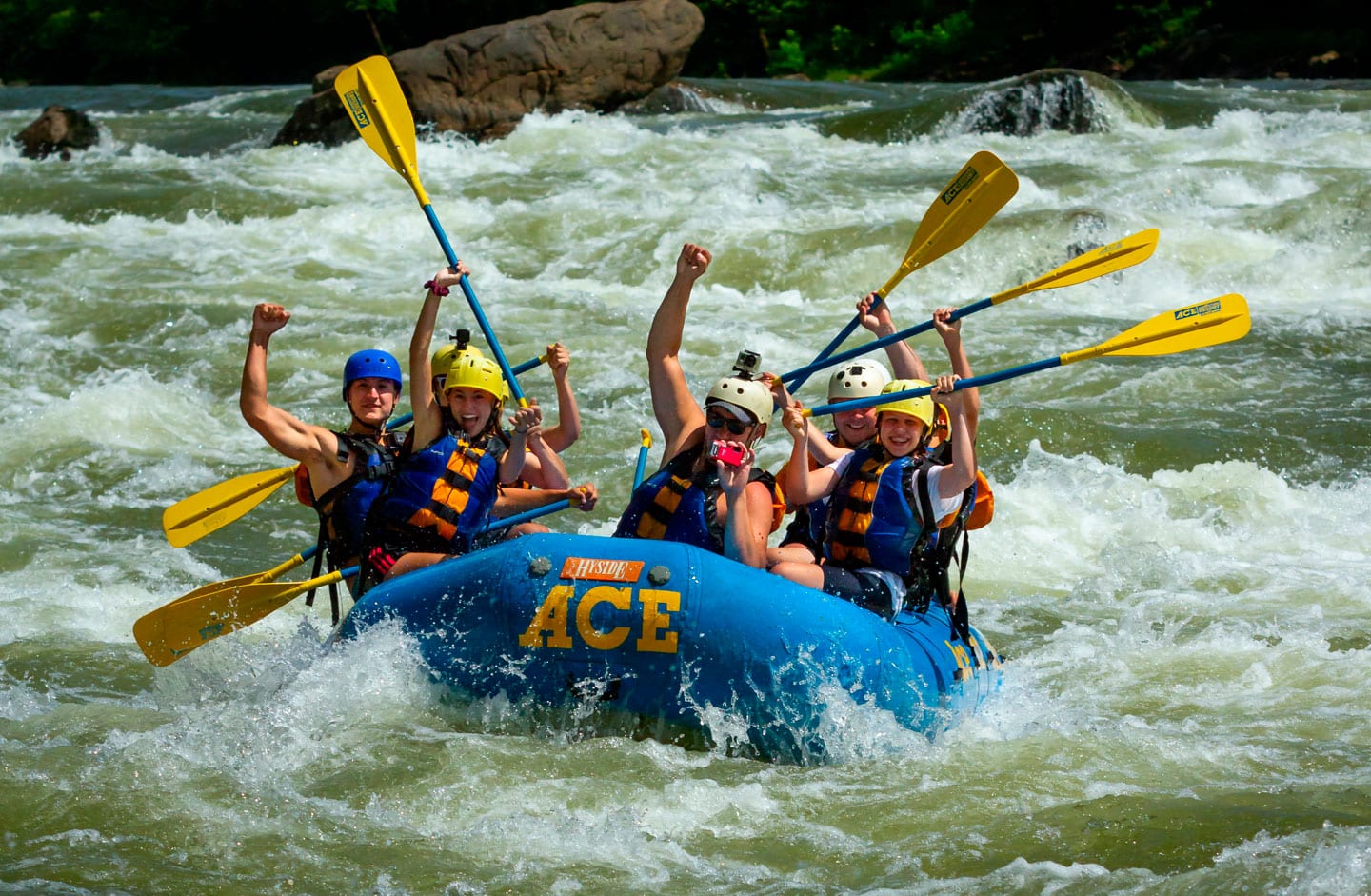 Popular Guided Activities For Scouts
Group Lodging And Amenities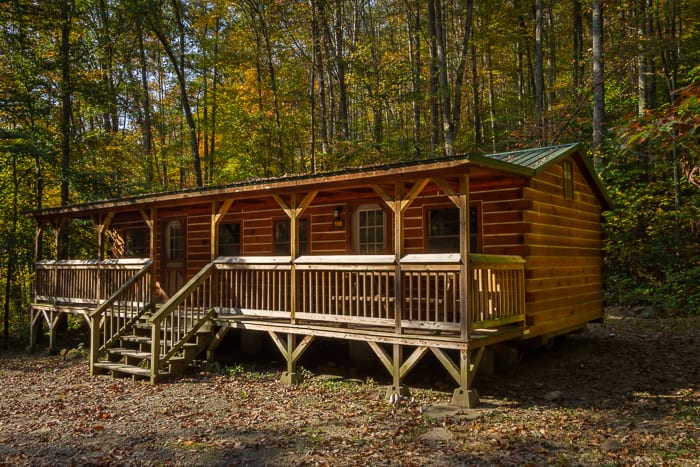 Group Lodging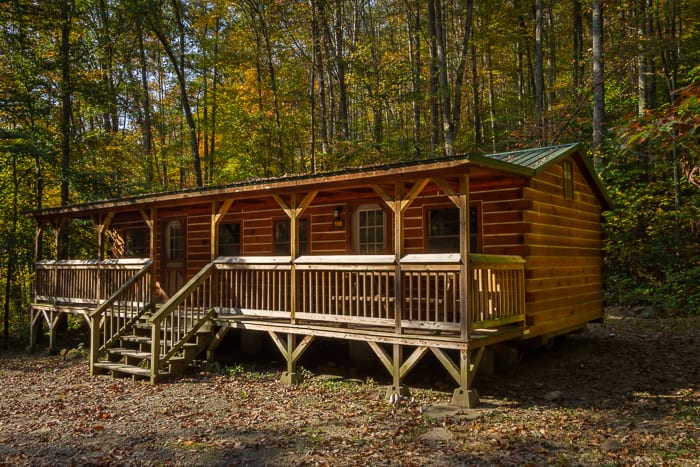 Cost-Effective Lodging For Groups
It doesn't matter if your youth-based group is seeking a back-to-nature experience or you seek a roof over your heads with a budget ACE has a budget-minded group lodging solution to explore. PLUS if you want to stay in luxury we have several large  log homes to suit that desire!
Call 800.787.3982 for more info and to speak to a real, live Group Reservation Specialists!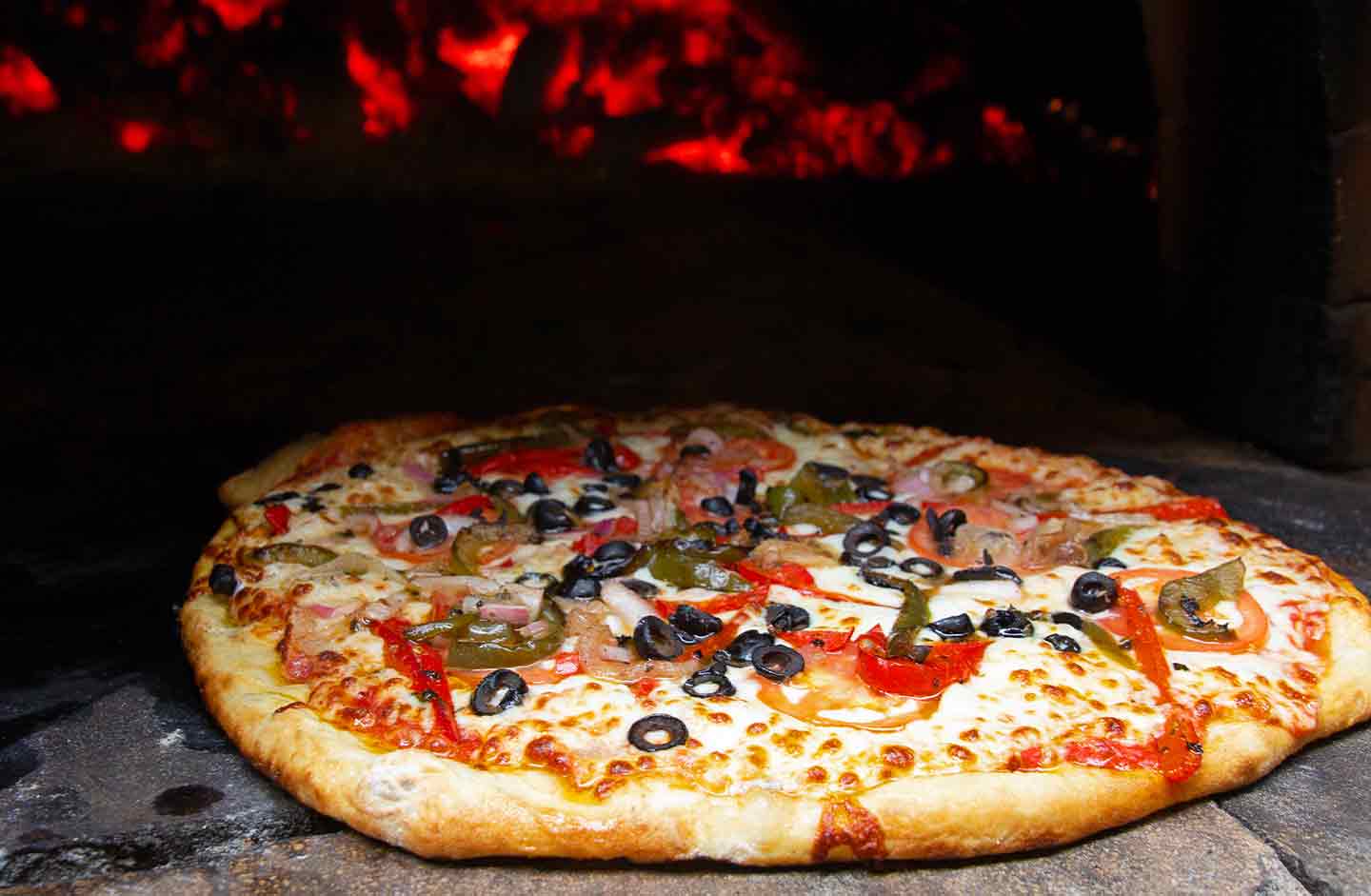 Group Dining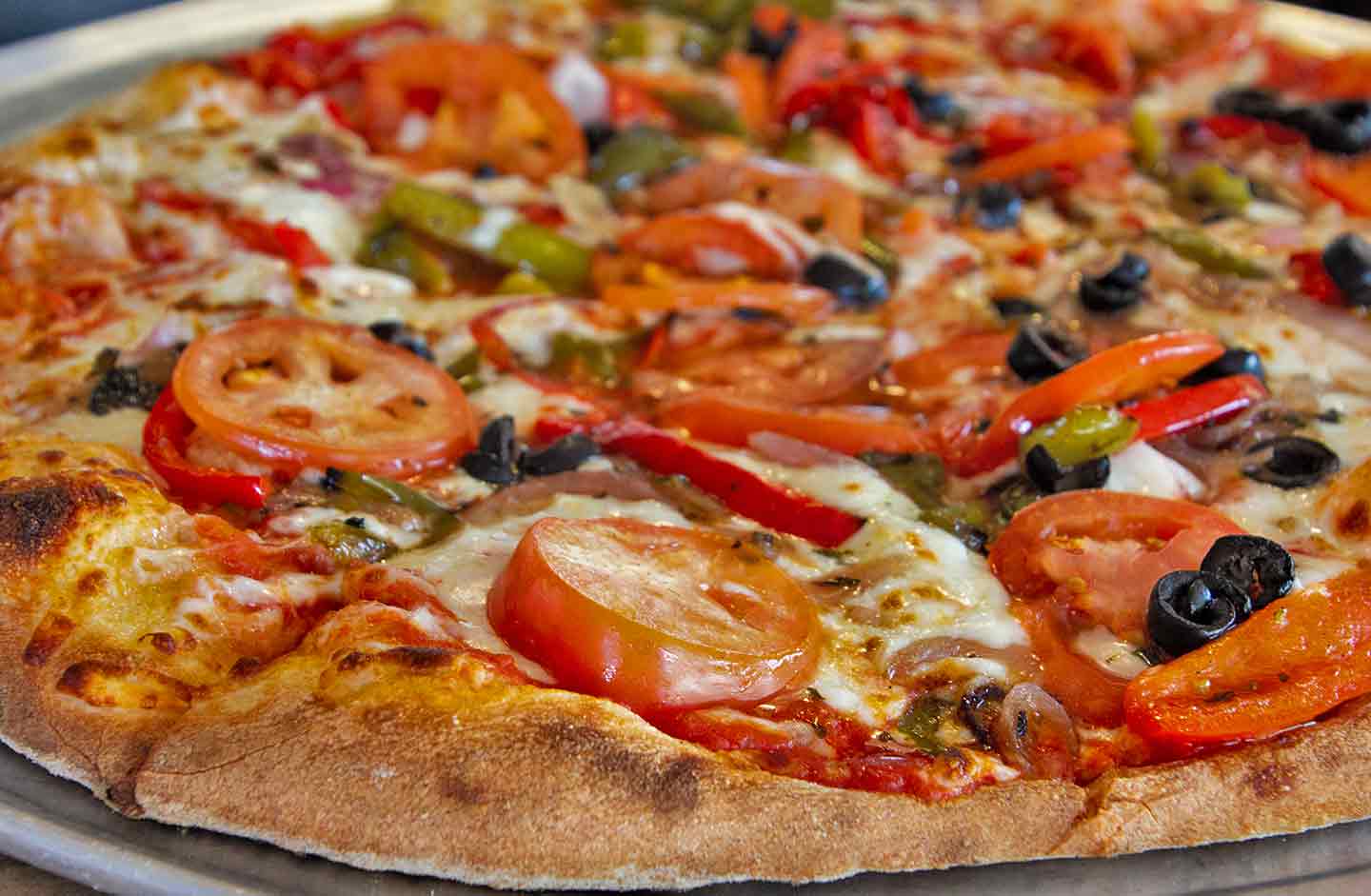 Affordable Group Dining Options
Everybody has to eat… and in this case, ALOT of hungry mouthes need to eat.  No problem! ACE's Culinary Team has group solutions to keep everybody fed, energized for adventure and happy. Plus, we're happy to work with special dietary needs… just reach out to discuss!
Call 800.787.3982 for more info and to speak to a real, live Group Reservation Specialists!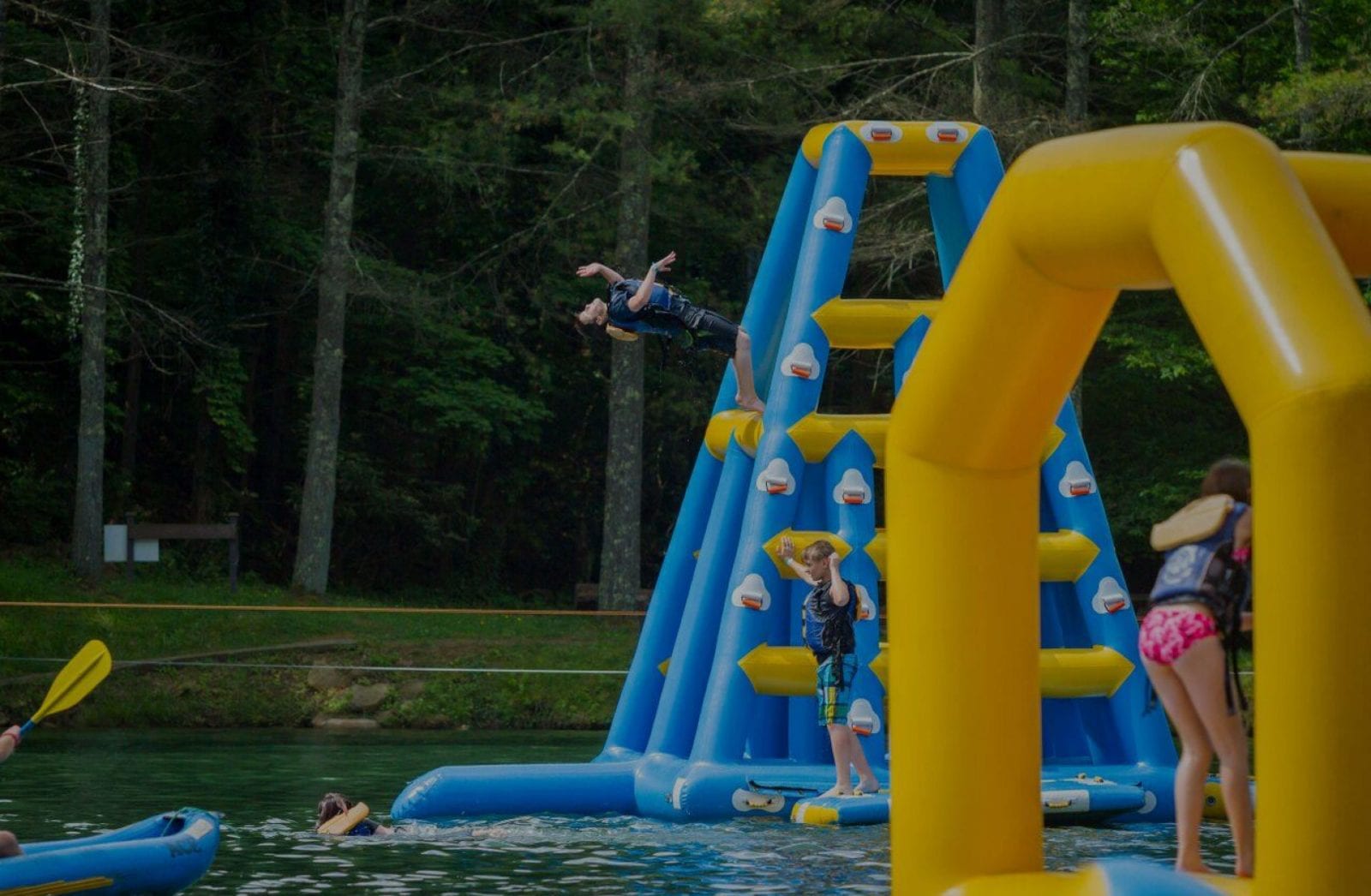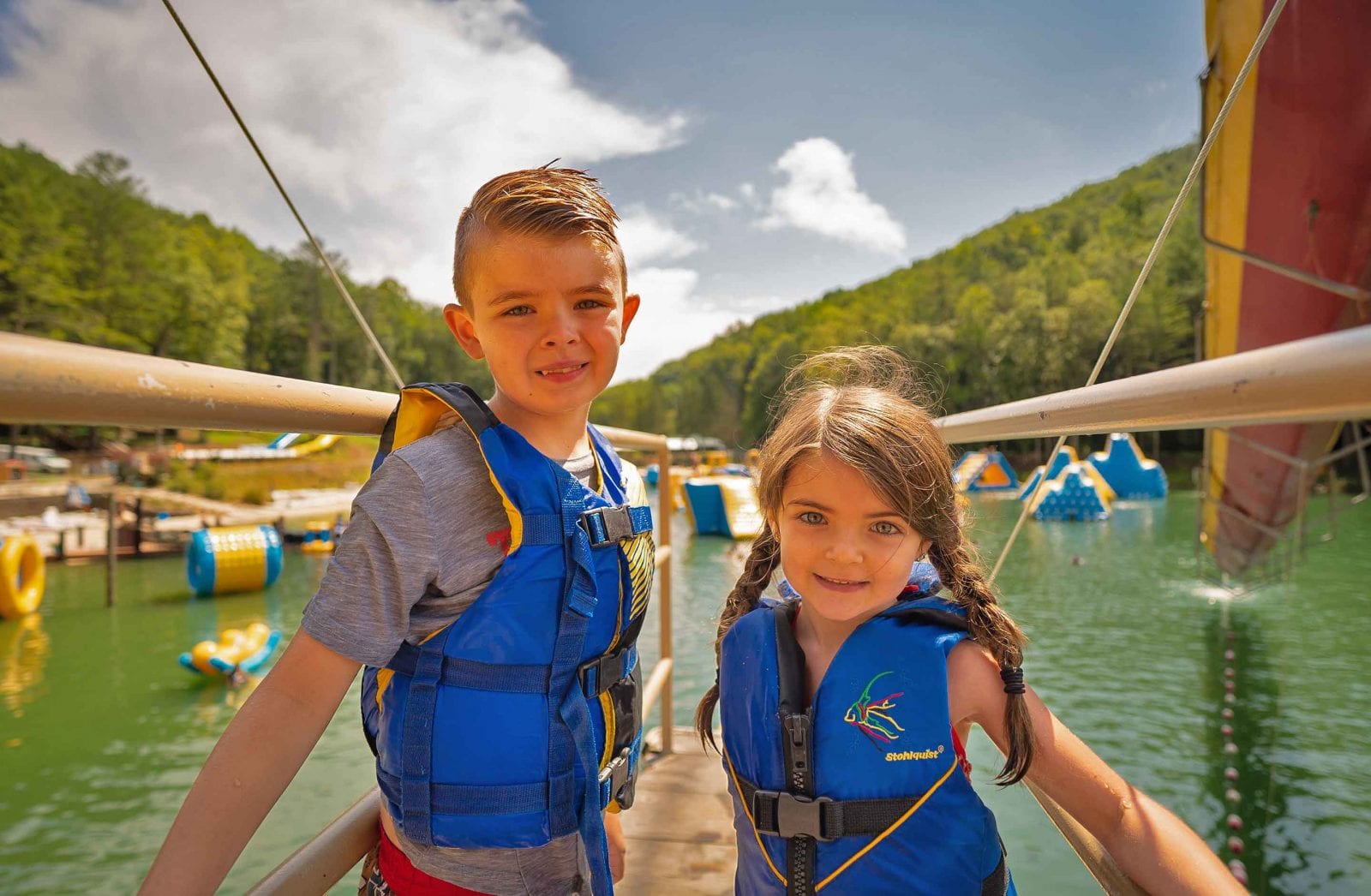 Oh… And We Have A Waterpark!
What's better than a day on the river, or climbing the cliffs of the New River  Gorge? How about splashing down for some unscripted fun with waterslides, the famous blob, a zipline and more? Maybe you should just kick your feet up with a cool beverage on the patio and watch your group enjoy the 5 acre, spring-fed waterpark. It's up to  you!
Call 800.787.3982 for more info and to speak to a real, live Group Reservation Specialists!
ACE Adventure  Groups
Whitewater rafting might just be the original team-building, outdoor adventure.  If not, it's the best. ACE Adventure  Resort has been taking people rafting for nearly 40 years.  More importantly, we've been helping folks have fun, outside,  on their vacations for 4 decades. Let us share that same, high quality  experience with  your group this year!
Call 800.787.3982 for more info and speak to a real, live person!
Groups Love ACE Adventure Resort
Your group will experience a world of adventure, and fun, in one place with an ACE getaway!