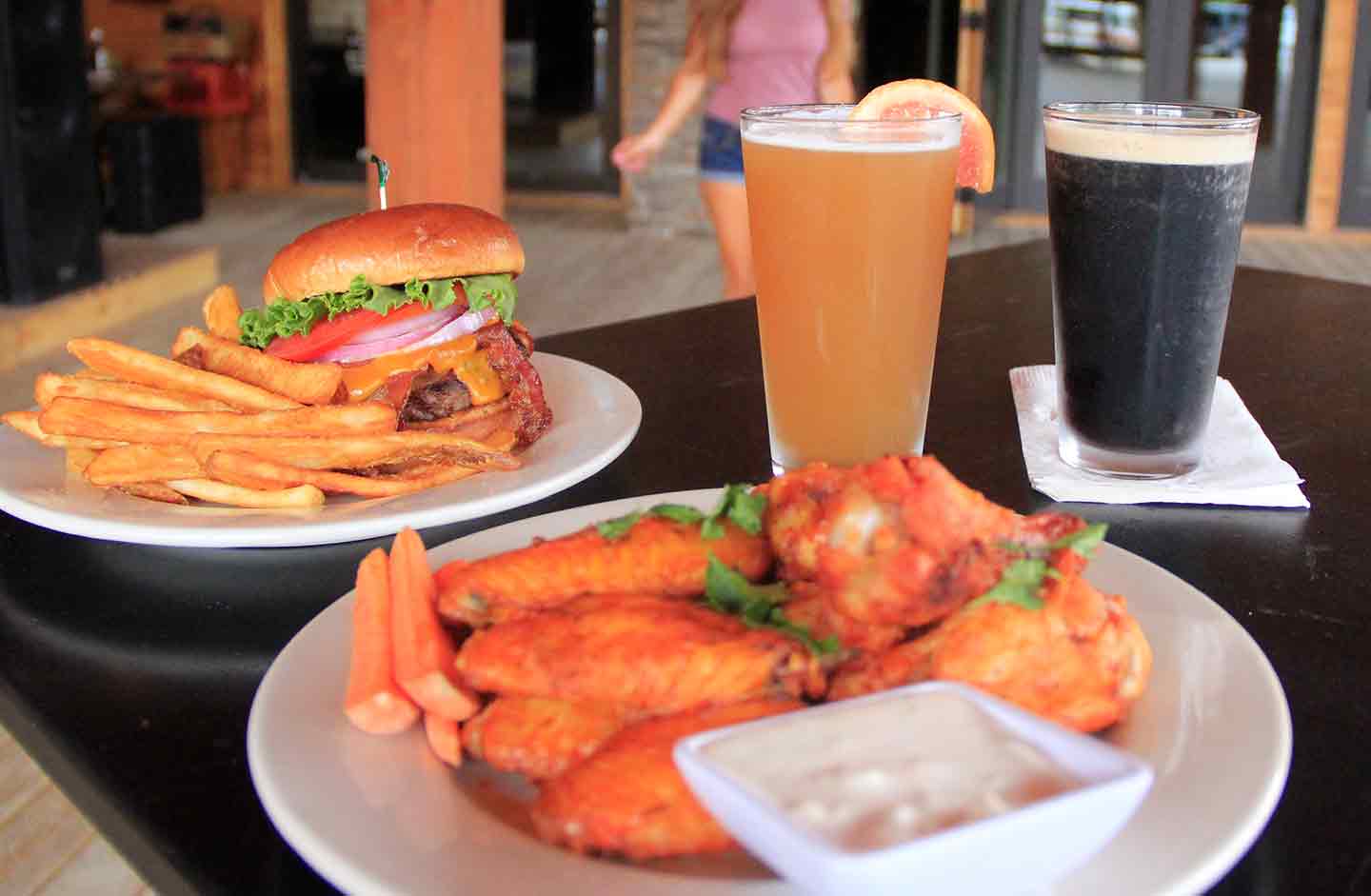 The Lakeside Eatery
Dinner Menu
Lakeside Eatery Dinner Entrees
ALL YOU CAN EAT DINNER*
A big day of adventure makes for a big appetite! You've earned this. We've got a lineup of incredible, mouthwatering house-smoked meats and homestyle, southern sides ready to go. Choose what you want from the options below, mix and match as you desire and we'll keep the plates coming until you're full! Includes a complimentary house salad and fresh-baked dinner rolls …. $21.95
*Sorry, the All You Can Eat Dinner does not include beverages or dessert.
Choose Your House-Smoked Protein:
Feel free to chose one, or sample them all!
Shredded pulled pork shoulder.
Succulent pork ribs with just the right blend of savory, sweet and spicy sauce.
Tender, slow-smoked beef brisket.
Mouthwatering smoked chicken.
Seasoned smoked salmon (farm-raised).
Choose Your Sides:
Sweet and juicy corn on the cob.
Green beans
Garlic mashed potatoes
Rich and tasty mac and cheese
Sweet and tangy baked beans
Grilled vegetable medley
APPETIZERS
Loaded Nachos – Tortilla chips piled high with melted white queso, house made chili, pico de gallo, jalapeños, black beans, sour cream, guacamole, and fresh cilantro. … $12.00 whole order/ 7.00 half order
Hummus with Pita – A blend of garbanzo beans and tahini, drizzled with infused olive oil and toasted pita bread. … $9.00
Mozzarella Sticks –  Fried golden and includes zesty marinara. … $6.00
Chicken Wings – Our fresh wings are served with crisp celery, ranch or bleu cheese. Wing sauces include Buffalo, BBQ, Honey Firecracker, Asian Chile, and Chipotle Peach. … $13.00 1 dozen/$7.00 half dozen. Extra Dressing $.50
SANDWICHES AND MORE
All sandwiches include house kettle chips and a pickle spear. Substitute fries, potato salad, fruit cup, or cottage cheese. … $2.00
Black Angus Burger – Eight ounces of chuck, brisket, and sirloin blend. Includes LTO. …$13.00
(Add choice of american, swiss, provolone, cheddar, pepper jack, bacon, grilled portobello cap, fried egg, bleu cheese, goat cheese. … $1.00)
Blackened Chicken Wrap – Seasoned chicken, bacon, cheddar jack, black beans, iceberg, tomato, and fiesta sauce rolled in a white tortilla wrap. … $11.00
Italian Panini – Pepperoni, salami, capicola, provolone, banana peppers, tomato, onion, and Italian dressing pressed until toasty on sourdough bread. … $12.00
Philly Steak – Chopped ribeye steak, onions, peppers, and topped with melted queso. … $12.00
From the Garden
Signature Ace Salad –  A romaine and iceberg blend. Includes tomato, cucumber, Bermuda onions, kalamata olives, and feathered mozzarella. … $7.00
Add chicken breast $4.00.
Chef Salad – Includes tomato, cucumber, onion, cheddar, swiss, egg, croutons, and a julienne of turkey and ham. … $12.00
Caprese Salad – Heirloom tomatoes, basil, fresh mozzarella, toasted crostini, and a drizzle of balsamic glaze. … $11.00
(Dressings include bleu cheese, italian, french, sriracha ranch, ranch, honey mustard, balsamic vinaigrette, and egg. Extra Dressing $.50)
Children's Menu
*Each include chips. Substitute french fries $2.00
All Beef Hotdog – $5.00
Cheese Burger – $5.00
Chicken Tenders – $5.00
Grilled Cheese – $5.00
Brick Oven Pizza
Pepperoni – $16.00
Cheese – $14.00
Veggie – $15.00
Margherita – $16.00
The ACE – $17.00(smoked brisket, roasted peppers, red onions, cilantro)
Specialty Entrees
All Entrees include one side, house salad with choice of dressing, and a freshly-baked dinner roll.
New York Strip – (Please Ask About Availability) A ten-ounce hand-cut sirloin charbroiled to your preference. … $18.00
Appalachian Rainbow Trout – This delicate filet is prepared in cast iron. … $18.00
Half Chicken –  Smoked over hardwoods and finished with chicken jus. … $14.00
Spaghetti and Meatballs –  A beef, veal, and pork blend hand-rolled in house. … $12.00
Grilled Pork Medallions – Sliced pork loin marinated in brine then smoked to maximum tenderness. … $16.00
*Sides include baked potato, french fries, red beans and rice, fried okra, green beans, sautéed mushrooms.
Dessert
Ask your server about our always changing sweet selections!