December 20, 2018
GIRL Fest
For decades, ACE has served as the home to camps, school trips, reunions, and scouting trips. In 2019, we are proud to become the home of the 2019 Black Diamond Girl School Council G.I.R.L. Fest!  From 26th to June 30th, 2019, ACE Adventure Resort will welcome Girl Scouts from around the country to our 1,500-acre playground to raft, zip, climb, swim, camp, and more! This high adventure experience is open to Girl Scouts across the USA who are in the 4th-12th grade. Your whole troop can make the trip to ACE, or single scouts can register solo and attend and will be chaperoned by a surrogate leader. More information about adult to girl chaperone ratio can be found here.  
Girl Scouts will camp under the stars at our private mountain-top campground, where there will be plenty of room for games, campfires, and storytelling. This mountain-top campground will serve at the G.I.R.L. Fest base and will be the location of the opening and closing ceremonies, as well as daily flag-raising activities and Girl Scout Socials. Scouts and their troops will be required to bring their own camping equipment, or they can rent tents, sleeping bags, and sleeping pads from ACE. These items can be reserved in advance at the time of reservation. Lodging can be upgraded to a cabin, bunkhouse, or platform tent for an additional for those who prefer glamping.

G.I.R.L. Fest is the best place to meet new friends, explore new places, and participate in fun adventures. Girl Scouts will have the opportunity to choose between a dozen activities such as:
ZIP LINING
Fly above the trees and besides the New River Gorge on our half-day zipline trip! Zippers will soar to new heights on 7 tandem zips and a sky bridge. *Min. Weight: 70 lbs-Max: 250.
CLIMB AND RAPPEL
The perfect intro to rock climbing, or a great way to transition from gym climbing to outdoor climbing. Our half-day climbing and rappelling trip takes place on our private cliff at ACE.

STAND-UP PADDLEBOARD
SUP on Summersville Lake! Stand or kneel on a paddleboard and learn about the importance of balance while spending time in a beautiful, scenic location!
MOUNTAIN BIKING
Tour the mountain bike trails at ACE for this half-day excursion. Trails will be picked for the tour based on the ability of the rider. 

TARGET PAINTBALL
Practice your sharpshooting skills with ACE's half-day target paintball! Scouts will shoot paintball guns at various targets located throughout our mountaintop paintball course.

MUD OBSTACLE
Have fun in the mud at ACE! Scouts will be divided into teams and compete to climb, crawl, swing, and slide through the mud and bring their whole team through the finish line together. Wear old clothes, you're going to get dirty!

WATERPARK STEM
The Waterpark STEM program provides an opportunity to incorporate play into learning in a unique outdoor setting. Students can explore the principles of mathematics and physical science in the "coolest" classroom ever – the ACE Wonderland Waterpark.

HERITAGE HIKE
Guided hiking trips that include history of the town of Thurmond and coal mining in the area, as well as, discovering the flora and fauna of the New River Gorge.

LAKE KAYAKING
See the "Caribbean of the East" on ACE's Mountain Lake Kayak Tour. Your guide will show you how to paddle, then take you to some of the most incredible places on the lake!
TEAM CHALLENGE-HIGH ROPES
Push yourself out of your comfort zone and get to know new friends better in ACE's High Ropes Team Challenge Course. Climb atop our Alpine Tower and complete your choice of high ropes challenges.

TEAM CHALLENGE-LOW ROPES
This course involves a progression of games and initiatives that allow scouts to work together to problem solve. Each game and activity will build on each other to push your group's comfort zone.
The ideal rafting trip for G.I.R.L. Fest attendees under the age of 12, or for those who are interested in a more mild rafting trip, the Upper New River offers a fun and scenic adventure. Girls will choose between rafting this stretch of river and paddling as a group, or taking on the rapids solo in a duckie (ages 10+). This full-day trip includes lots of play time in the water and a riverside lunch.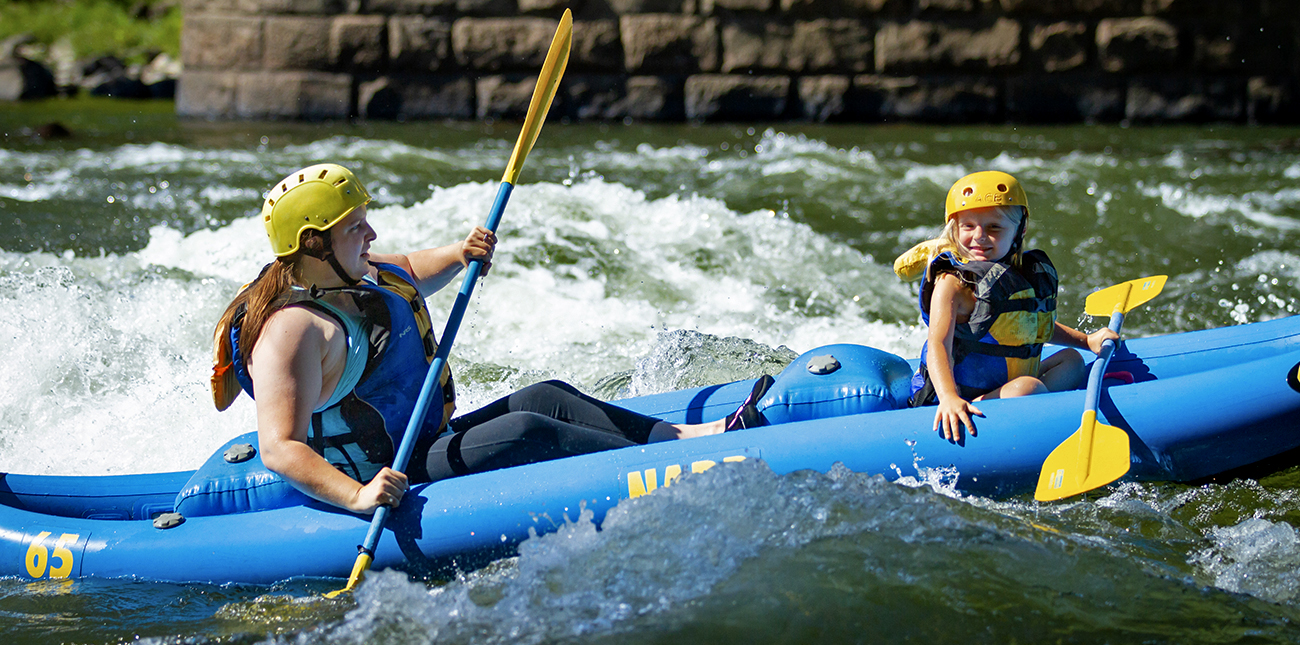 The Lower New River offers a fun and challenging experience for those ages 12 and up. This portion of the New River travels through the steeper Gorge section of the river, ending underneath the iconic New River Gorge Bridge. Girls will take on the challenge of numerous class III and IV rapids. Lunch is provided riverside during this full-day trip to keep you fueled for the adventure ahead.
Three different package options are available so that Girl Scouts can customize their G.I.R.L. Fest experience to make the most out of their adventure to West Virginia. Two packages will encompass all 4 days of G.I.R.L Fest. There is also a 1-day package available to Girl Scouts who belong to the Girl Scouts of Black Diamond Council.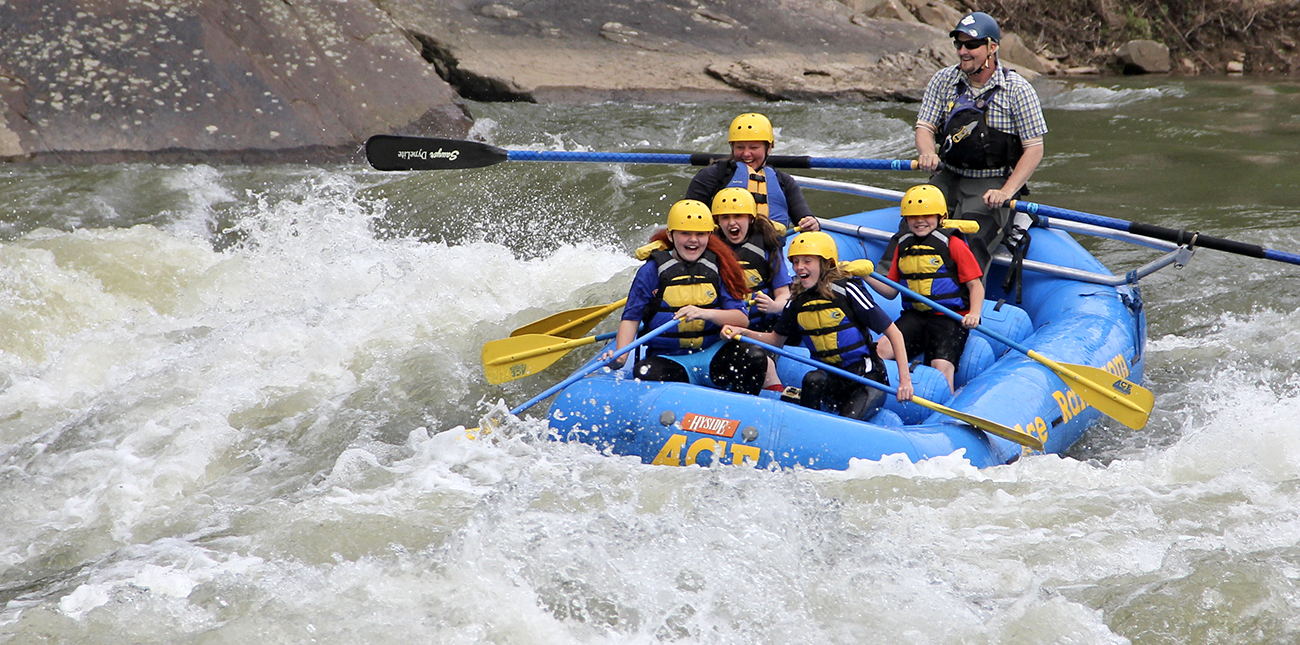 Girl Scout Programming
Additionally, Girl Scouts of Black Diamond Council will provide nightly programming as well as the opportunity for Girl Scouts to earn merit badges such as:
Junior Eco Camper Badge

Cadette Eco Trekker Badge

Senior Sky Badge

Ambassador Water Badge
Girl Scouts will also be able to earn the G.I.R.L. Fest Challenge Patch through various activities.
All package options include meals. 4-day packages include 4 Breakfasts, 3 Lunches, and 4 Dinners at ACE's award-winning restaurant. Our 1-day package will include breakfast, lunch, and dinner. Packages that include rafting will include a riverside lunch.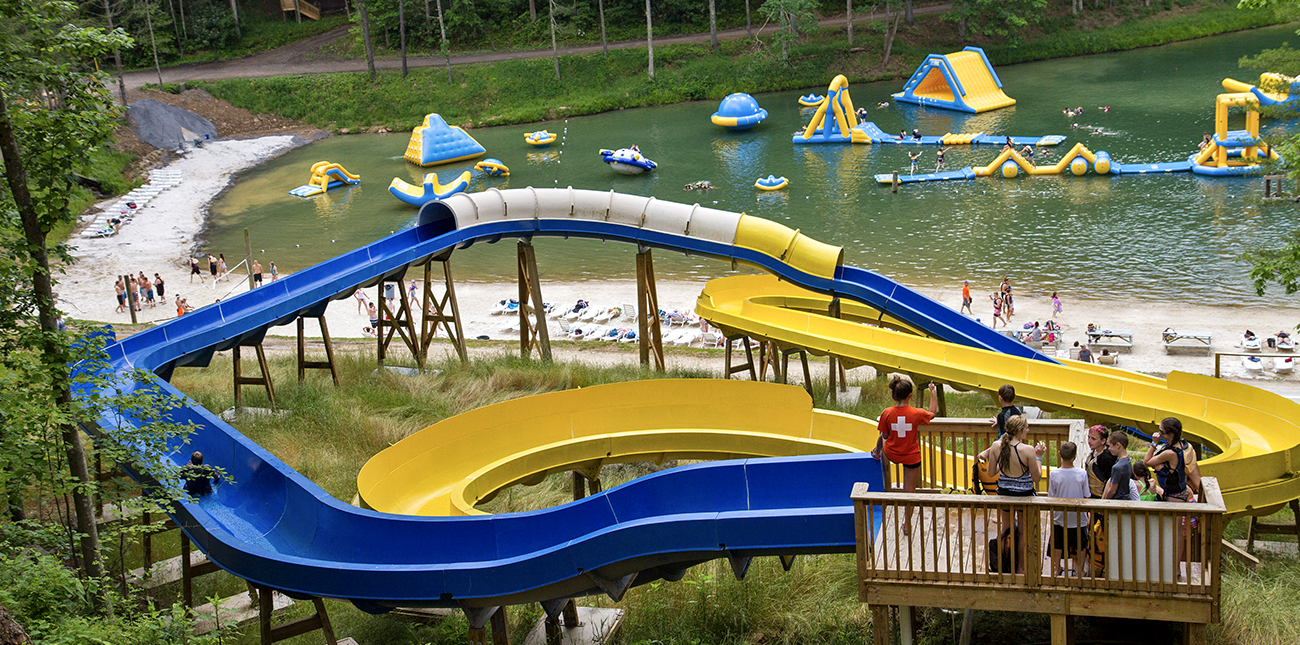 All G.I.R.L. Fest attendees will have the opportunity to play in ACE's very own 5-acre waterpark. Full of inflatable toys, slides, a zipline, and all the fun you can imagine, Wonderland Waterpark is a "can't miss" part of G.I.R.L. Fest! Hang out on the beach, or climb to the top of the inflatable mountain, either way, this will be an adventure that nobody will soon forget.
We're counting down the days to the 2019 G.I.R.L. Fest! And, if you book your package before January 18, 2019, you'll save $40 per person! We can't wait to see you on the Mountain on June 26th!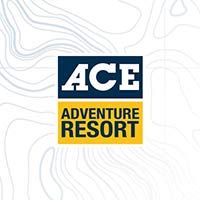 BY aceteam
Bringing you all the latest whitewater rafting, adventure, and all things ACE from the New River Gorge of West Virginia for over 40 years.
VIEW FULL BIO & ALL POSTS
RELATED ADVENTURES