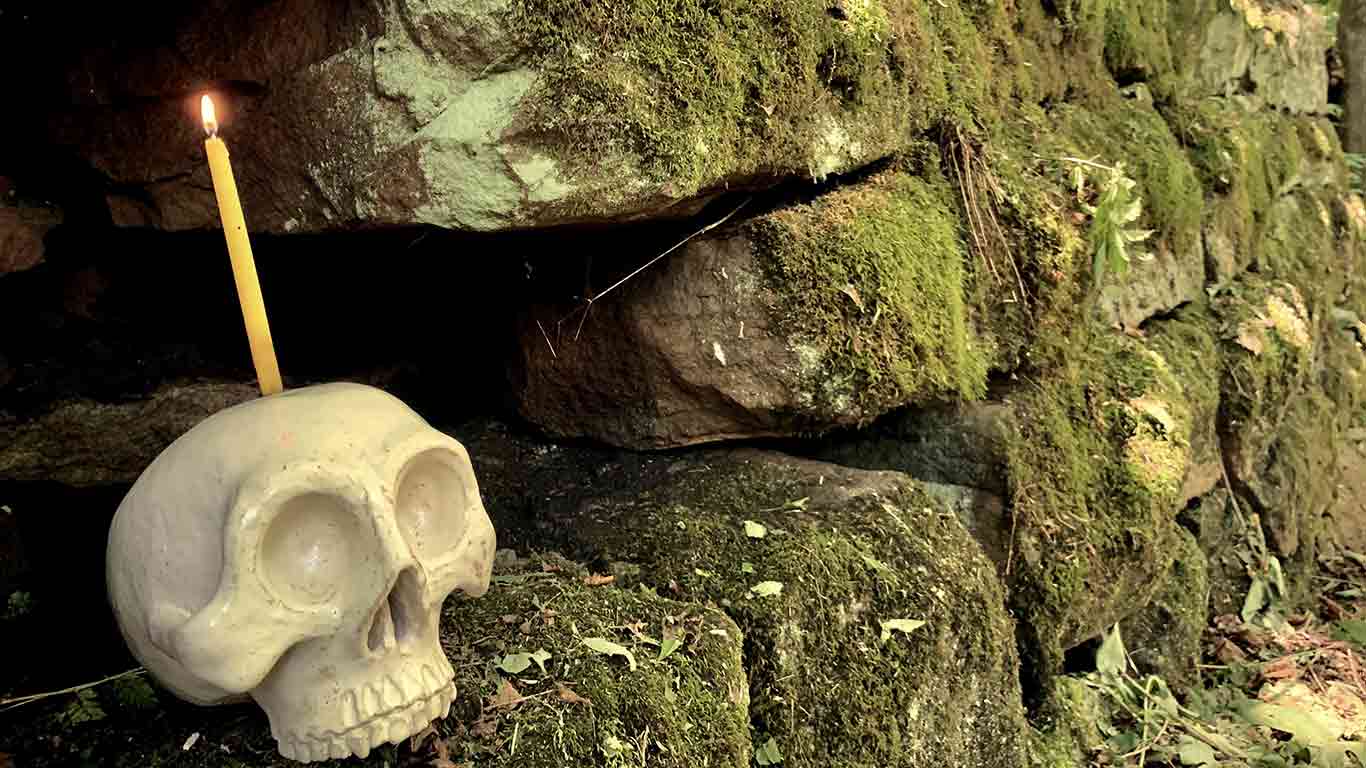 July 21, 2021
Campout in a Real Ghost Town
Home
|
|
Campout in a Real Ghost Town
Sinister characters have risen and an ancient curse has been cast over the New River Gorge. It is up to you and your friends to break the curse and survive a night of terror in a real haunted ghost town. Nightmare in the Gorge – A Haunted Campout is part scavenger hunt and part all night haunted trail. You will be tasked with exploring the darkness to find clues and collect rewards leading your towards finding how to end the curse. This experience will be set in the New River Gorge at ACE Adventure Resort's overnight campsite. Are you brave enough to face gruesome characters and survive a night of horror?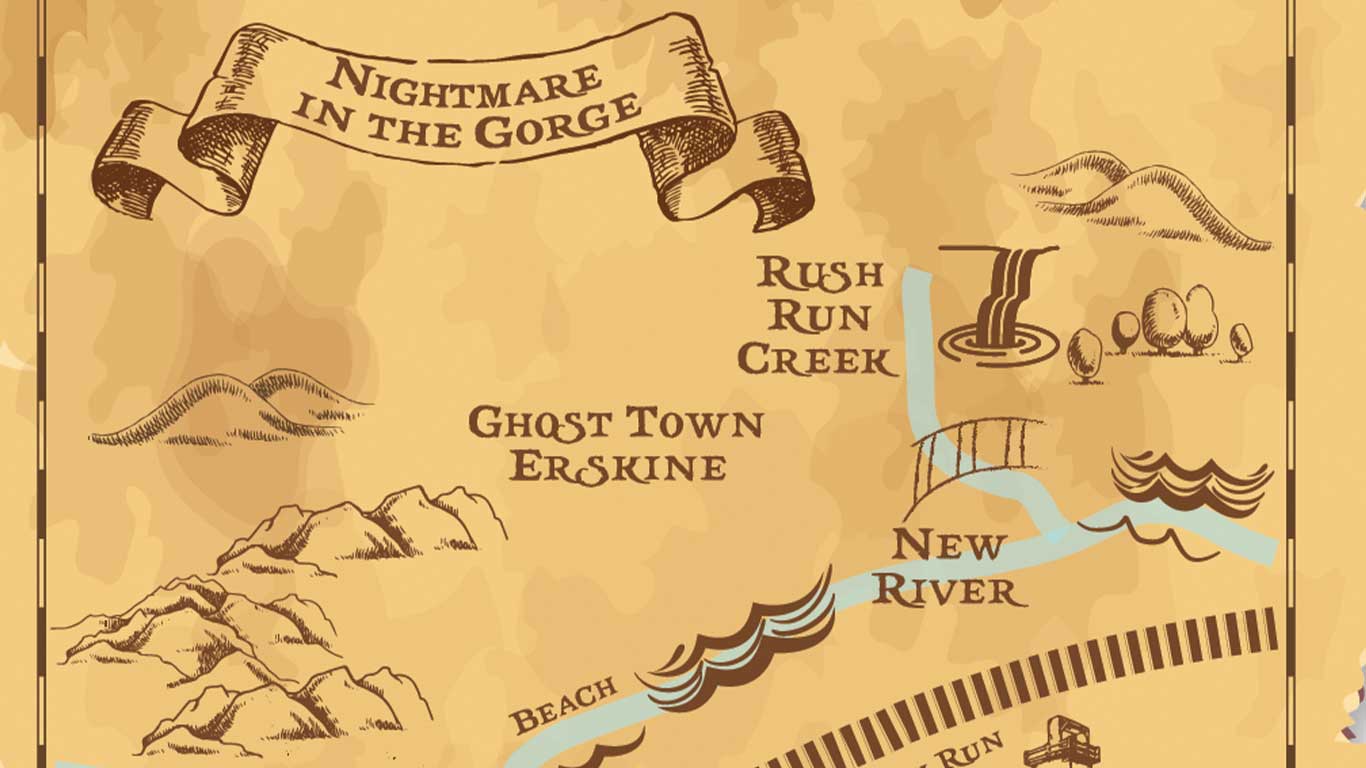 The New River Gorge
This spectacular river has been carving its course through the Appalachian Mountains for millions of years. Some claim the New River is one of the oldest in the world. Early exploration of this region was tough as steep terrain and treacherous rapids made travel all but impossible. Aside from rough roads hostile tribes fought to protect the area from outsiders. Many natives held this region as a sacred hunting ground but refused to settle here fearing the dark hollers and spirits  who lived in the forest. Stories of unexplained monsters and ghosts that roamed the mountains were reason enough to scare many people away.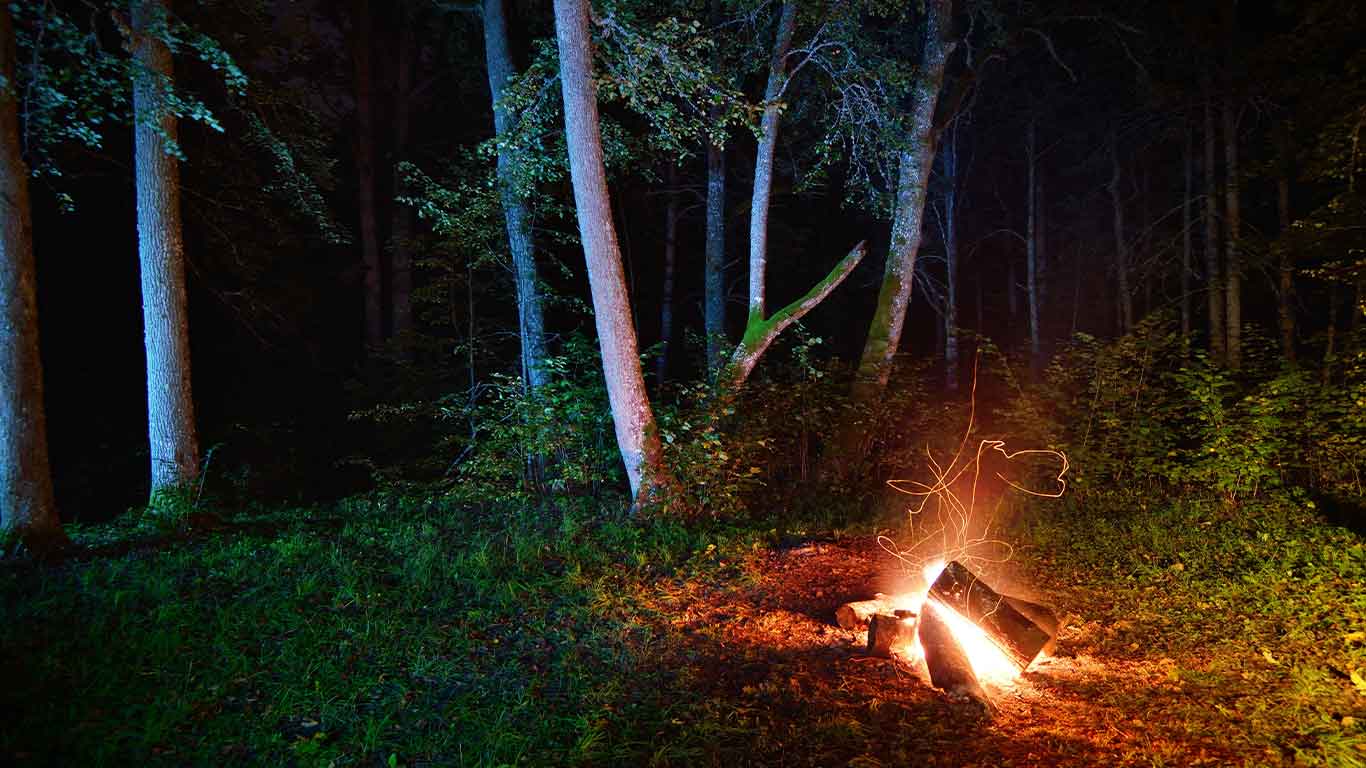 Erskine Ghost Town
Our overnight campsite is located at the old Erskine Coal Town Site, abandon along the banks of the New River. ACE Adventure Resort has developed a beautiful camping area here complete with tent platforms, a kitchen area and great views of the river. Around camp it is easy to find ruins and foundations from buildings that once supported this thriving community. There are also stories of paranormal activity in this camp such as voices in the woods, strange lights and even full body apparitions of miners who once traveled this area. Being on the lookout for real spirits is just part of the fun and we will have some paranormal investigating equipment if you want to try and make communication.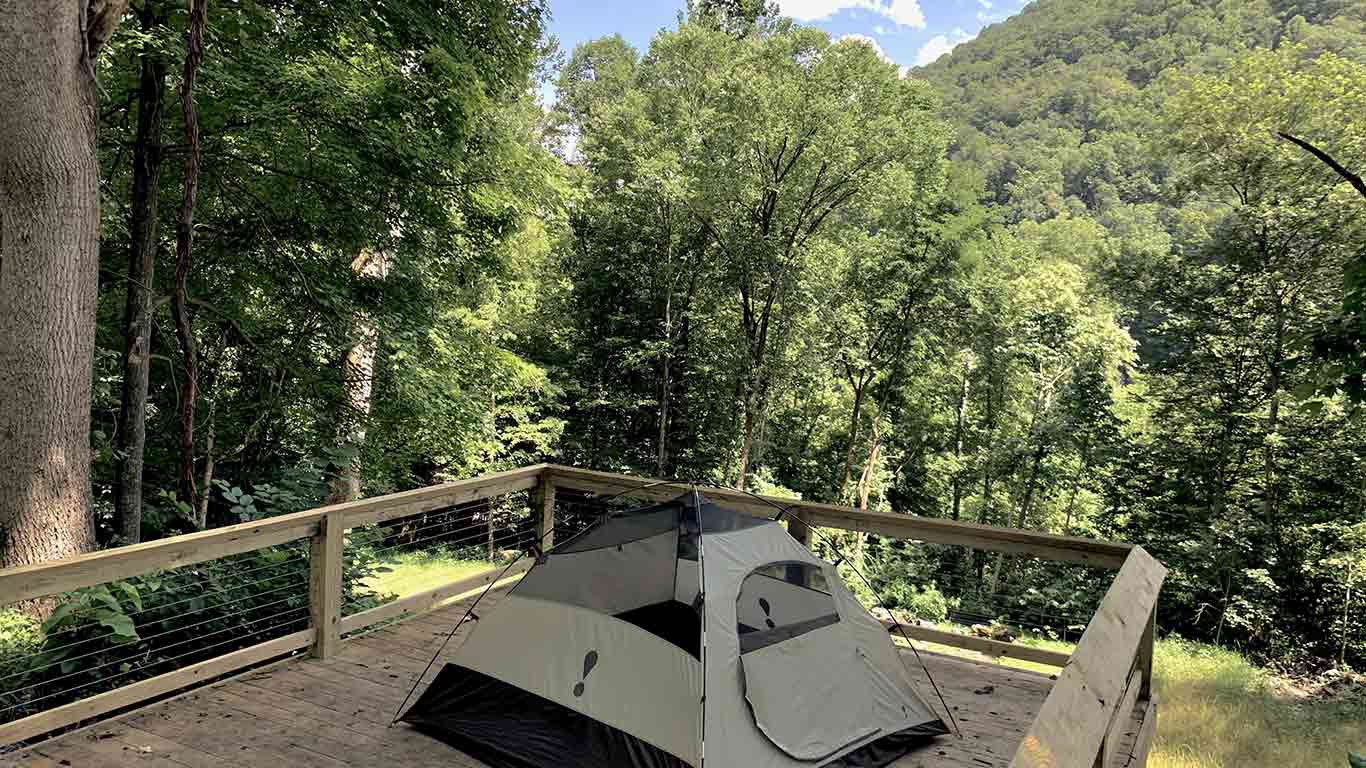 The Path to Rush Run Falls
Leading from camp you will find an ominous trail leading into the dark forest. If you are brave enough, follow this path past ruins over a century old. Be sure to look around to find clues and earn points, after all this is a scavenger hunt and you want to win. As you climb deeper into the canyon be sure to keep an eye out for creepy characters that might want to deter you from your mission. Upon reaching the end of the road you are rewarded to the sight of a majestic waterfall cascading down the mountains. You won't want to stick around too long though because there is plenty more to see and more clues to find along the way.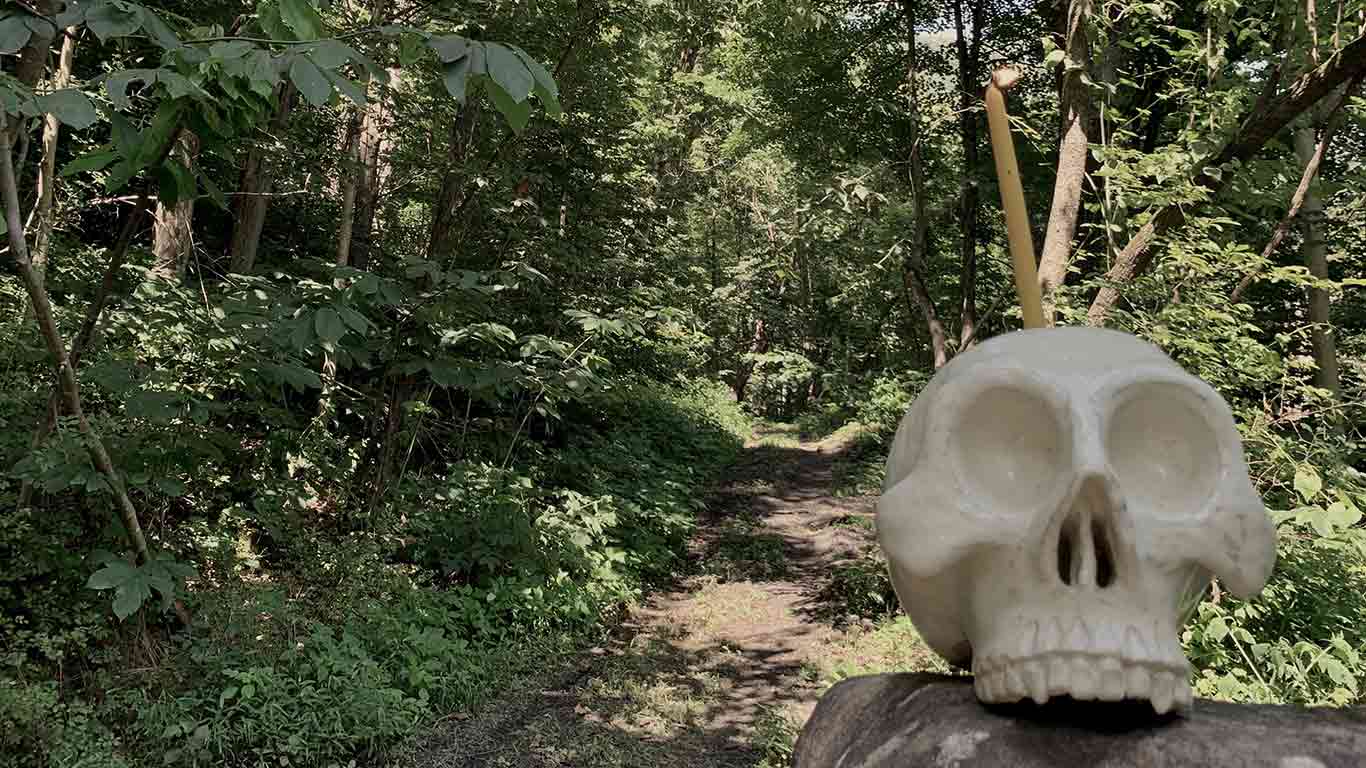 Thurmond, WV
Just across the river from our overnight camp lays the infamous ghost town of Thurmond, WV. This boomtown was hailed as the wild west of the east or little Las Vegas dating back to the late 1800's. Coal ruled the land then and all through this river canyon camps and small towns popped up to cash in on the booming industry. When coal was king the gorge was lawless and stories of shootouts, bandits and murders filled local papers. One newspaper read, "The only difference between Thurmond and Hell is that Thurmond has a river running through it."  The hard work, tortuous working conditions, death and destruction certainly left its mark and the spirits from the past are known to still walk the trails in the gorge today.
Let's Go Camping
Sign up now to be part of the Nightmare in the Gorge – Haunted Campout because tickets are limited and selling quickly. This fun filled night includes dinner at ACE's riverside campsite and a tent overlooking the beautiful New River. You will be given a map and it will be up to you to piece together clues and solve the ancient curse cast upon your group. After running for your life that night wake up and enjoy a full breakfast cooked up by the monsters that scared you all evening long. This event is happening one night only in 2021 so don't miss out on this unique and frightening experience.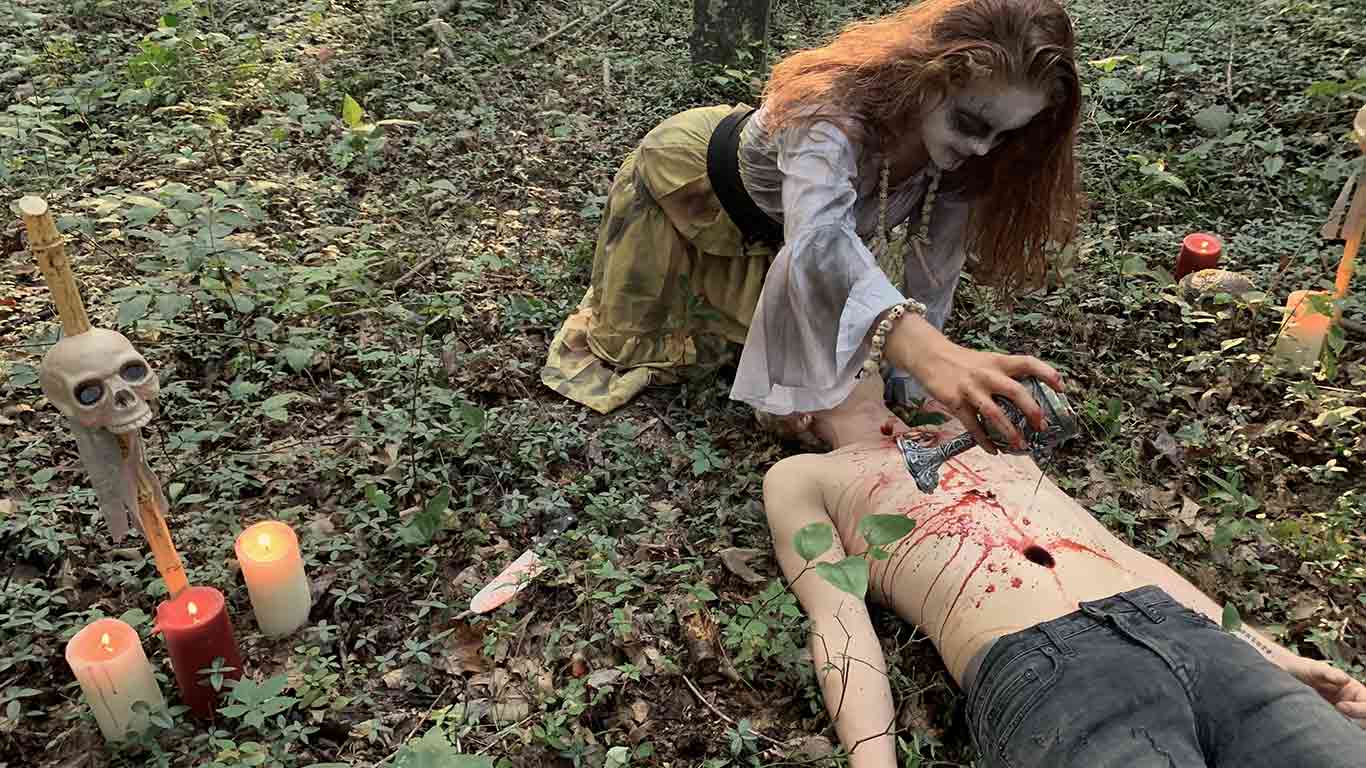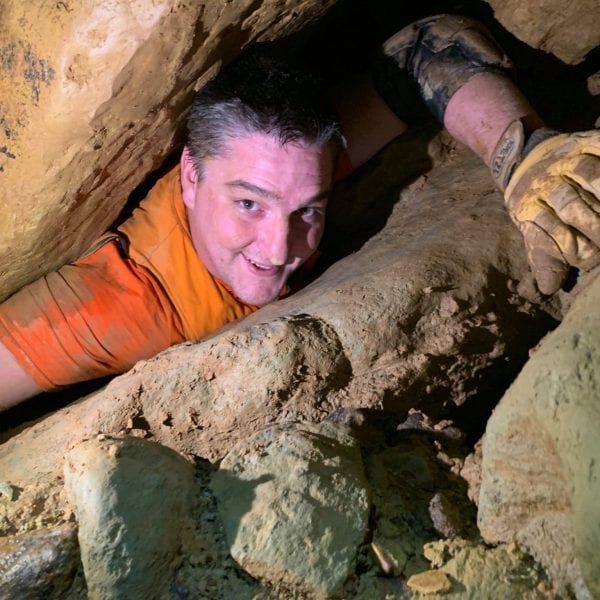 BY Chris Colin
Chris Colin is a raft guide, whitewater kayaker, active caver, and as Special Events Coordinator at ACE he manages, promotes, and executes special events like the Mountain Music Festival.
VIEW FULL BIO & ALL POSTS
RELATED ADVENTURES