March 1, 2018
#ACEvibes Photo Contest
Home
|
#ACEvibes Photo Contest
Our first ever #ACEvibes Photo Contest brought us views from all walks of life at ACE, from the people who make everything we do worthwhile. Much more than rafting, #ACEvibes encompasses the state of mind and fulfillment of adventure that bring us together season after season in the New River Gorge.
The ever-popular Gritty Chix Mud Run made the cut, with a Chix-eye view from the trenches of ACE's mud obstacle course. The power of a group of women determined to get their adventure fix is almost palpable on any given day at the resort.

We saw mother and daughter zip lining teams, and the award for Coolest Grandma Ever goes to Tina Duffy for taking her granddaughter ziplining for the first time!Vince Kennedy showed us that age is just a number by climbing and rappelling with his son on our private climbing area in the Upper Gorge. "Not bad for 65 years old." We agree, Vince! When the spirit of adventure can be shared across multiple generations of families, we know we are doing our jobs.


Mountain Music Fest memories from Garrett Hughes and Alison Mclean reminded us there is nothing like a dip in the lake on a summer day with your best girl, lakeside live music, and bands on the mountain top with camping under the stars. We think romantic getaways for couples at ACE are best summed up by Jean Ramirez, "The couple that camps together, stays together!"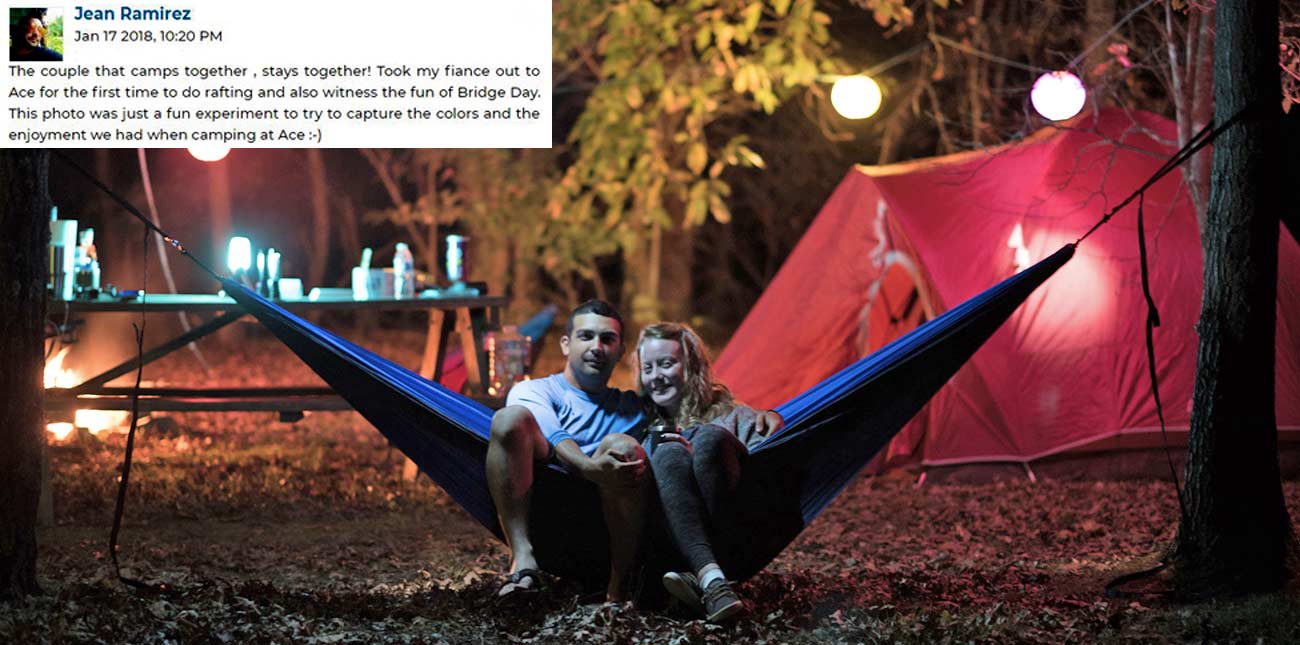 Family vibes in full effect at Wonderland Waterpark brought back memories of a great summer in 2017. We are gearing up for 2018 with new attractions, and the return of THE BLOB! The Blob Competition brings out fiercely fun competitors every year, and we expect 2018 to be bigger and better than ever. The Blob is serious. The Blob is silly. Don't mess with The Blob. Tuyen Tran captured Wonderland Waterpark at ACE on the 4th of July in panoramic splendor.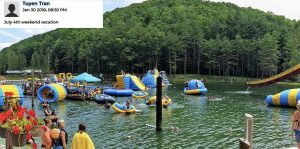 Many of our die-hard whitewater rafters shared one of two distinct experiences–tackling the mighty Upper Gauley, and introducing their kids to rafting for the first time. All of us remember our first time on the river, and who brought us there. Even as memories fade, the feeling of meeting whitewater for the first time remains. It comes back every time we jump in a boat, from the Upper New River, to the Lower New, the Lower Gauley, the Upper G.


Each ACEvibe photo differs in its unique perspective on our shared experiences of adventure, discovery, relaxation, and pure joy. We don't all vibe the same way, but we all come here to connect with nature and each other, and rediscover the adventurous spirit within ourselves.
After 16 days of live voting, we have our winners! By popular vote, first place goes to Russell Hill. His Upper Gauley photo captured one of the Class V river's best known rapid, right at the moment of a classic Pillow Rock Paddle Slap.
Second place went to Erica Ruh and her photo of a family rafting excursion. That's how you do it!

Our winner will choose one trip from the many outdoor adventures ACE has to offer. We loved seeing the variety and wealth of memories created with our ACE family in the New River Gorge. So, keep it going! Keep sharing your #ACEvibes, and stay tuned for the next contest! Prizes include:
[edgtf_unordered_list style="circle" animate="yes" font_weight=""]
1 day guided trip rock climbing in the Lower New River Gorge with ACE Adventure Resort for 2 people. Approximate retail value: $258.00 usd

1 day rafting trip in the Lower New River Gorge at ACE Adventure Resort for 2 people. Approximate retail value: $318.00 usd

1 day rafting trip on the Upper New River at ACE Adventure Resort for 2 people. Approximate retail value: $318.00 usd

1 day Waterpark pass at ACE Adventure Resort for 2 people. Approximate retail value: $60.00 usd

1 day rafting trip on the Upper Gauley River at ACE Adventure Resort for 2 people. Approximate retail value: $298.00 usd

1 day rafting trip on the Lower Gauley River at ACE Adventure Resort for 2 people. Approximate retail value: $298.00 usd

1 day zipline canopy tour trip at ACE Adventure Resort for 2 people. Approximate retail value: $200.00 usd
[/edgtf_unordered_list]