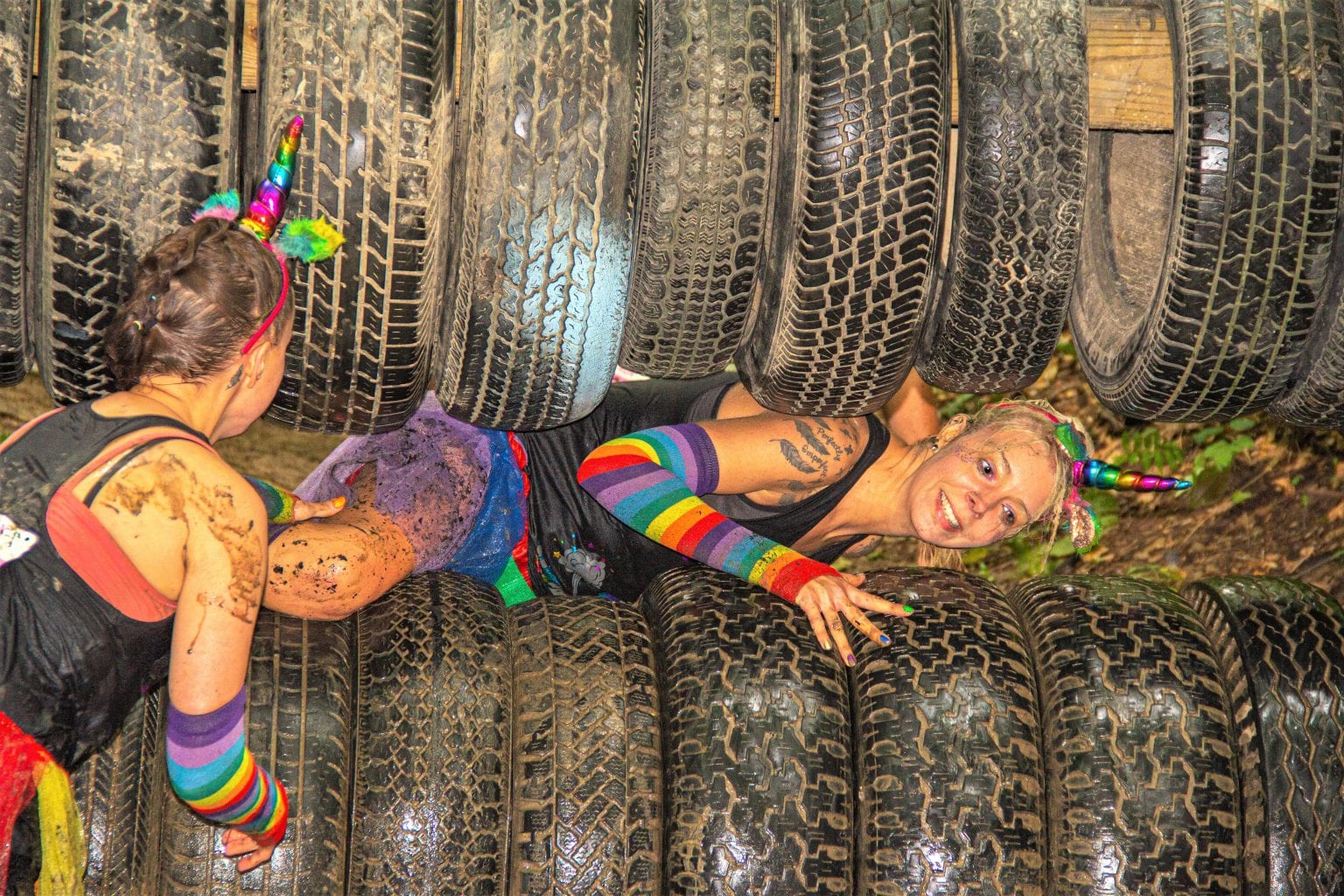 GRITTY CHIX MUD RUN
June 19, 2021

Location: ACE Adventure Resort
Admission: $45-$50
Category: grittychix,races,SPECIAL EVENTS
Grit is courage, resolve and perseverance. Stay motivated and keep encouraging one another through the obstacles we face during this difficult time. We're sorry to announce due to COVID-19 concerns, we have postponed the 2020 Gritty Chix Mud Run to June 19, 2021. If you registered before April 8, 2020 your transfer to the 2021 event was automatic – check your email and go to http://www.myevents.active.com for details. If you have questions or would like to discuss other options, email rdavis@aceraft.com.
Thank you for your patience and understanding.
Exciting 2021 details will be unveiled in the coming months!
Voted #1 Mud Run/Adventure Race in the Southeast and Mid-Atlantic, in the 2020 Best of the Blue Ridge Readers' Choice Awards by Blue Ridge Outdoors magazine!
No matter what Gritty Chix wear (athletic wear, costumes, or dresses), no matter how they look (aflame with glitter, game day face paint, or gloriously au natural), no matter how they start (sprinting, jogging, or moseying along), no matter how hard they laugh or grit their teeth along the way, they cross the finish line as mud covered and as triumphant as they want to! Second to none.
Gritty Chix Mud Run is where you cut loose and let it fly! It's all good.
Walk, sprint, skip, jog, crawl and dance through trails, over walls, through tubes, and mud pits! You're gonna sweat a little, challenge yourself a little, get a little mud in your teeth, and you're gonna have a lotta fun.
Held at ACE Adventure Resort in Oak Hill WV, the largest outdoor adventure resort around, ACE has most everything you may need on-site: food, drinks, shopping, adventure activities, cabins and campsites.
Some Gritty Chix run in and out for the mud while others make the whole weekend on their terms! There's a Waterpark and swimming lake with a beach, there's music and drinks on the deck of the Lost Paddle; options to pop a tent on a campsite or a get cozy in a cabin, and other adventures like ATV's, hiking trails, ziplines, climbing, stand up paddle boarding, fishing, rafting, kayaking, relaxing massage, mountain biking, and paintball!
Open to everyone ages 10 and up; under age 18 must be accompanied by an adult. No exceptions.
We don't exclude the guys that respect our grit – those guys are man enough to run with Gritty Chix!
#grittychix
Trails
You choose – the 5k Tenacious Trail or the Moxie Mile. Both woodland trails converge on the mud obstacle course, with a few additional mud-holes on the Tenacious Trail.
Obstacles have varying degrees of difficulty, but all are manageable. Upper body strength is helpful and you have the option to bypass any obstacle you're not comfortable tackling. Go for it before going around it – try to complete each one.
It's all about excitement, laughter, and camaraderie so we encourage applause, hoots, hollers, and lending a helping hand.
Water and first aid are stationed along the trails and at the finish line.
Registration
$40 until midnight December 31.
$45 January 1 through June 16; online registration closes June 16.
$55 on-site late registration June 18 from 6pm to 8pm, and June 19, 8:30am – 1:00pm.
Schedule
Friday:
6pm – 8pm: Early check-in and on-site late registration.
Saturday:
7:30am: Volunteer check-in
8:30am: Gritty Chix check-in and late registration open.
9:30am: Volunteer check-in
11am: First Gritty Chix wave starts (recommended for competitive participants).
2:30pm: Final Gritty Chix wave starts.
Plan to arrive 1.5 hours before your scheduled start time to allow plenty of time for shuttling, check-in, waivers, bibs, t-shirt pick-up, bag check, restroom, etc.
Select your start time when you register. 11:00 wave is recommended for competitive participants. 100 Gritty Chix per 30-minute waves, starting at 11am and the final wave at 2:30pm.
Pre-run and Prize Announcements at the starting line before each wave.
Prizes
Most Creative Team Name
Best Costume
Furthest Traveled
*ACE Adventure Resort gift certificate prizes are announced at the starting line and posted in the Lost Paddle. Pick up prizes in the Lost Paddle Lounge!
Teams
Teams are welcome but not necessary. The largest team gets special recognition, all day.
Free & Fun
Saturday night campsite (optional upon registration, bring your own gear or rent it from ACE).
Bag Check.
Shower houses and changing rooms.
Parking.
Shuttles to and from parking and shower facilities.
Hiking trail access and use.
Live entertainment at The Lost Paddle Bar and Grill.
Prizes.
Special Gritty Chix discounts on adventure options.
Registrations before March 19 include a FREE Gritty Chix t-shirt (pick up at the event check-in pavilion).
Finish Line Fun
Water, rinse stations, and music at the finish line!
The fun doesn't end at there – ACE is the largest outdoor Adventure Resort in the eastern US! There are great ways to spend your time making memories. Stick around for free live music entertainment at the Lost Paddle Bar and Grill and add other adventures… a Waterpark Pass for more awesome fun and kick back on the beach; refuel at the Lost Paddle, Woody's Pizza, the Huge Dinner Buffet; and slip away to a private cabin with a hot tub or a quiet mountaintop campsite under the stars!
Sweet ACE Deals
We strongly recommend adding-on other fun stuff when you register to lock in at discounted prices. Gritty Chix get discounts on Campsites, Breakfast and Dinner Buffets, Waterpark Passes, and Rafting, Ziplines, Stand Up Paddle Boarding, Climbing, Paintball, and Kids Camp!
Reserve a Cabin at ACE: 833-275-0966 or online
Reserve ATV tours at ACE: 304-461-6961 or online
Food & Drinks
Breakfast Buffet in the Lakeside Dining Hall, $12.95, open 6:30 to 10am ($9.95 if you add on when you register), prices are per person.
Lost Paddle Bar and Grill has wings, sandwiches, etc. and icy drinks, prices vary, open noon to midnight.
Woody's Brick Oven Pizza specializes in pizza and calzones, prices vary, open noon to 8pm.
Huge Dinner Buffet in the Lakeside Dining Hall, $26.95, open 5pm to 8:30pm ($19.95 if you add on when you register), prices are per person.
Spectators
Spectators enter for Free – or for the price of a muddy hug – bring your family and friends with their cameras to cheer for you at your grittiest best.
Volunteers
Volunteers receive a FREE Half-Day Lake Pass and a FREE Campsite, to be used June 19 or later in 2021.
Gritty Chix Swag
Gritty Chix t-shirts ($15), and stickers are available in limited sizes and quantities in our Outfitter Store on event day. Registrations received by March 19, 2020 include a FREE Gritty Chix t-shirt to be picked up at the event check-in pavilion.
Tenacity On A Mission
Your participation in Gritty Chix helps support Southern West Virginia's Women's Resource Center providing supportive services for victims of domestic violence, and First Descents providing free outdoor adventure to young adult cancer fighters and survivors.
Recommended To Bring
Wear a solid pair of running shoes, and consider bringing a towel, a bag for wet/dirty clothes, a change of clothes, and waterproof sunscreen. Shower houses and changing rooms are available. If you forget to pack it, the Outfitter Store has many items you may need.
Waivers
Everyone needs one.
Separate Mud Run and Lake Waivers are available on our event website. Print, fill in the blanks, and bring your completed waiver to check-in so you can get to the good stuff sooner.
*When you add other adventures, additional waivers are required and can be completed in ACE's Welcome Center or in advance by clicking here.
Transferring Gritty Chix registration is only available through the active.com registration site.
No refunds.
No pets.
Related Events