September 21, 2019
The Perfect Camping Trip: How to Build a Campfire
Home
|
|
The Perfect Camping Trip: How to Build a Campfire
What's a better ending to a perfect autumn day than gathering around a campfire? Whether you like to decompress by staring at the dancing flames, roast s'mores over the fire, or dethaw yourself after a chilly day, firepits are at campers' disposal here at ACE Adventure Resort. Since fire regulations and needs are different at every campsite, it's essential to know what you're doing before you get started. Whether you're a fire-building expert or novice, here's how to build a campfire during your stay at ACE Adventure Resort. 
Getting Started
You won't need to bring anything to start a campfire at ACE Adventure Resort. By stopping at the Welcome Center and the Store, you can purchase your ingredients for your campfire instead of bringing them yourself, whether it's local firewood, tinder, or matches.  
Types of Campfires 
After you gather your materials, decide which of the types of campfires is best for you. Teepee fires are one of the easiest and most popular ways to build, although you can also opt for lean-to or log cabin styles as well. To build a teepee style fire, lay down a thin, split wood base. Fill in the cracks with tinder. Then, take five to six pieces to build the teepee structure. Start a match/lighter on the inside of the teepee for the best results, and watch your fall campfire light up.
Enjoying Your Fall Campfire 
After your fall campfire is ablaze, snuggle up in your sweatshirt. Decide how you want to want to make your s'more, whether it's lightly toasted or burnt. Try a riff on the classic by replacing your chocolate bar with a peanut butter cup or a flavored Ghirardelli square. Or, replace the graham crackers with Oreos. Muster up your best campfire stories to share as you devour your twilight snacks. 
West Virginia Resorts 
At the end of the night, make sure you put out your fall campfire by spreading out the dying embers and dousing them with water, ensuring no heat radiates from them before you hit the hay. Now, you know how to build a campfire at ACE Adventure Resort. You don't have to bring any materials to have a successful night.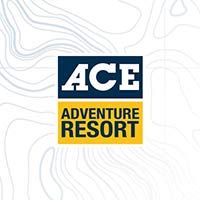 BY aceteam
Bringing you all the latest whitewater rafting, adventure, and all things ACE from the New River Gorge of West Virginia for over 40 years.
VIEW FULL BIO & ALL POSTS
RELATED ADVENTURES