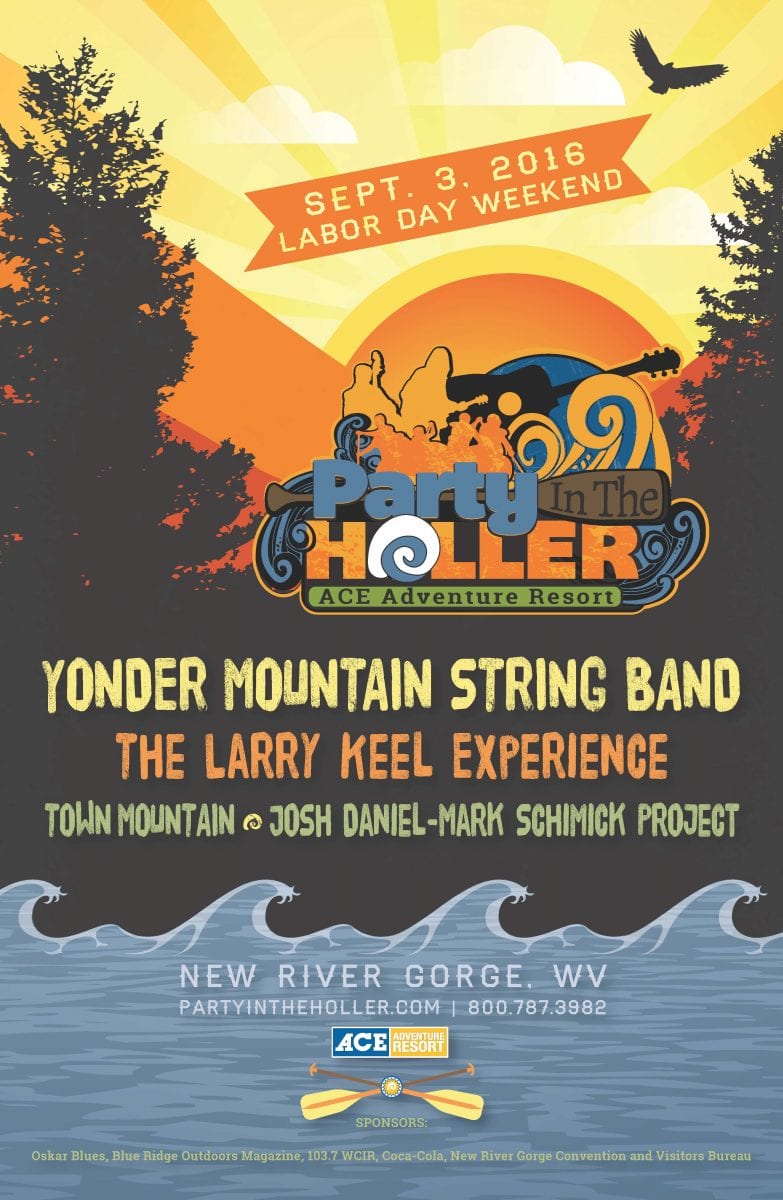 June 22, 2015
Party in the Holler
Home
|
|
Party in the Holler
We hope you are ready for more live music in the New River Gorge with ACE Adventure Resort this summer. Get ready to Party in the Holler Saturday, September 3rd with Yonder Mountain String Band, The Larry Keel Experience, Town Mountain and The Josh Daniel/Mark Schimick Project on the beautiful mountaintop stage. What better way to cap off the summer of 2016 then to spend the weekend camping at an adventure resort featuring the country's best whitewater rafting on the New and Gauley Rivers.
Yonder Mountain String Band
For nearly 17 years, Yonder Mountain String Band has redefined bluegrass music, expanding the traditional acoustic genre beyond its previously established boundaries by steadily pushing the envelope into the realms of rock n' roll and improvisation. YMSB has always played music of their own design, in the process attracting a devout coterie of fans that often resembles a tight knit family on an epic musical journey as Yonder traverses the country with an ever-rigorous tour schedule. Yonder is a quintessential ensemble honing its craft night after night on the road, and the fans are there to experience it in real time. "We've been growing over the years and I feel like we really don't have any limitations," says band member Adam Aijala.
The Larry Keel Experience     
ACE Adventure Resort welcomes Larry Keel back to the mountain for a third time bringing his powerful, innovative and all-out exhilarating acoustic flatpicking center stage. Keel has absorbed the best lessons from his Bluegrass family upbringing, both sides deeply steeped in the rich mountain music culture and heritage of Southwest Virginia. From there, he has always integrated that solid musical grounding and natural-born talent with his own incomparable approach to flatpicking the guitar and composing original music. He's also got a knack for choosing interesting and appealing material from all realms of music with guts, whether it's a tune written by a fellow song-writer/musician friend, or a tasty cover from any number of genres all over the map. The combination is pretty irresistible, and has earned Keel the highest respect and billing among the top acoustic musicians alive.
Town Mountain
In much the same way that iconic southern dishes such as Louisiana gumbo or Brunswick stew can include any number of flavorful ingredients, so too does bluegrass music rely on a recipe that can vary wildly, depending on who's doing the cooking. For Asheville, North Carolina-based bluegrass band Town Mountain, the key ingredient of the musical stew is the same confident – yet entirely embraceable – swagger that has distinguished the group since they first formed in 2005.
The 2013 winners of IBMA Momentum Awards for Performance Band and Vocalist of the Year (Robert Greer), Town Mountain has earned raves for their hard-driving sound, their in-house songwriting and the honky-tonk edge that permeates their exhilarating live performances, whether in a packed club or at a sold-out festival. Just as a gumbo recipe starts with the "holy trinity" of staples (onions, bell peppers and celery), and can contain a wide variety of additional ingredients and inspiration, the hearty base of Town Mountain's music is the bluegrass triumvirate of Bill Monroe, Lester Flatt and Earl Scruggs. It's what else goes into the mix that brings it all to life both on stage and on record and reflects the group's wide-ranging influences – from the Grateful Dead's Jerry Garcia and the ethereal lyrics of Robert Hunter, to the honest, vintage country of Willie, Waylon and Merle.
The Josh Daniel/Mark Schimick Project
Formed in early 2014, The Josh Daniel/Mark Schimick Project is a fiery string band blending bluegrass, soul, reggae and rock n' roll into a style uniquely their own. Respecting their Appalachian roots, these passionate multi-instrumentalists have a way of blending their harmonies and intricate string work in to something that appeals to a wide variety of listeners.
In February, the band was asked to celebrate the grand opening of The Earl Scruggs Museum in Shelby, NC, playing alongside Sam Bush and The Steep Canyon Rangers. By Spring, the band had made even more notable appearances, invited to the stage by Al Schiner of moe. to play a few songs as well as a surprise appearance at Merlefest where they brought the crowd to their feet with a tribute to Doc Watson.
Josh Daniel and Mark Schimick have been fixtures on the Americana circuit for years, Josh with The New Familiars and Mark with Larry Keel and Natural Bridge. Together, with upright bassist, Greg Howell the trio recorded an album in Nashville with grammy nominee, Jonathan Crone. While in Nashville, the band was featured on Music City Roots playing a sold out show with Hayes Carl closing the night out with Josh, Mark and Hayes trading verses on The Meters "Hey Pocky Way" in honor of Mardi Gras!
Get ready for a fiery night of Appalachian string music at West Virginia's best outdoor venue. Advance tickets are on sale now by calling ACE Adventure at 800-787-3982 or visiting PartyInTheHoller.com. Make it a weekend in the mountains with passes to Wonderland Waterpark or jump on an exciting outdoor adventure like whitewater rafting on the New River, zip lining or mountain biking in the gorge. Join the Facebook Event Page, tell your friends and we will see you for a Party in the Holler September 3rd!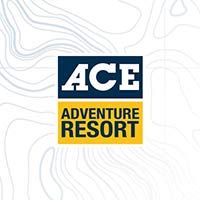 BY aceteam
Bringing you all the latest whitewater rafting, adventure, and all things ACE from the New River Gorge of West Virginia for over 40 years.
VIEW FULL BIO & ALL POSTS
RELATED ADVENTURES