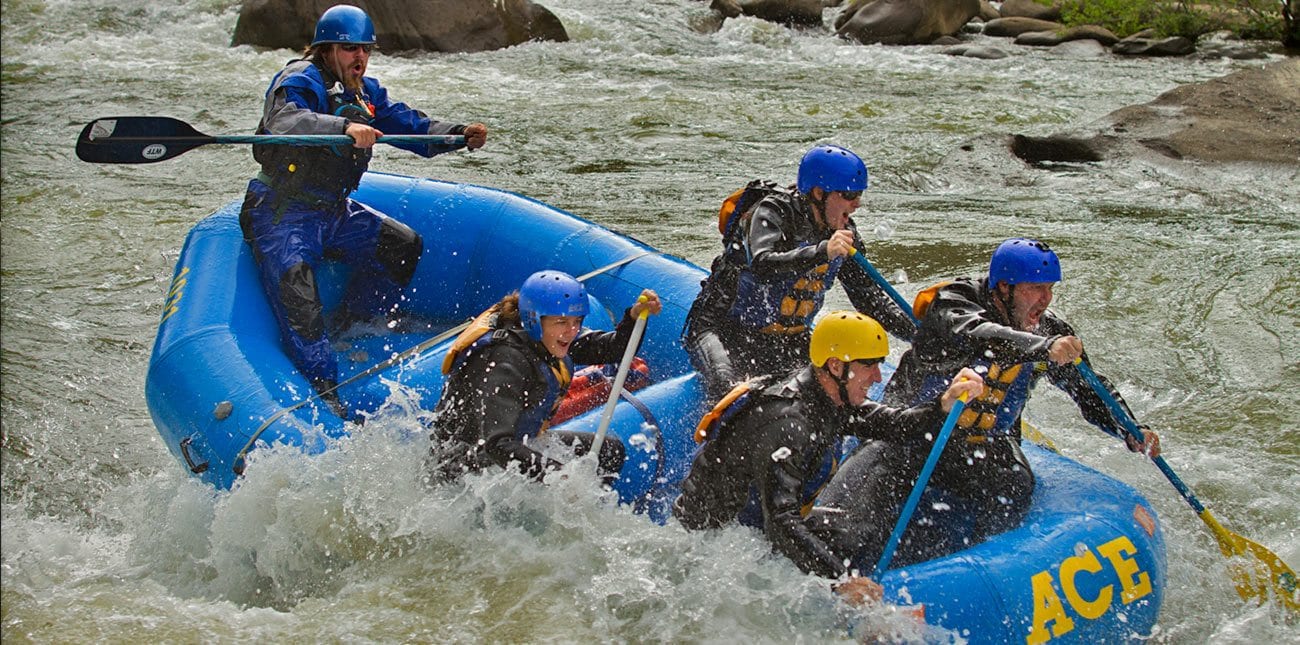 April 6, 2015
TOP 5 EXTREME RESORTS IN THE UNITED STATES
Home
|
|
TOP 5 EXTREME RESORTS IN THE UNITED STATES
Here at ACE, we like to think of ourselves as a pretty extreme resort. We guide extreme adventures, we have extreme lodging, extreme playtime, heck even our dogs are extreme.
But while we like to sit around discussing how extremely amazing we are, one day someone brought up an interesting point: Maybe there are other extreme places out there.
BWAHAHAHAHAHAHAHA HAHAHA HA *SNORT* *COUGH* WHEW
That guy's a real jokester.
But after poking around a bit, guess what we found? Some pretty freaking extreme resorts. We got so pumped by our findings we wanted to share them with everyone. And because we know there are plenty of things that make ACE great that people might not be aware of, we wanted to help let the secrets out about these other places too.
Check out our picks for the top 5 Extreme Resorts in the United States (in no particular order).
ACE ADVENTURE RESORT, MINDEN, WV
Did you really think we'd start with anyone else? Including ourselves also makes the list 6 rather than 5 resorts, but top 5 sounds better, and we don't like being restricted by conventional list restraints.
BACK TO US.​
 ACE is a World of Adventure in one place. For over 35 years, we've guided folks away from their reality and into the great outdoors. You can explore by zip lining, rock climbing, mountain biking, horses and just plain old hiking. Plenty of fresh air, fun times and bonfires can satisfy any level of thrill-seeker.
Our white water rafting trips take place on the class IV-V New River Gorge and Gauley rivers. The New River boasts some of the biggest whitewater in the United States during the spring season while summer levels are fit for the whole family. And each fall thousands of people travel to ACE and the surrounding area to experience the world famous Gauley Season.
Any age can find an activity that suits them, and we have cabins ranging from rustic camping to 5 bedroom deluxe cabins featuring hot tubs on the deck. Groups or families can plan an entire vacation immersed in the hills of scenic West Virginia, or simply relax by our lake and take in the local bluegrass music at the bar in the evenings.Ready for some real insider tips? Check out some of the things that make ACE great:
The most popular aspect of ACE:
While ACE may be best known for its whitewater rafting trips, one of the most popular things at ACE is the Lake. We've converted it into a water park and spring-fed lake is now a 5-acre water park full of all kinds of AWESOME — water slides, zip lines, inflatable toys, and of course, the crowd favorite: THE BLOB.
What might people not know about ACE?
While ACE offers plenty of activities daily, we also have the ACE Adventure Series throughout the season featuring two trail runs, a paintball tournament, a bike festival, music festival, mud runs and more.
Of course we could go on and on about ACE, but we'll stop here for now. Be sure to check out aceraft.com to learn even more.
THE WILDERNESS RESORT, WISCONSIN DELLS, WI
Located on 600 acres in Wisconsin Dells, The Wilderness Resort is America's largest waterpark resort.
WAIT. ARE YOU TELLING US THAT WATERSLIDES GET BETTER THAN THIS?
The Wilderness Hotel offers diverse lodging options including: guest rooms, villas, condominiums and cabins.
Tracy Fuller, Marketing Manager for The Wilderness Resort, says the most popular aspect of the resort is the four indoor and four outdoor waterparks. Now that's a pretty extreme resort! They have over 500,000 square feet of waterparks, a canyon zip line tour, indoor and outdoor go kart tracks, indoor ropes course, indoor and outdoor mini golf, and a laser tag arena.
So what might people not know?
According to Tracy, something people need to know is the waterparks and attractions are only for Wilderness Resort guests. They do not sell day passes.
Hear that folks? If you want to go extreme at The Wilderness Resort, you've got to go all in and soak up the whole experience. Not a bad trade.
FONTAINEBLEAU, MIAMI BEACH, FL
When it opened in 1954, Fontainebleau Miami Beach was the largest and most luxurious hotel in South Florida. Its signature feature included a 17,000 square foot lobby with a now-legendary "Stairway to Nowhere." We figure that earns an extreme resort rating!
Celebrities and entertainers ranging from Elvis Presley and Bob Hope to Lucille Ball and Judy Garland, made the hotel so popular that at one point the hotel was forced to post armed guards to bar non-guests from entering.
WE'VE GOT SOME PRETTY POPULAR GUIDES WHO HAVE THE SAME PROBLEM!
The hotel completed a $1 billion renovation and expansion in 2008, and today the hotel has 1504 guest rooms, including 846 rooms and suites in the two original Fontainebleau buildings.
There's a lot more we could say about the Fontainebleau (if you need help figuring out how, we suggest revisiting the $1 billion expansion discussed above. Go ahead, we'll wait)
…but we'll skip right to the juicy bits from insider Stephanie Giner.
When asked about the most popular aspect of the resort, Stephanie informed us most guests that stay at Fontainebleau often ask questions about the history, and want to learn about all the celebrities and key events that have taken place over the last 60 years. She went on to say it has been a revered landmark and symbol of style and sophistication since its opening in 1954.
So what might people not know about Fontainebleau?
Stephanie says something people may not know is they recently launched BleauFish Ocean To Table, the hotel's live catch, ocean-to-table seafood program. It features fishing operations exclusive to the hotel and delivers fresh catches daily to Water World, a 2,000 gallon collection of salt water tanks housed in the basement of the hotel's back-of-house food and beverage operations.
There you have it, if you're in the market for a luxuriously extreme resort…check out Fontainebleau Miami Beach.
NICKELODEON SUITES RESORT, ORLANDO, FL
Being the youngest kid in my family, not having children of my own, and living outside for large portions of my adult life, my familiarity with Nickelodeon is slightly outdated.
Turns out there's been a few slight advancements since the early Double Dare days…
Nickelodeon Suites Resort is a destination hotel in Orlando dedicated to imagination, play and exploration. Whether you're visiting on a family vacation or celebrating a special event like a reunion or birthday, the Nick Hotel offers all sorts of things — from live entertainment to wild water parks to spacious accommodations.
We may even take even take a few pages out of their book and start offering character breakfasts.
WHY HAVE BREAKFAST WITH DORA THE EXPLORER WHEN YOU CAN START YOUR DAY WITH SCOTTY THE SLIGHTLY SMELLY RAFT GUIDE?
Wait, we don't want to spill too many secrets about the upcoming season just yet. Back to Nickelodeon…
Beth Cocchiarella, Nick insider, says the most popular feature of the hotel is incredible, original entertainment. She explains they have live shows in Studio Nick, poolside at the world famous Lagoon Pool and in the Nicktoons Cafe. "Our guests just can't get enough of these amazing experiences across property!"
Something people may not realize?
"The Nickelodeon Suites Resort in Orlando is the only place you can get SLIMED 365 days a year!"
We're in. Bring on the slime. www.nickhotel.com
MOUNT BOHEMIA, HOUGHTON, MI
We've gone over some great resorts with a wide array of offerings, but now it's time to head back outdoors.
Mount Bohemia in Michigan's Upper Peninsula has the longest runs with the highest vertical and deepest powder in the Midwest. If you're reading this and thinking of taking up skiing for the first time, you might want to keep searching. There's no beginners allowed at Mount Bohemia as it features a 900-foot vertical drop across 500+ acres and 94 runs.
WE'VE GOT SOMETHING THAT HIGH TOO, BUT WE'RE ONLY ALLOWED TO JUMP OFF IT ONE DAY A YEAR AND ARE WEARING PARACHUTES.
I'll get to the insider tips from Mount Bohemia in a bit, but personally, I am most impressed by the fact that when you email Mount Bohemia, the mountain seems to answer back itself leaving no name or other contact information. I may try emailing the New River next to see if it is as gifted.
But according to the mystery Mountain, the most popular thing at Mount Bohemia is skiing and snowboarding in the deep woods of the extreme backcountry in the center of the mountain. The extreme backcountry is over 100 acres of trees, chutes and cliff drops, and gets blanketed by over 273 inches of snow per year.
What's that you say Mountain? What's something people might not realize about Mount Bohemia?
"It's larger in terms of acreage and gets more snow than most east coast ski resorts."
While many of our guides make a living at some of these east coast ski resorts you speak of, you do sound pretty cool Mountain. So maybe we'll give you a chance. www.mtbohemia.com
GATEWAY CANYONS RESORT & SPA, GATEWAY, CO
Gateway Canyons is located in Unaweep Canyon, one of the most unique red rock canyons in the world.
When envisioning Gateway Canyons, John Hendricks understood the importance of preserving existing open space, and protecting scenic landscapes and critical wildlife habitats around the small community of Gateway, Colorado. Mr. Hendricks has committed to "smart growth planning."
WE TRY TO PRACTICE THIS EVERY OFF SEASON TOO, BUT THOSE PEPPERONI ROLES ALWAYS GET THE BEST OF US.
Because Gateway Canyons offers so much, we again went to an insider to get to the heart of some of the most popular and best kept secrets.
It seems the most popular aspect of Gateway Canyons is the Driven Experiences program, where guests are able to enjoy privileged access to a luxury fleet of high-performance vehicles in addition to professional driving instruction and training classes.
UMMM, MAYBE WE SHOULD HIDE ANY FOOTAGE OF HOW WE DRIVE BOATS BEFORE TRYING TO TALK THEM INTO LETTING US DRIVE THOSE CARS…BUMP!
Now to the good stuff, what might people not know about Gateway Canyons?
A hidden gem most guests might not know about is the latest initiative, Curator of Curiosity, Zebulon Miracle. Miracle develops and implements a series of onsite programming providing a variety of hands-on learning experiences and authentic adventures, including the history of the American West, ancient astronomy, paleontology, and rock art of the Colorado Plateau – to name a few.
Pretty cool, you can get your learn on while you get your adventure on. www.gatewaycanyons.com
So there you have it, six of what we believe are some of the top, most extreme resorts in the United States. Feel free to check them out, right after you come to ACE Adventure Resort that is.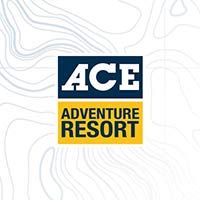 BY aceteam
Bringing you all the latest whitewater rafting, adventure, and all things ACE from the New River Gorge of West Virginia for over 40 years.
VIEW FULL BIO & ALL POSTS
RELATED ADVENTURES