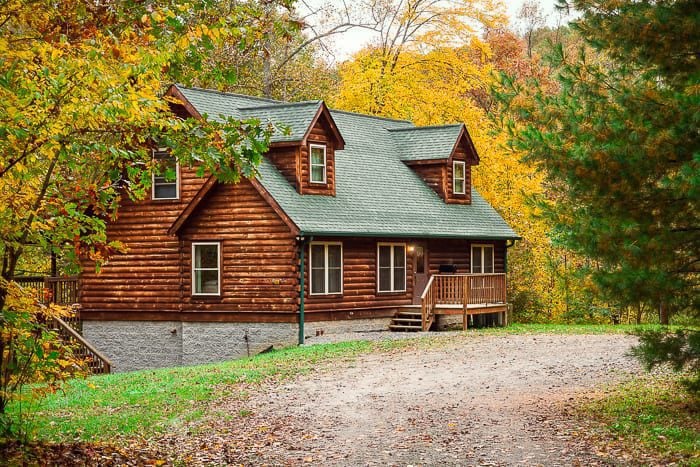 Buy One Night, Get One Free
West Virginia Discount Cabin Rentals!
Home
|
WV Vacation Cabin Discounts
Buy One Get One Night Free On Select Lodging!
When Gauley Season comes to a close at the end of October, Quiet Season begins at ACE. This time of year creates the perfect opportunity for you to have a West Virginia Mountain Getaway for less. Enjoy deeply discounted lodging options, explore a fall or winter zipline, or just relax with your friends and family and enjoy the quiet Mountain State of Mind!
This offer is available for occupancy between Oct. 19th, 2020 and March 31st, 2021. New reservations only, please! Can't be combined with other lodging discounts.
Browse Discounted Cabins Below
The Grey Fox Log Home
Need more room, but not TOO much room?  The Grey Fox is our most spacious unit's younger sibling. It offers the same like-home comforts and accommodations minus the additional below-grade rooms of the Red Fox. Up to ten guests will enjoy this hot tub equipped, winter getaway!
Buy One Get One Night Free!
The Black Bear Log Home
Another great option for larger groups! This log home will accommodate up  to 10 people with those important mountain getaway features like a hot tub, a covered back deck, a full kitchen and all the comforts of home.
Buy One Get One Night Free!
The Log Cottages
Bedroom(s) 1 Bedroom + A Loft
Kitchen Kitchenette (Microwave & Small Refrigerator)
This is the ideal couple's choice for the perfect weekend getaway. Still roomy enough for a small family, or suitable for those who travel solo but want some lounging space, the Log Cottages at ACE provide sunset views from their hot tub equipped back porches.  Please note this unit has a kitchenette so be prepared to cook with the microwave or on the outside grill (bring charcoal).
Buy One Get One Night Free!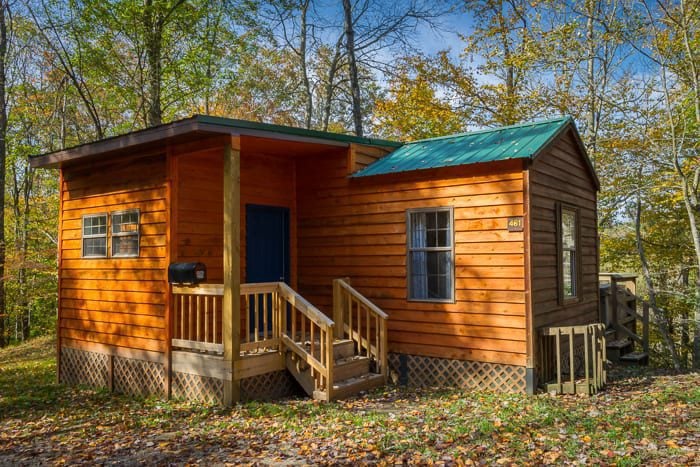 The Laurel Cabins
Kitchen Kitchenette (Microwave & Small Refrigerator)
Small families and small groups love the Laurel Cabins at ACE! They feature cozy accommodations with room to relax in the kitchenette/living room combo while providing the privacy of two bedrooms with queen beds. And of course, a hot tub on the back porch. If you plan on cooking your meals during your visit please note these cabins are equipped with a microwave and charcoal grill outside rather than a stovetop and oven.
Buy One Get One Night Free!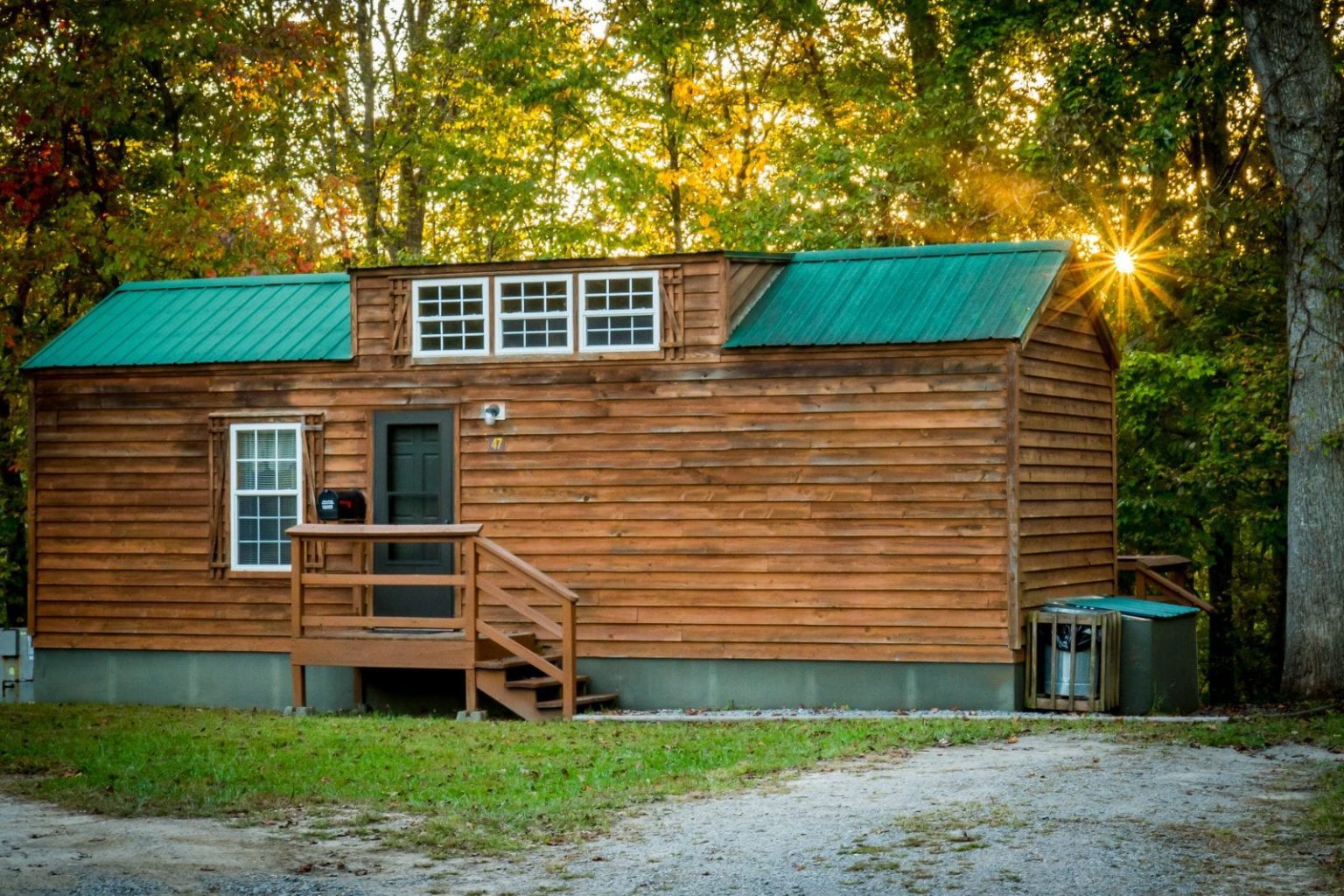 The Cozy Park Cabins
Bedroom(s) 1 Bedroom + Loft For Children
Our most economic choice, the Cozy Cabins still offer the benefit of a full kitchen! Solo travelers, couples and small families can getaway to the mountains for a price that rivals most hotel rooms. Despite the affordable accommodations, you'll still have that much-loved back deck equipped with a hot tub.
While You're Here.... Fly!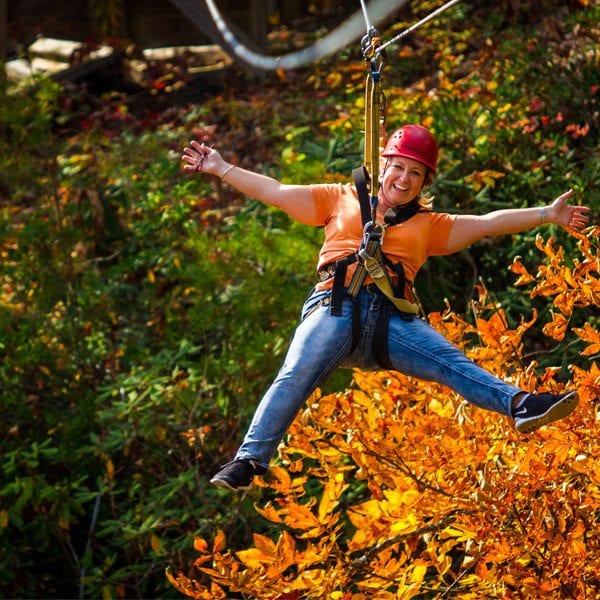 Fall & Winter Zipline Tours!
Please note, 4 guests are required to open up a quiet season zipline tour (October 19, 2020 – March 31st, 2021) . If you have less than 4 people in your group please call 800-787-3982 and one of our reservation specialists will try to add you to an existing trip.
Are you joining us in the cozy season for a quiet getaway this fall or winter? Then seize a great opportunity to experience the only zipline tour with scenic views of the New River Gorge. When fall comes to these hills you'll be astounded at the color brought on by the changing foliage. Then as we move into the winter months you'll be greeted with more views, longer views, and maybe even some snow coverage as the leaves fall from the trees.
Make sure to dress warmly in layers and bring some friends. It's time to fly through the air by day then settle into a warm and cozy hot tub as evening falls.