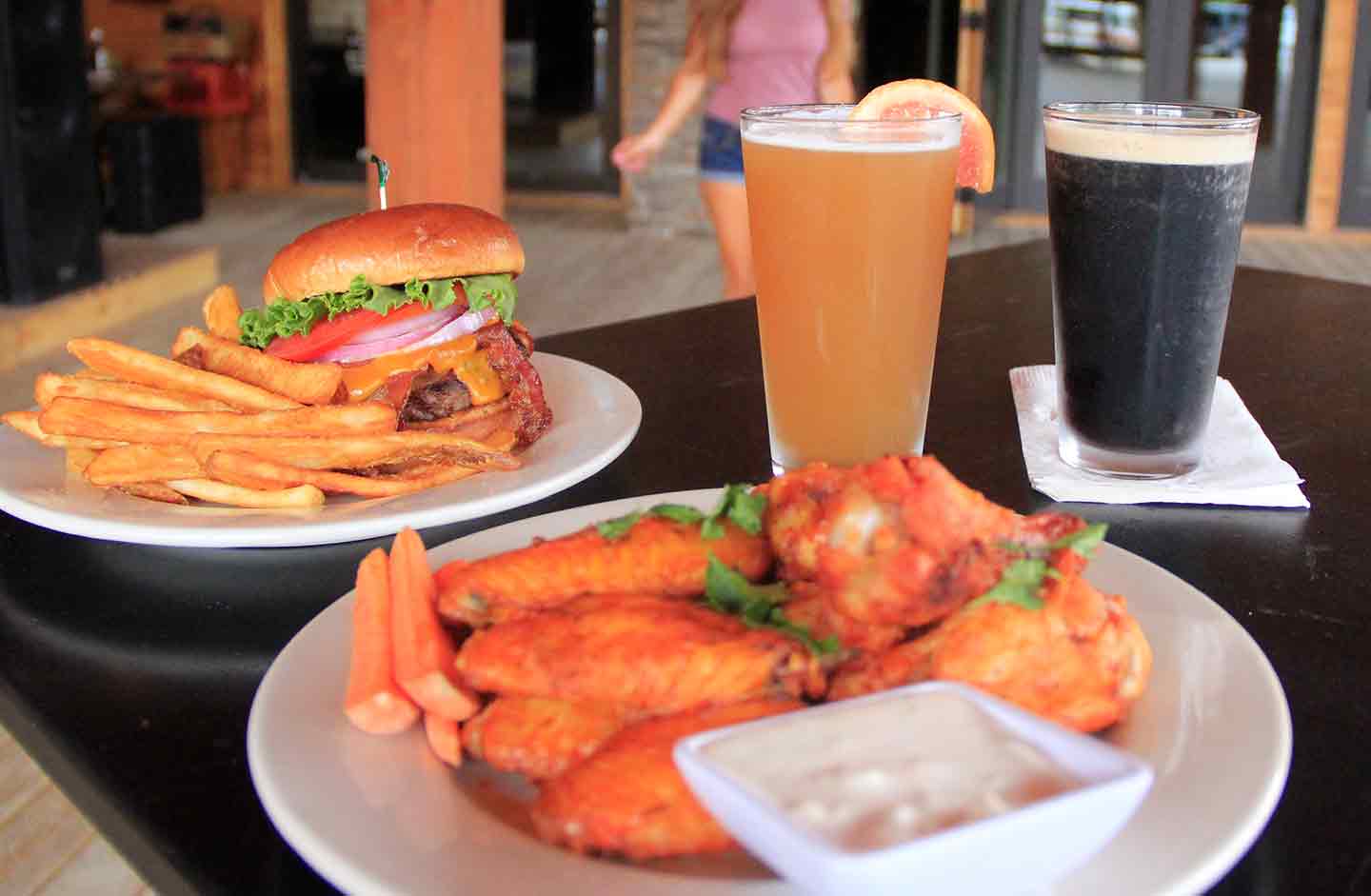 The Lost Paddle
Lunch & Dinner Menu
Lost Paddle Bar And Lakeside Eatery Menu
Call in orders for delivery available 304-469-0107
APPETIZERS
Loaded Nachos – Tortilla chips piled high with melted white queso, house made chili, pico de gallo, jalapeños, black beans, sour cream, guacamole, and fresh cilantro. … $12.00 whole order/$7.00 half order
Hummus with Pita – A blend of garbanzo beans and tahini, drizzled with infused olive oil and toasted pita bread. … $9.00
Mozzarella Sticks –  Fried golden and includes zesty marinara. … $6.00
Chicken Wings – Our fresh wings are served with crisp celery, ranch or bleu cheese. Wing sauces include Buffalo, BBQ, Honey Firecracker, Asian Chile, and Chipotle Peach. … $13.00 1 dozen/$7.00 half dozen. Extra Dressing $.50
SANDWICHES AND MORE
All sandwiches include house kettle chips and a pickle spear. Substitute fries, potato salad, fruit cup, or cottage cheese. … $2.00
Black Angus Burger – Eight ounces of chuck, brisket, and sirloin blend. Includes LTO. …$13.00
(Add choice of American, swiss, provolone, cheddar, pepper jack, bacon, grilled portobello cap, fried egg, bleu cheese, goat cheese. … $1.00)
Blackened Chicken Wrap – Seasoned chicken, bacon, cheddar jack, black beans, iceberg, tomato, and fiesta sauce rolled in a white tortilla wrap. … $11.00
Italian Panini – Pepperoni, salami, capicola, provolone, banana peppers, tomato, onion, and Italian dressing pressed until toasty on sourdough bread. … $12.00
Philly Steak – Chopped ribeye steak, onions, peppers, and topped with melted queso. … $12.00
From the Garden
Signature Ace Salad –  A romaine and iceberg blend. Includes tomato, cucumber, Bermuda onions, kalamata olives, and feathered mozzarella. … $7.00
Add chicken breast $4.00.
Chef Salad – Includes tomato, cucumber, onion, cheddar, swiss, egg, croutons, and a julienne of turkey and ham. … $12.00
Caprese Salad – Heirloom tomatoes, basil, fresh mozzarella, toasted crostini, and a drizzle of balsamic glaze. … $11.00
(Dressings include bleu cheese, Italian, french, sriracha ranch, ranch, honey mustard, balsamic vinaigrette, and egg. Extra Dressing $.50)
Children's Menu
*Each includes chips. Substitute french fries $2.00
All Beef Hotdog – $5.00
Cheese Burger – $5.00
Chicken Tenders – $5.00
Grilled Cheese – $5.00
Brick Oven Pizza
Pepperoni – $16.00
Cheese – $14.00
Veggie – $15.00
Margherita – $16.00
The ACE – $17.00(smoked brisket, roasted peppers, red onions, cilantro)
Specialty Entrees
All Entrees include one side, house salad with choice of dressing, and a freshly-baked dinner roll.
New York Strip – (Please Ask About Availability) A ten-ounce hand-cut sirloin charbroiled to your preference. … $18.00
Appalachian Rainbow Trout – This delicate filet is prepared in cast iron. … $18.00
Half Chicken –  Smoked over hardwoods and finished with chicken jus. … $14.00
Spaghetti and Meatballs –  A beef, veal, and pork blend hand-rolled in house. … $12.00
Grilled Pork Medallions – Sliced pork loin marinated in brine then smoked to maximum tenderness. … $16.00
*Sides include baked potato, french fries, red beans and rice, fried okra, green beans, sautéed mushrooms.
Dessert
Ask your server about our always changing sweet selections!