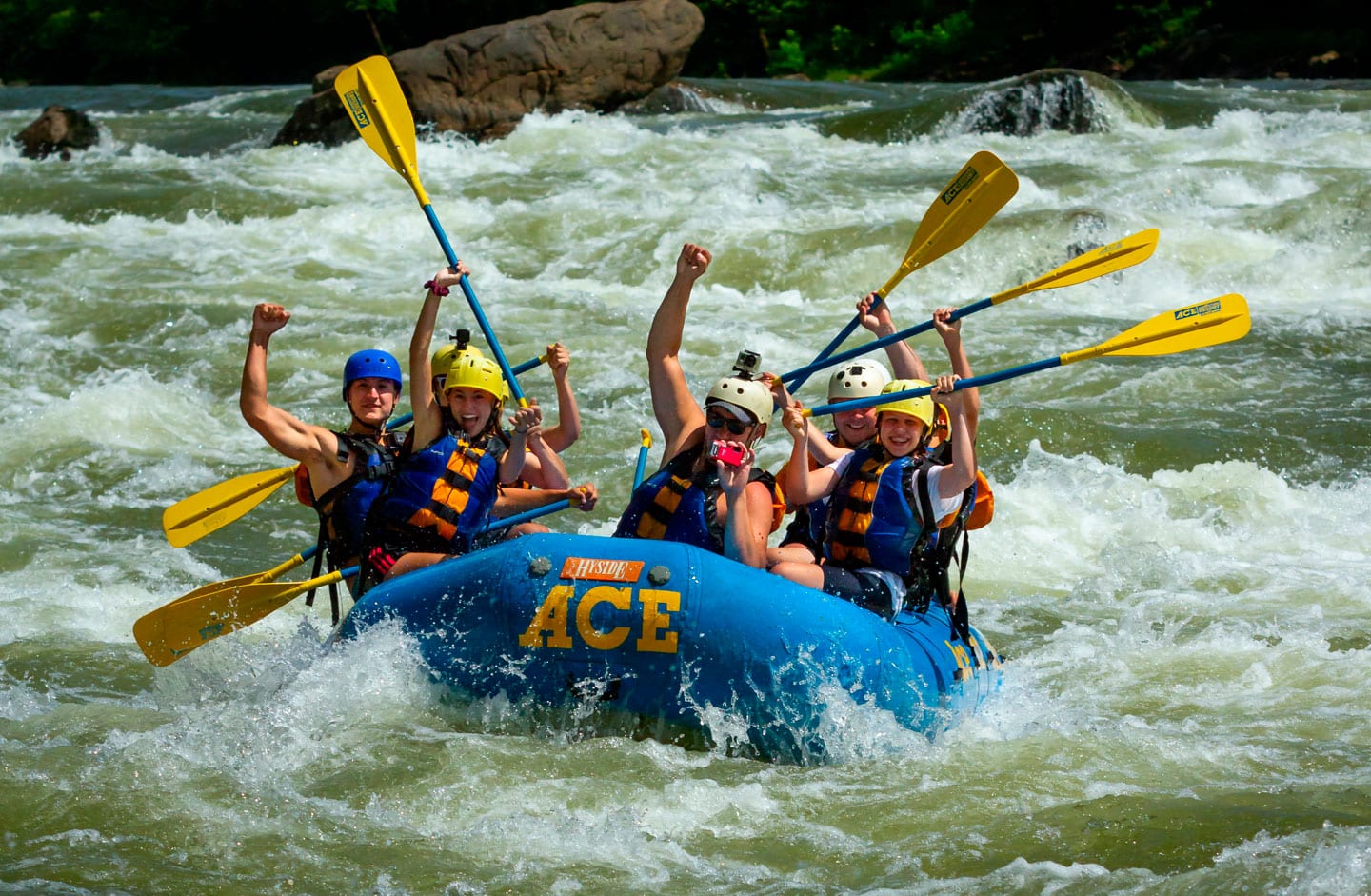 New River Gorge White Water Rafting Trips
Choose from two amazing river sections...
There's a New River Gorge section that's right for you!
CHOOSE THE UPPER OR LOWER NEW RIVER...
Choose between a calm day on the Upper New River or a day with more rapids on the Lower New River Gorge. Both trips are great for first-time rafters, with the Upper New being the ideal option for families with kids as young 6. And, kids raft for free* on the Upper New River at ACE!

* A child age 6-11 years old rafts free with each full paying adult. (Excludes Saturdays)
Choose A Section Below To View Trip Options.
Lower New River Rafting
Lower New River Gorge Trips
Our Most Popular Rafting Trip!
In its Lower section, The New River begins to narrow and simultaneously drop in elevation. There, big water rapids form. Local boaters call this river section, where the water charges through a deep and spectacular sandstone canyon "The Gorge". River trips end under the awe-inspiring New River Gorge Bridge providing dramatic closure to the most inspiring outdoor journey on the East Coast.
Minimum Age: 12 YRS. (CALL FOR AGES 10-11 YRS.)
Upper New River Rafting
Upper New River Family Trips
PERFECT FOR CHILDREN OVER 6 AND TIMID BEGINNERS
Create memories for a lifetime on the Upper New River. This full-day trip is the perfect introductory rafting experience for kiddos as young as 6. And, kids raft for free* with each paying adult on the Upper New River! With options to raft with your group or paddle solo in an inflatable kayak, this trip will keep every rafter entertained.
* A child age 6-11 years old rafts free with each full paying adult.
New River Gorge Whitewater Rafting Trips
The New River Gorge runs year round and always provides an amazing and scenic ride. There are two sections to choose from. The family-friendly Upper New River Gorge is a great way to introduce children as young as 6 and timid first-timers to whitewater rafting. The Lower New River Gorge section will entertain first-time rafters age 12 and up while still offering a fun challenge for those who have experience.
Try our most popular new river gorge trip!
LOWER NEW RIVER GORGE
WHITEWATER RAFTING
FULL DAY
Meals: Riverside Lunch Included
This full-day excursion will satisfy your need for whitewater. With all the great scenery, incredible class III-IV+ whitewater, a visit to jump rock, and a riverside lunch, this trip is ideal for both new rafters and seasoned boaters alike.
SHARE YOUR VACATION WITH US! TAG US AND USE #ACEVIBES...