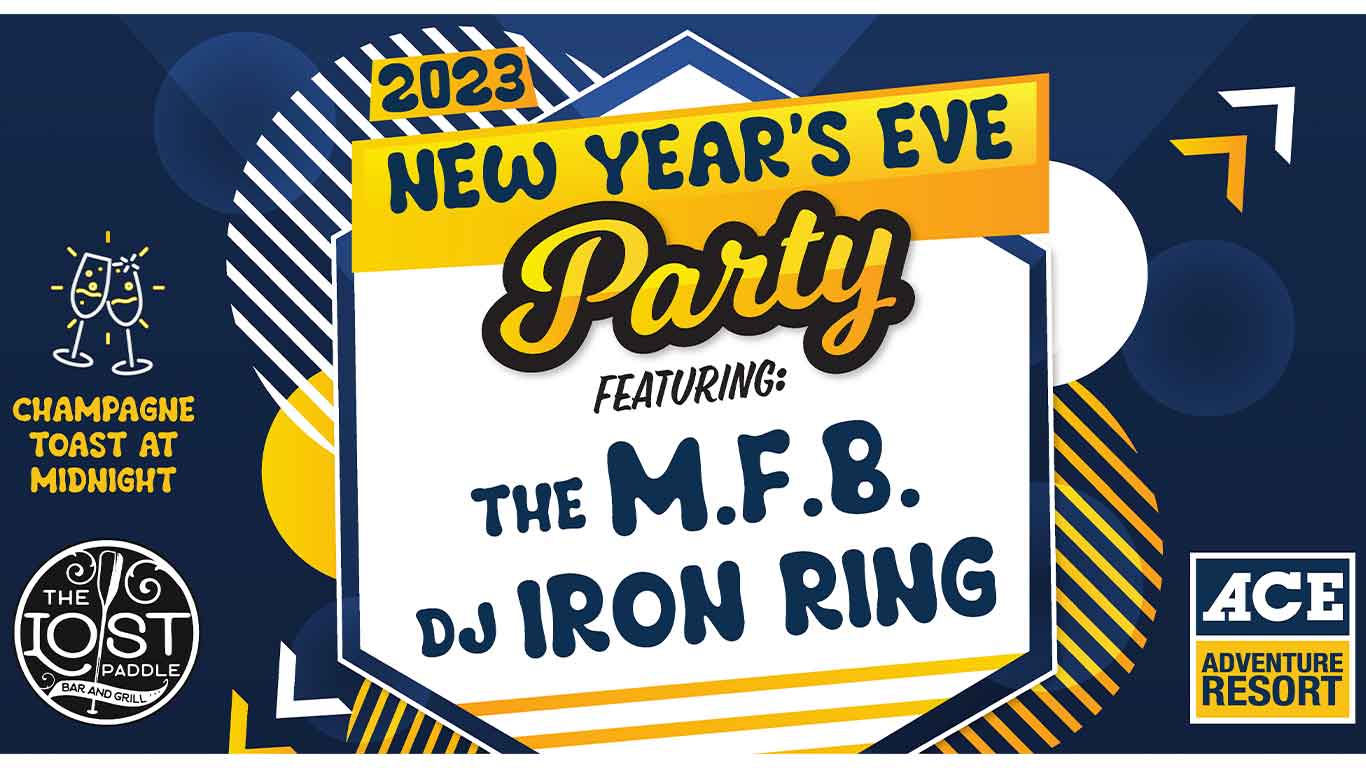 New Year's Eve Party
December 31, 2022
5:00pm
Location: The Lost Paddle Bar & Grill
Category: SPECIAL EVENTS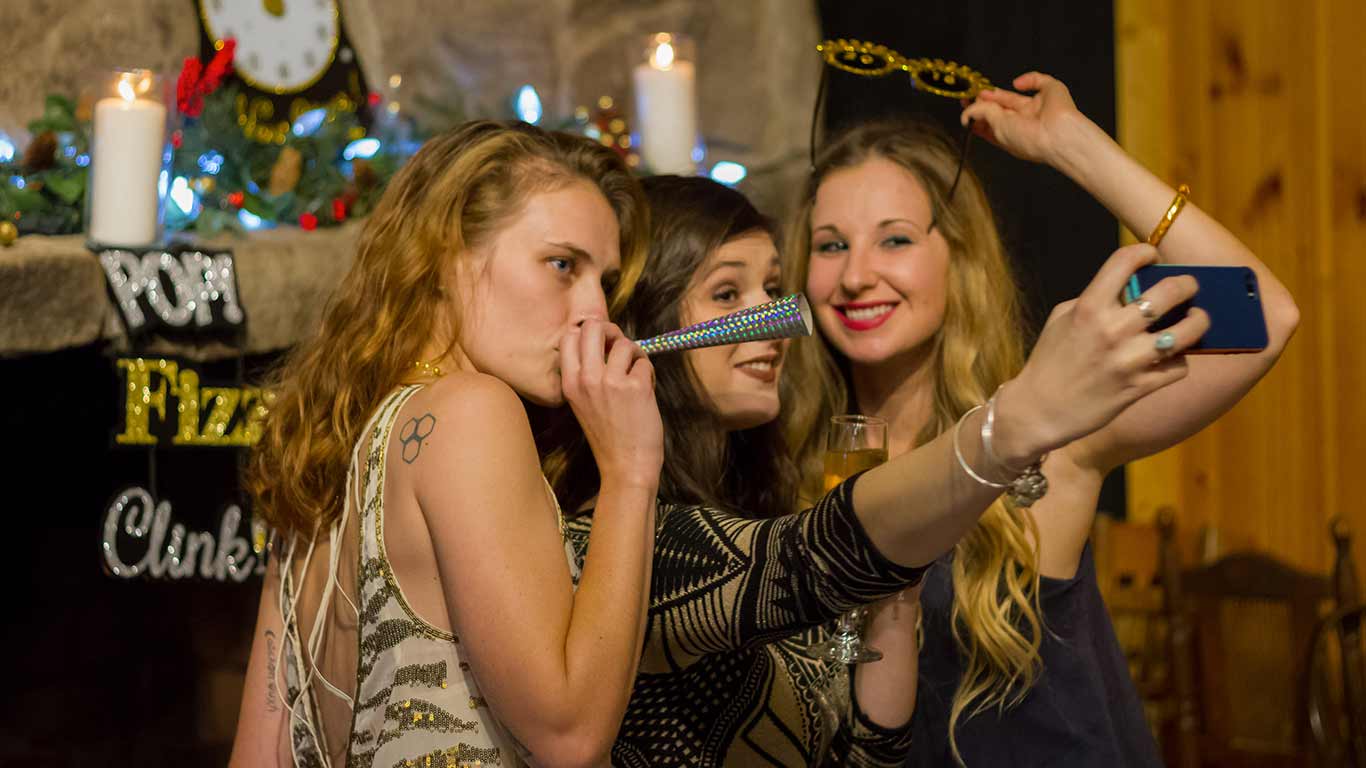 New Year's Eve Party 2023
Ring in 2023 with us at ACE Adventure Resort in the beautiful New River Gorge. Featuring live music from The M.F.B. and DJ Iron Ring on our indoor stage at The Lost Paddle. Appetizers and dinner options will be available for purchase. A champagne toast at midnight is included with your ticket purchase. Plus cabin rentals are available onsite too. Purchase your tickets in advance and save $5 off the door charge.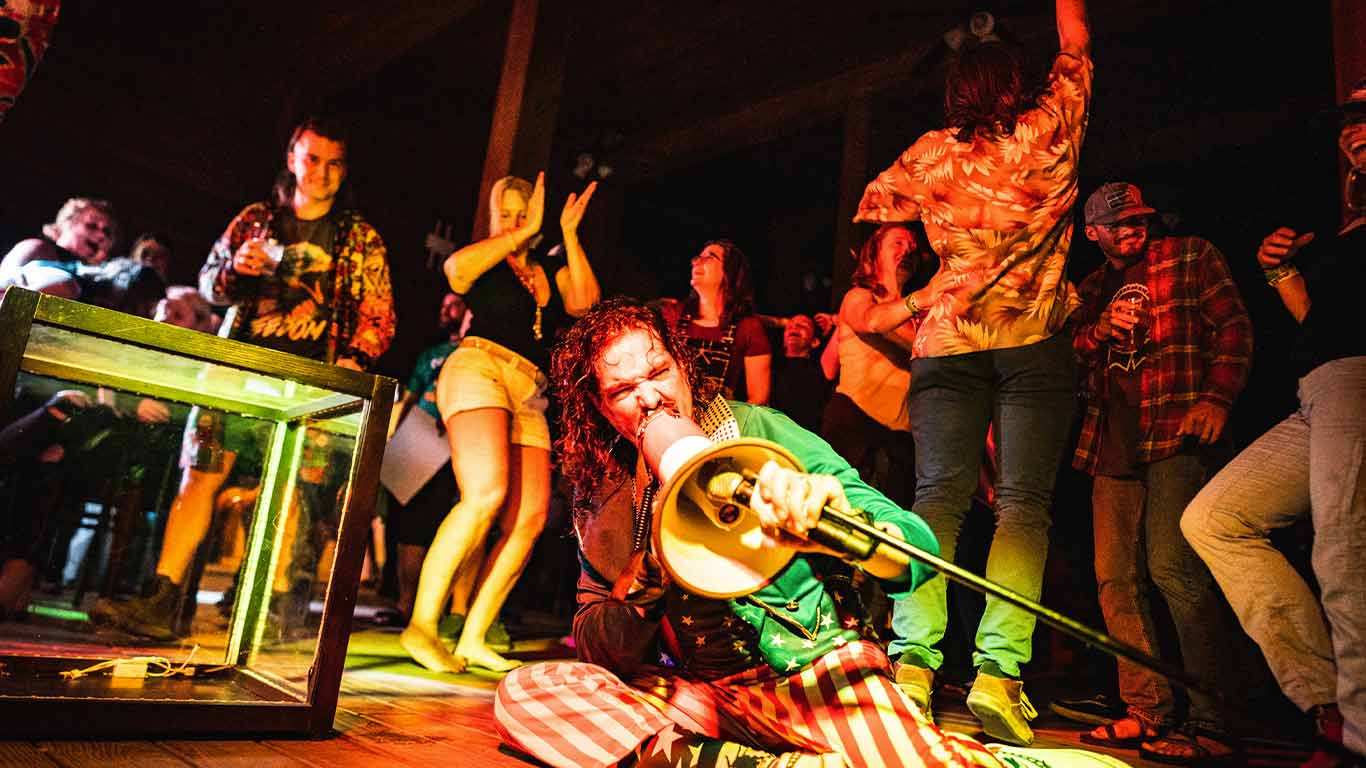 The M.F.B.
Since their inception in 2012, THE M.F.B. have laid waste to the local music landscape with grooves so contagious and an over-the-top stage show that has left audiences mesmerized and funkified. Equal parts funk musicianship and excessive funk party madness, lead vocalist Parry Casto, bassist Stephen Harper, keyboardist/guitarist Randy Gilkey, drummerJames Hairston, and aux / percussionist Jeremy Brown unleash their own unique brand of raucous party funk to any neighborhood they frequent.
As THE M.F.B.'s leader of perpetual motion Casto, aka "Funkle Sam", combines the theatrics of Freddie Mercury, the eccentricity of Frank Zappa, and dancing prowess of James Brown. What separates this band from others is the frenetic explosion of unending energy that exudes from a live performance from THE M.F.B.. This hedonistic crescendo of raw energy and musicianship of THE M.F.B.'s shows spill from stage to dance floor to cultivate impromptu conga lines, dance competitions, and an intense funky insanity that marks the band as insatiable for good times. THE M.F.B.'s shows are expectation-defying experiences ushered in by a whirlwind of funk, deft thrusting, and subtle innuendo, that broadens smiles and brings the crowds to anxiously await the opportunity to dance right back for the next show.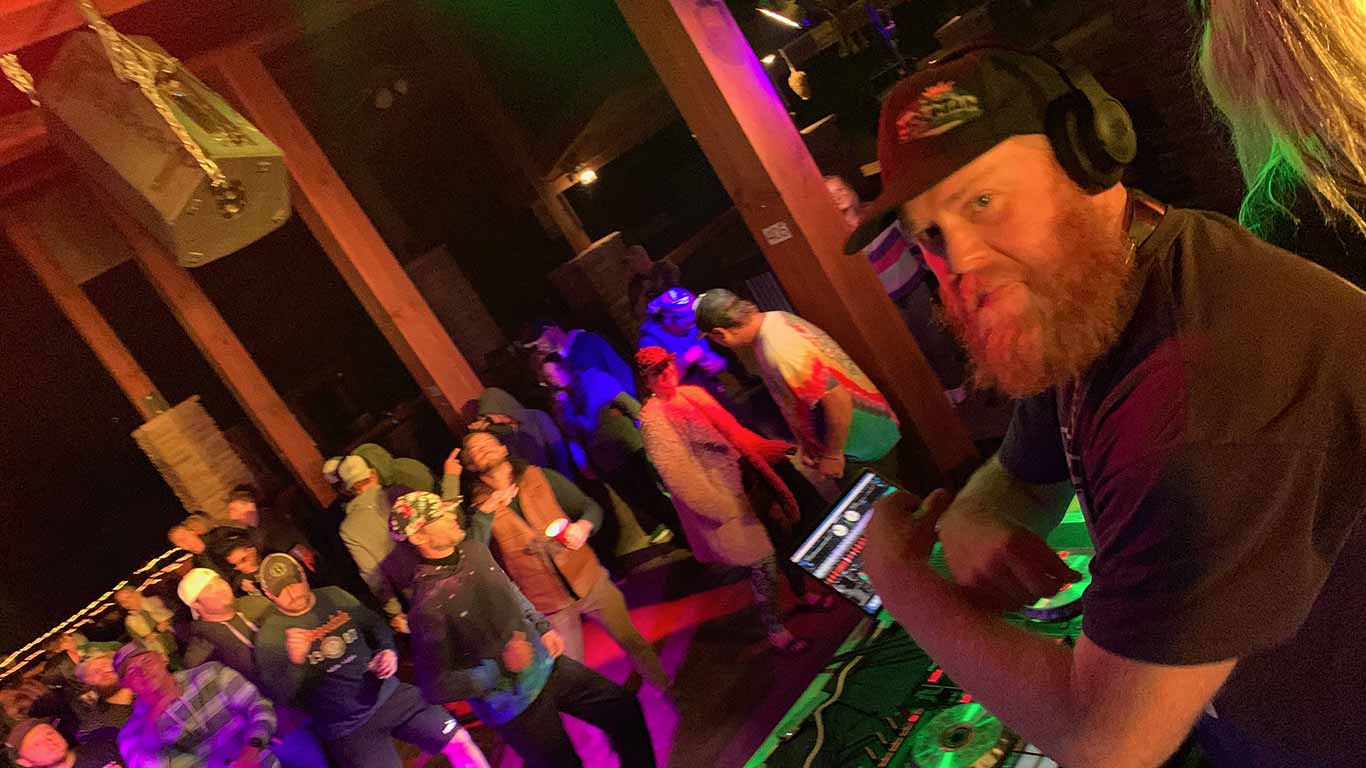 DJ Iron Ring
DJ Iron Ring calls the New River Gorge area home. He's been mixing for 2 years. He likes to get the crowd dancing with energetic, fun EDM and when the vibe is right he's not afraid to set it off with some big, floor shaking bass drops. He doesn't forget to throw in a few of todays dance hits to really capture the good energy. So come experience the universal language of good music.
Event Schedule
Saturday, December 31, 2022
4:00 pm
Doors Open
7:30 pm
DJ Iron Ring
9:45 pm
The M.F.B.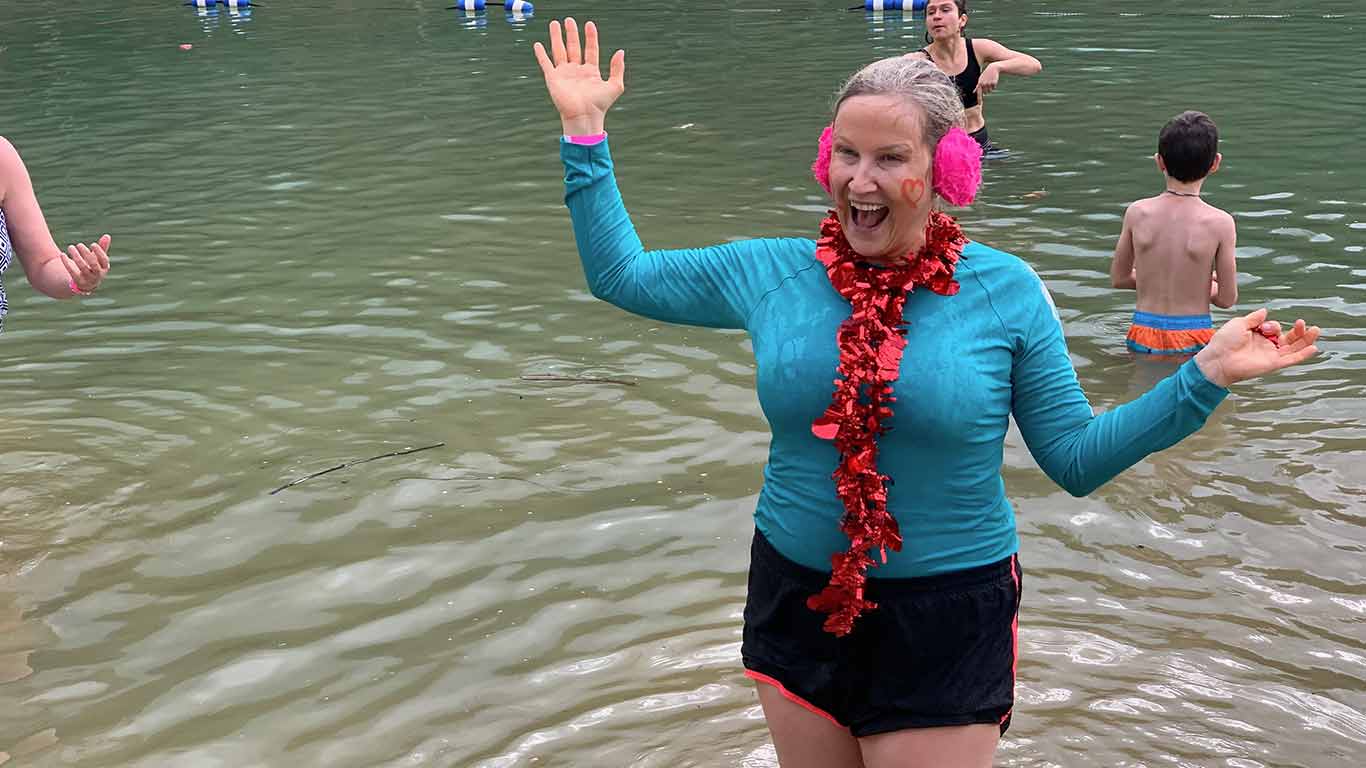 Polar Bear Plunge
Stick around Saturday and support the Harmony for Hope of West Virginia organization by taking an icy plunge into ACE Lake. Our Polar Plunge is happening New Years Day @ high noon. $10 donation to the Harmony for Hope organization gets you a spot in the lineup to take the plunge!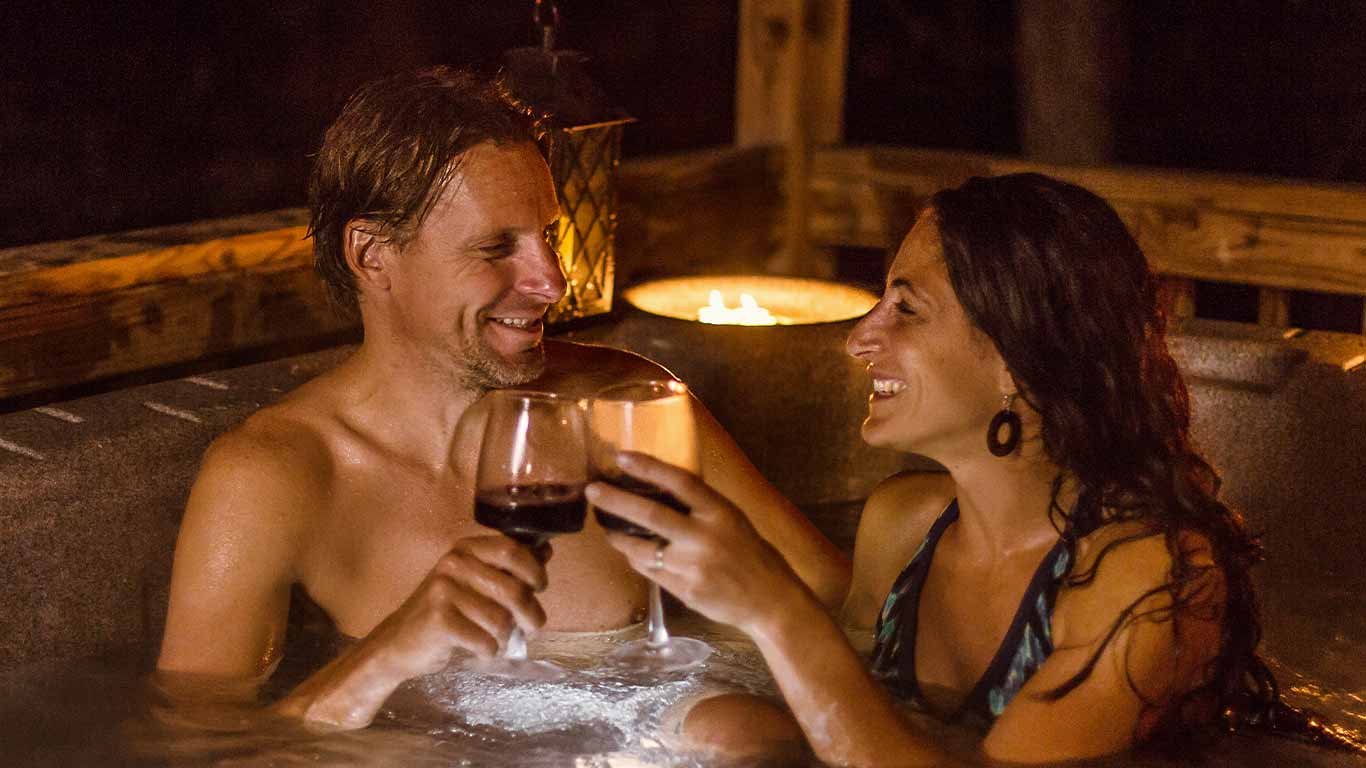 Cabins And Lodging
Cabin rentals are available through ACE Adventure Resort during the winter months. Unwind after a night of dancing in your own hot tub on the deck.Take advantage of our buy one night get the second 50% off deal.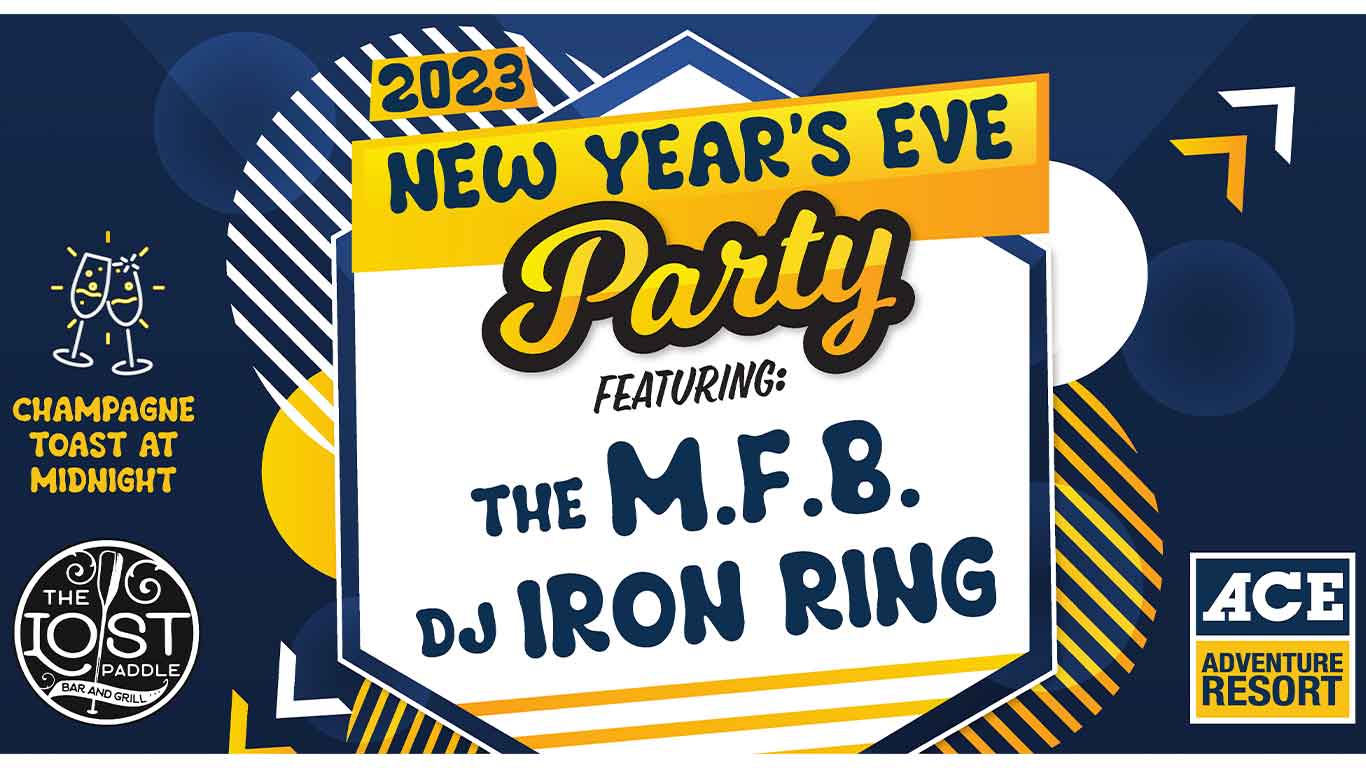 Follow This Event On Facebook!
Click the button below and visit our Facebook event page! If you indicate that you're going or interested you'll receive event updates and reminders.
New Year's Eve Party Photo Gallery